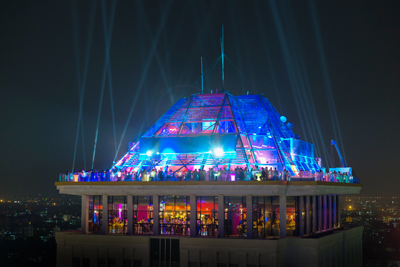 Myanmar – Golden: Golden Land, Golden Club. That was theme of a pulsating party on the roof of Yangon's tallest building that closed a series of incentive events for more than 400 VIPs on behalf of leading strategic corporate communications company One Forty Seven Communications.
FACTOR168 Creative Event Company, based in Hong Kong and Australia, was hired to provide the creative entertainment programme in the former Myanmese capital for the guests from a global information technology corporation with a strong corporate presence in the greater Asia Pacific region.
Winning Pitch
The series was produced using a combination of local vendor partners sourced from Yangon, Bagan, Mandalay, Bangkok and London, with FACTOR168 chosen to manage and co-ordinate because of its specialist expertise, trusted network of partners, and ability to work successfully in "one of Asia's most challenging event destinations".
Highlights
The welcome programme of the series included awards being given to the organisation's high flyers and a performance by Myanmar's Got Talent TV stars Hangover singing the national anthem and a Myanmese rendition of a Bruno Mars hit. It also featured a traditional puppet show by Culture Boy Generation, an act that proved to be a big hit with the audience.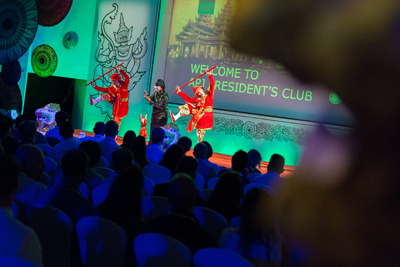 Guests then set off on various expeditions across Yangon and other Myanmar cities, including Bagan and the ancient capital, Mandalay.
The incentive events closed not with a typical gala, but with a party on the roof of Yangon's tallest building, the 100-metre-high Sakura Tower, treated as a secret event destination. On the night, guests were met and escorted to the lobby and then sent up to the 20th floor and roof in lifts decorated with posters from and photographs of previous events.
The party was held over two floors, the 20th floor providing air-conditioned comfort and dining in the Sky Bistro, and the rooftop offering panoramic views of the city.
Entertainment was led by a Café Buddha-inspired DJ, who played for guests on the 20th floor, and popular Australian DJ, KC, now a long-term resident of Mandalay, who played the rooftop and opened and closed the show.
Food was provided by a catering team from the Sule Shangri-La, Yangon, and drinks were courtesy of a bar manned by Mojito Man from Hanoi, who has featured at every event for the client over the past decade.
The rooftop concert lighting could be seen from around the city as the Urban Soul Orchestra, a contemporary string ensemble incorporating percussion, bass, DJ and vocals, took to the stage. "The group's set was an unrelenting 90-minute tour de force, featuring an eclectic fusion of sounds," said FACTOR168 co-founder Darren Kerr.
"The Urban Soul Orchestra set was complemented by British DJ, presenter and producer, Goldierocks, a British Council Cultural Ambassador, who segued a masterful performance that held the audience spellbound. She was joined by dancers and three London powerhouse vocalists, including the panther-like diva Max, and Izzy, whose voice is a cross between Adele, Tina Turner and Rhianna. Izzy took no prisoners and the audience loved her for it," Kerr added.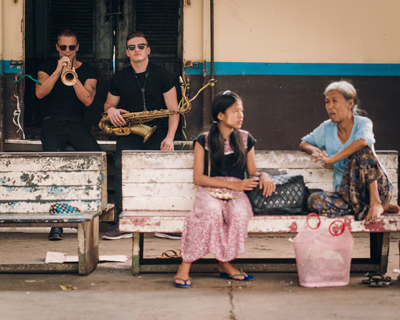 The Upshot
The event series was held in a country that was only in its second week of democratically elected government after decades of military rule.
Kerr described Myanmar as "one of Asia's most challenging event destinations", but said it would reward those who were able to "undertake considerable pre-production" and "commissioning clients who have the resources and organisational courage to visit this extraordinary time-capsule of a country".
"The biggest challenges we experienced in producing this series of events were the lack of experienced event service partners, a very embryonic creative industries sector, a lack of reliable energy supply, currency restrictions, virtually no electronic payment culture, and a need for vigilant catering standards oversight," Kerr said.
"With an orderly transition of power accomplished, an emerging middle class, and meaningful changes, including the recent introduction of e-visa systems, conducting business in Myanmar will become considerably easier, and with that we expect a massive spike in business and in turn Myanmar becoming one of the hot MICE destinations in years to come."
CHECKLIST
Event: Myanmar – Golden: Golden Land, Golden Club
Agency: FACTOR168 Creative Event Company
Organiser: One Forty Seven Communications
Attendees: More than 400 delegates from a global information technology corporation
Big moments: Welcome programme with a traditional puppet show and a closing party on the roof of Yangon's tallest building
Date: April 6-9, 2016