ADELAIDE's hosting of Ozwater'21 came as Australia arose from two years of drought, fires and flood only to be faced by a global pandemic.
Presented by the Australian Water Association (AWA) in May, the event represented not only the world's biggest water conference at the time, but also the first major national conference to be hosted at the Adelaide Convention Centre since Covid-19, with representatives from across the country.
Ozwater was originally scheduled to take place in Adelaide in May 2020, however Covid restrictions forced last year's event to move to a fully online format. With the support of Principal Sponsor, SA Water, the South Australian Government and Team Adelaide destination partners, the Adelaide Convention Bureau and Adelaide Convention Centre, the event was rescheduled to return to Adelaide in May 2021, representing the first time the industry had been able to gather under one roof in two years.
KEYNOTE KID
The program comprised more than 130 technical sessions and 80 pitch presentations, along with interactive workshops and panel sessions.
Delegates also heard from keynote speakers including Gitanjali Rao, scientist, inventor and TIME magazine's first "Kid of the Year"; Tim Jarvis, climate change expert, environmental scientist and explorer; and Tanya Hosch, 2021 South Australian of the Year and AFL Executive.
The live, face-to-face conference was complemented by an online program to extend the event's reach to offsite delegates. This virtual component attracted over 85 individuals and four hubs, including international members from across New Zealand, Europe and Southeast Asia.
Ozwater'21 also featured an 8,338 sqm trade exhibition with 160 exhibitors, along with the Australian Water Award winners being announced.
DELIVERING A SAFE EVENT
AWA shared that South Australia's management of Covid-19 and cautious approach to border closures was key to building delegate, exhibitor and sponsor confidence in the lead up to Ozwater'21. This confidence was further bolstered by South Australia's reputation as the 'Festival State' and success in safely hosting several large-scale events, including Adelaide Fringe and the Adelaide Festival, in the months leading up to the conference.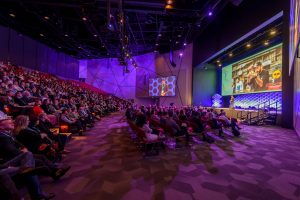 At the time of the event, no state border restrictions were in place limiting delegate travel into South Australia, and density requirements stood at three people per four square metres, which enabled the event to run in a similar fashion to what it would have prior to the pandemic.
UPSHOT
"This year's Ozwater was our largest in Adelaide and the biggest water event in the world since Covid began. It was fantastic to safely bring together over 2,500 attendees from across the country and over 100 people online to reimagine our water future," said Corinne Cheeseman, CEO, Australian Water Association
Ozwater'21 injected A$5.7 million into the local South Australian economy, generated 4,761 hotel room nights and a legacy for the water industry in South Australia.
"Ozwater'21 highlighted the value of business events to our state's recovery," said Damien Kitto, chief executive of Adelaide Convention Bureau.
More… Adelaide to be base for national space agency
"In addition to injecting $5.7 million into the local economy, Ozwater'21 provided South Australia the opportunity to showcase its strengths within the water industry.
"The event's significant exhibition component meant the opportunities for trade and investments were vast, which resulted in strong economic tail and lasting legacy for both the Australian Water Association and the water industry at large," Kitto said.
Simon Burgess, general manager of Adelaide Convention Centre, said: "Ozwater'21 shows what can be achieved when organisers are determined and go through the right processes and practices to ensure the safe delivery of a face-to-face business event.
More… Elon Musk leaves Adelaide reaching for the stars
"It was encouraging to see the Ozwater team rewarded for their efforts with record attendance and, in partnership with the Adelaide Convention Centre, deliver a successful event which will inspire confidence for the rest of the industry as we all continue to move through the recovery period.
"It was a definite thrill to welcome the activity and energy back to our venue. It didn't just give a lift to the destination and the centre, but served as a means to energise our staff, reminding our team of who we are, why we're here and what it is that we do best."
Event: Ozwater'21

– Dates: May 4-6 2021

– Venue: Adelaide Convention Centre

– Attendees: 2,500+ attendees from across Australia – a record for an Ozwater event in Adelaide

– Economic benefit to South Australia of A$5.7 million

– 8,338sqm exhibition featuring 160 exhibitors

– Australia's largest national conference held since the pandemic started

– First major national conference and exhibition held at Adelaide Convention Centre since Covid-19

– Three plenary sessions, 130 technical presentations, 80 pitch presentations plus interactive workshops

– Convention centre  staff worked 5,000+ hours to deliver the event