ADELAIDE is shooting for the stars again by being the first city to throw its hat into the bidding ring to bring back the International Astronautical Congress to the South Australia in 2024.
The state capital hosted the 2017 astronautical congress, which attracted 4,500 delegates, and is credited as leaving a space-travel legacy with Adelaide being chosen as HQ of the Australia Space Agency.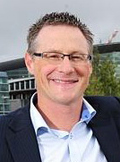 "We are extremely pleased with our [state] premier's announcement that we are the first city to bid for the 2024 event," said Damien Kitto, Adelaide Convention Bureau chief executive.
"We showed the world and some fierce competitors – including Washington, Bremen and Istanbul – just what an amazing destination Adelaide was when we hosted the highly successful 2017 Congress; now we intend to do so again – only better."
Kitto said the International Astronautical Congress was one of the world's most prestigious conferences and a natural fit for Adelaide as the national centre of Australia's space sector.
More… Adelaide credits conference for landing space agency
"The 2017 event with more than 4,000 delegates and speakers injecting A$632 a day into the economy during their five-day stay generated A$24 million [about US$18.5m] in economic growth and 229 jobs," Kitto said. "It enabled us to showcase Adelaide's world class venues, accommodation, restaurants and wineries and of course our regions. All of those have improved in quality even more in the interim."
Adelaide Convention Bureau is also supporting the Andy Thomas Space Foundation in along with the South Australia state government to bring the bi-annual business event back to the city for the second time in a decade.
Kitto said the bureau is focusing on state economic growth potential from business event as much as on the short-term economic boost during an event.
"We know this dual focus is also a factor for IAC organisers… and the ACB has already advanced bid preparations and planning."
Main image… A design rendering of Lot Fourteen in Adelaide where the Australian Space Agency will be based