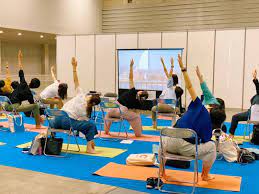 YOKOHAMA Convention and Visitors Bureau is offering business event planners a new set of sustainable activities that they can build into either programmes when taking groups to the Tokyo Bay city.
Yokohama Mobile Yoga
This can be experienced "anytime and anywhere" in the city during events whether at parks, conference rooms, or exhibition halls.
The yoga sessions are inspired by Yokohama's ocean shores and use the calming sound of waves, delicate aromas, and images of the sea to create a relaxing and meditative experience for business event participants.
More… Choose Blue, Yokohama tells Green Planners
Sessions can be arranged for any level of experience, can be held in Japanese and English, and do not require a change of clothing.
Sankeien Garden Immersive Experience
This event lets business event participants enter Yokohama's famed Japanese garden before the official opening time.
A guide will be on hand to explain Sankeien's history and culture, with participants learning about the sustainability of traditional Japanese architecture.
After touring the garden and its  historic buildings, a mindfulness session concludes the experience.
Other sustainable experiences are at Mirai Strand: Up Paddleboard Plastic Fishing, where participants can actively reduce plastic waste and enjoy views of Yokohama, and also take a trip on the Cyclopolitain eco-sightseeing taxis.