FABRICS no longer required at Malaysia International Trade and Exhibition Centre are being recycled as part of the venue's ESG efforts through Kloth Cares – Southeast Asia's first textile-recycling movement.
The Fabric Recycling Campaign is MITEC's latest ESG – Environmental, Social and Governance – initiative and was launched during the CIMB Artober Art & Soul 2023 and CIMB Artober Fashion Week 2023 events at the Kuala Lumpur venue October 5-8.
Garments and fabrics gathered through the campaign will be sorted at Kloth Cares' recycling centre. High-quality fabric items are either exported or donated to charities, while the rest are upcycled or transformed into products like industrial wiping cloths and processed engineered fuel, a type of biofuel.
The #myWorld efforts are aligned with the United Nations Sustainable Development Goals (SDGs) and based on driving economic growth, job creation and uplifting local communities, according to a statement by the venue. By forming partnerships with associations, businesses, academic institutions and event organisers, MITEC is making a commitment to shaping a more sustainable future for business events.
"Our #myWorld commitment is not just a statement; it is a promise that guides our daily actions," said Mala Dorasamy, MITEC chief executive, at the launch of the campaign.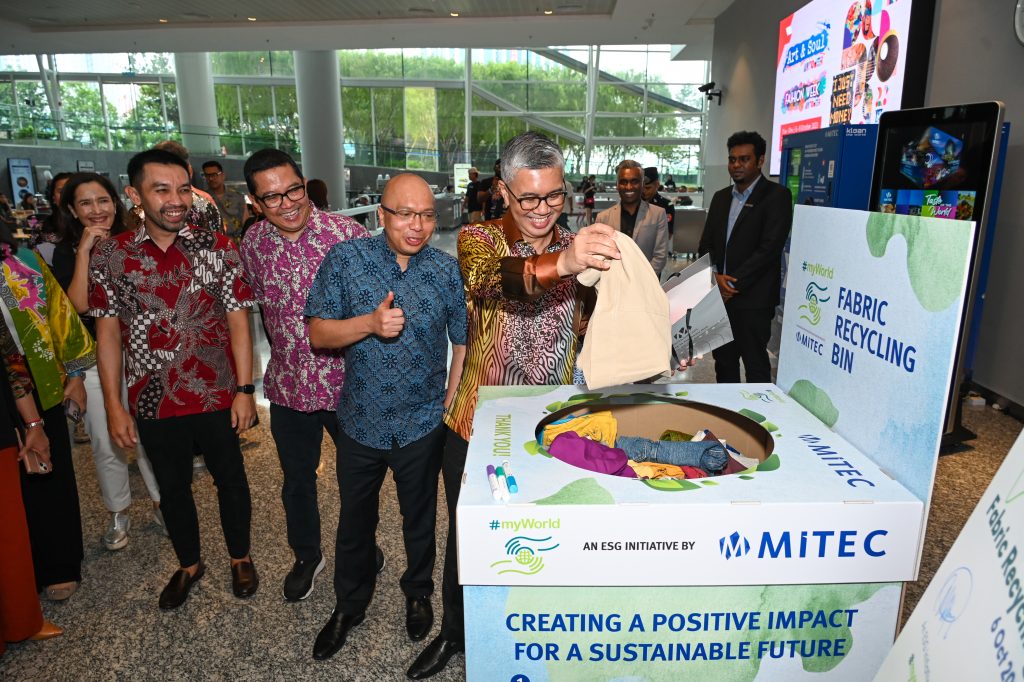 "We are not just attending or hosting events; we are creating them. We are not just shaping the business events landscape; we are defining it. As we weave this new fabric of change, let us remember that each thread represents a decision, a choice, and a step towards our long-term sustainability plan," Dorasamy said.
Also at the launch were Nik Susila Nik Hassan, co-founder of Kloth Cares, and Ismail Ani Arope, director of CIMB Group corporate events and group branding and communications, whose organisation donated clothing.
Zafrul Abdul Aziz, Malaysia's Minister of Investment, Trade, and Industry, also made a donation of previously used clothing during his visit to CIMB Artober on October 8 before signing the event's #my World Pledge Wall.
Main picture: Mala Dorasamy, MITEC chief executive, and Ismail Ani Arope, director at CIMB Group, deposit garments watched by  Nik Susila Nik Hassan, co-founder of Kloth Cares