FESTIVAL and ticketing giant Live Nation has acquired a majority interest in Hong Kong event organiser Clockenflap – the brand behind Asia's best known open-air music festival.
Live Nation Entertainment, which is listed on the New York Stock Exchange, said the Clockenflap team would continue to curate, manage and produce its festivals and events but with access to the company's portfolio of more than 130 festivals worldwide and other resources.
Clockenflap Music and Arts Festival returned to Hong Kong after a four-year absence with a sold-out event that featured world-class live performances at Central Harbourfront Event Space, March 3-5.
A Live Nation spokesman said the partnership came as events across Asia, particularly Hong Kong, were undergoing a "bloom in activity".
Justin Sweeting, co-founder and music director of Clockenflap said the support and resources of Live Nation would help Clockenflap Music and Arts Festival secure its position as a world-class event.
More… Clockenflap ready to rock again
"Clockenflap has one of the most positive and open-minded audiences in the world. The Live Nation team share our vision for Clockenflap being one of the best city festivals in the world, and with Live Nation's support and resources, I'm excited for the future of the festival," Sweeting said.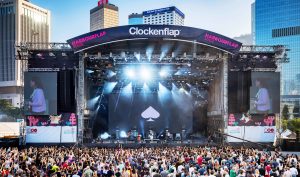 Roger Field, president of Live Nation Asia Pacific, said Clockenflap's festival delivery and expertise was an invaluable asset across the Asia region.
"Partnering with Clockenflap further demonstrates that Live Nation is committed to bringing world-class festivals and live entertainment experiences to Hong Kong fans. Our team is dedicated to supporting Mike, Justin and their team's exceptional skills and capabilities, and through Live Nation's global network we will enhance and grow the Clockenflap brand and deliver new and exciting live opportunities to the region," Field said.
Mike Hill, co-founder and managing director of Clockenflap, said by joining forces with Live Nation, Clockenflap could continue to grow its activities in Hong Kong and regionally.
Backgrounder… Live Matters Hong Kong kick starts events revival
"Over the last 15 years we have grown Clockenflap into a world-class three day festival. By joining forces with the global leaders in entertainment, Live Nation, we can continue to grow the festival and expand our event activities in Hong Kong and regionally."
In an interview with Hong Kong Free Press, Sweeting emphasised that Clockenflap would continue to have autonomy over its events despite Live Nation's controlling stake. Both declined to reveal how much the deal was worth.
"We still run an independent business," Sweeting told HKFP. "We operate independently outside of that Live Nation touring universe. Our team will continue to create and manage and produce our festivals and events like we've always done."
More… Clockenflap owners launch event marketing agency
The co-founders said Ticketflap, a partner company that provides an online ticket-issuing platform for Clockenflap and other events, did not come under the Live Nation deal.
Clockenflap began in the city's Cyberport area in 2008, before moving as a festival to a site in West Kowloon, which is now home an arts park that includes the M+ Museum and Hong Kong Palace Museum. The promoter's 2019 event had to be cancelled amid civil disturbances and was further postponed over the following two years due to Covid restrictions.
The event has attracted corporate sponsors over the years with insurers FWD and airline Cathay Pacific among the brands securing exclusive hospitality pavilions and naming rights for concert stages. After the success of its events earlier this month, Clockenflap is scheduled to return to Hong Kong in December.