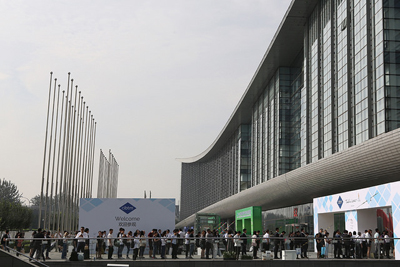 With IBTM China 2016 at a close, Mix reflects on key event announcements and features.
The event, in it's 11th edition this year, was held at China National Convention Center, Beijing (pictured above) from September 7-8.
Over 7,000 appointments took place between buyers and exhibitors during the show. Some 400 hosted buyers attended, representing 49 international destinations, and of the 360 exhibitors that came, representing 26 countries, 80 percent were returners from last year's show.
China focused
Speaking at the IBTM China press conference on Wednesday, Xi Chen, the event's senior project manager, said exhibitors would be promoting their efforts to help hotels and services understand the needs of the Chinese market. She said this includes special training sessions and seminars aimed at educating staff about the needs of the Chinese meeting planner.
At the event, Washington DC unveiled a new website with pages available in Chinese, helping customers to digest information about upcoming events, hotel information and meeting spaces in the city.
Similarly, Melia Hotels unveiled their new PengYou by Melia programme, catering better to Chinese guests through staff training and the addition of new services.
The hotels are now accepting Chinese credit cards, providing Chinese TV programmes in rooms, making Mandarin and in-house language and creating Mandarin menus.
Tech talk
A novel feature of this year's show was the Technology Innovation Zone. Local and international technology suppliers offered live demonstrations and hands-on experiences with the latest technology available to MICE professionals.
"This is the future of our industry as an incubator for start ups, entrepreneurs and those who are creating dynamic solutions," said Nick Pilbeam, divisional director of Reed Travel Exhibitions, at the opening ceremony (pictured below). "We wanted to give them the platform to show case their products and services."
On the subject of industry trends, Pilbeam forecasts that technology will continue to be a vital component of future events.
"Industry technology is going to play a greater and greater part. We're trying to keep up so that we can retain our leadership in this field."
A second new initiative was the mutual match system, first trialled at IBTM World last year. Through the system, both parties can select appointments in a mutual match process, guaranteeing that suppliers and buyers only meet with whom they wish to. According to Chen, 40 percent of appointments were mutually matched this year.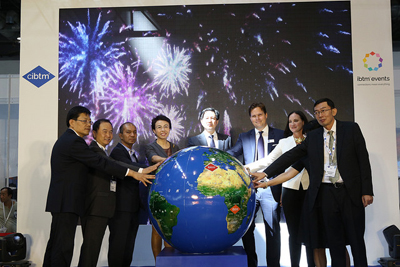 Success stories
By the end of the first day, Seoul Convention Bureau (SCB) was on track to exceed appointment targets.
"Originally, we'd arranged 33 meetings with buyers," said Dayoong Kim, assistant manager of SCB MICE Marketing Team. "But today we've had more than 20 interviews. I expect we'll have more than 50 by the end of the show. This event has helped a lot."
According to Kim, the bureau is currently promoting traditional venues and exotic areas of the city, as well as trying to up the number of venues and SMAs.
At present, there are 45 venues and 195 SMAs. While Kim could not give a figure for new venues planned, he said there will be over 200 SMAs by next year.
Previously a co-exhibitor, Macao Trade and Investment Promotion Institute (pictured below) operated an independent booth for the first time this year.
Steve Chan from the institute's Promotional Activities Department said that event organisers, PCOs and DMCs were the organisation's main targets. Approximately 80 percent of the company's pre-scheduled appointments were made with PCOs and event organisers.
On the morning of day-two, Chan said the company had obtained five serious leads from pre-scheduled meetings the day before, and two from walk-in buyers.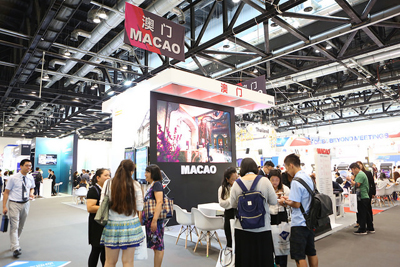 Looking ahead
When quizzed by reporters on next year's show, Pilbeam said to expect more exhibitors, a bigger hosted buyer programme, and a timely agenda.
"We aim to be as relevant as we can be to the industry. We spend a lot of time talking to our customers to find out how we can improve."
With IBTM's flagship programme, IBTM World in Barcelona, just months away, IBTM events senior exhibition director Mandy Torrens disclosed details about a new "match making" tech initiative being launched at the event.
Through this system, all hosted buyers will be recommended suppliers based on the information they provide about their business objectives at the time of registration.
"It's similar to the systems used in online retail. We can review all the profiles and then determine the most relevant match – all of this improves the chances of a productive meeting for both buyers and exhibitors," she said.
Torrens also announced that next year will be the 30th anniversary of the show.