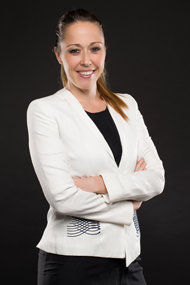 How did you get into the world of corporate travel and destination management? How did this lead to Pacific World?
I studied business management and marketing after leaving school in Sydney. In 2003, I moved to London where I got my first job with an international conference and events department, where I very quickly fell in love with the events world.
In 2012 I moved to Asia where I started my career at Pacific World. The growth of Asia as a region and the opportunities to interact with a new culture, combined with the global scale of Pacific World as a business, made it a very exciting career move.
I managed Pacific World's activities in Singapore and Malaysia until February 2015 when I was promoted to oversee all of Pacific World's Asia operations. In October 2015 I was promoted to Global Managing Director of Pacific World.
Taking the lead for Pacific World has been an incredibly exciting step for me as this is a company that is evolving and continually looking for new and interesting ways to innovate.
What drew you to this industry?
My passion for delivering a memorable experience and my thirst for knowledge of what's new, combined with my love for travelling the world. This has continued to drive me throughout my career.
Pacific World has expanded substantially of late. What is your strategy for growth? Is there a focus on any specific regions?
Increasingly, our clients rely on us to support their events from one destination to the next, ensuring a unique understanding of their attendees and event objectives. It is important that we can support our clients with new experiences in major event locations around the world as well as open doors to new and undiscovered destinations.
This year we are focusing our global expansion efforts in the north of Europe, the Indian Ocean region, and completing our already unmatched coverage in Asia.
What qualities do you think are necessary to have when working for a global DMC?
You need to have passion and be creative, dynamic, resilient, and multicultural. I think it is also important to have an element of curiosity – a desire to challenge, innovate and think outside the box.
How have the needs of your clients changed in the time since you began working at Pacific World?
The industry is becoming ever more global. At short notice, clients look for partners who can deliver local immersive experiences, regardless of the region they choose.
What is in store for Pacific World in Asia?
Pacific World Myanmar is one of our new launches and we're also expanding in India and China. While in the past, Myanmar's tourism market was mainly based on natural and cultural attractions, perspectives are changing. Steps such as entering into a landmark partnership with the Thailand Convention and Exhibition Bureau to gain experience and support from a big player in the MICE industry, have helped Mynamar gain a reputation for being a destination for business as well.
In India – similarly with China and Southeast Asia – business practices have dramatically changed and require business ethics, anti-corruption and financial transparency compliance.
Recent fines and investigations by local governments, especially with US headquartered multinationals, have set new expectations. With our global compliance programme, launched in 2009, we were able to provide these important guarantees to our clients. This expansion will now also include unique coverage of the Indian territory, with eight branch offices throughout the country beyond Delhi and Mumbai.
And there is a lot more to come. Our vision and strategy for the next five years is to continue to evolve as a business and innovate. Destination expansion and capability development will be part of our growth.