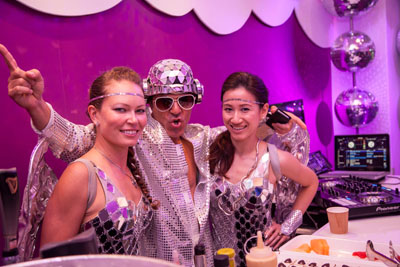 In 16 years of decorating and managing suites at the Hong Kong Sevens, I think I have seen most of the theme possibilities.
Themes are great to help people get in the spirit, especially classic themes like cowboys, discos or pirates. My personal favourites have been when we put a Sevens twist on the classics. One year we did a cowboy theme called "Magnificent Sevens", another year we did "Sevens Sins" which was all about the "sins" committed at the event like drinking too much too fast, using a phone in the South Stand and kids looking for free stuff.
On the other end of the corporate entertainment and events spectrum, some of our clients have super corporate boxes that are totally on-brand and look more like board rooms than a venue to watch a sporting event.
Because the price of hosting a suite has risen over the past five years, there is definitely more demand on ROI and a stronger focus on not appearing to be frivolous. As a result we have been getting more creative in order to strike a balance between the "fun theme" and getting across a corporate message.
A couple of years back we did a Cloud 7s disco for a telecom that had a marketing push at the time for cloud technology. For a law firm we used "The Greatest Minds" with a light bulb as our visual reference.
Themes are great as they help tie everything together, but whatever theme you choose it should be appropriate for the corporate culture, and a good representation of the company. One year I saw a firm that did a "rock 'n' roll" theme complete with heavy metal band T-shirts and long-hair wigs.
The overall look was good, but it wasn't a suitable for the image of the company.
Each company is very different from the other and each will have a wide variety of stakeholders. It is best to obtain input from the decision makers early on to find out what sort of feel they want their box to have. Is it a party box with DJs and dancing girls, or is it a sophisticated relaxed space for VIPs?
Remember the goals and the target audience when designing the box set-up; create it with them in mind. Look at the branding guidelines and see how far you bend the guide to fit a fun event like the Sevens. Something I like to do is create an event logo. Company logos can't be changed, but you can style an event logo to fit your needs.
Although it has tamed down drastically in the last few years, the Hong Kong Sevens is still one of the best events in Asia and great to be a part of.
Robert Rogers CSEP (Certified Special Events Professional) runs Eventsman in Hong Kong. This year the Cathay Pacific/HSBC Hong Kong Sevens takes place April 8-10.
For more on hosting groups at the HK Rugby Sevens, see here.