AN OPEN-AIR events space purpose built for Covid-19 social distancing has opened on Hong Kong's waterfront offering cinema, entertainment, sports promotions with contactless payment and other safety measures at the core of operations.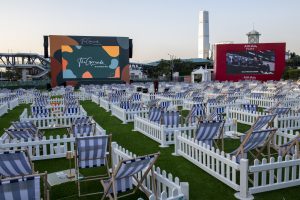 The Grounds at AIA Vitality Park arrives as city leaders declared a target of zero Covid outbreaks following restrictions such as limits on the number of people seated at restaurant tables being tightened following a jump in recorded cases.
The Grounds is being billed as the first recreation and events space in Hong Kong designed for the Covid era and a spokesman told MIX the venue will be available for corporate hire.
Paid seating is arranged at socially distanced private pods enclosed with white picket fences
Pods are allocated on a first-come-first-served basis in either two-person or four-person options with views of a high-tech stage, giant LED screen and matching sound system.
Entertainment ranges from family cinema and live music to yoga, fitness events and Rugby Fanzone live broadcasts.
More on Hong Kong waterfront… Harbouring an events haven
Among the events is Hong Kong's largest fitness and wellness festival with a special edition of "IRIS at The Grounds", November 27-29, offering "specially curated wellness adventures from the city's top instructors".
All visitors must complete a health and travel declaration when purchasing tickets.
Along with temperature checks, hand sanitisers at each entry and exit point, guests are also required to wear a mask when moving through the venue.
The Grounds was co-founded as a new events concept by Simon Wilson, formerly with IMG Asia, who has launched food and wine festivals in Australia and Hong Kong.