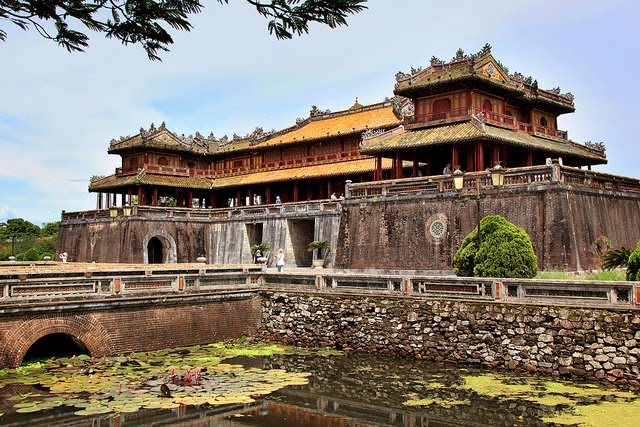 The Citadel in Hue was built during the 1800s, when the Nguyen Dynasty emperors ruled Vietnam. Much of this historical site was destroyed in the Tet Offensive during what the Vietnamese call "the American War" and had to be rebuilt. In 1993, Unesco started restoring the imperial fortress and classified it as a World Heritage Cultural Site.
Anne Courtney Cruickshanks, marketing manager of Exotissimo Vietnam, says: "Nowadays, when you visit The Citadel, it's an interesting mix of elegance and ruins. The imposing walls stand tall, and from almost all points in the city, you can see the flag that flies near the front. Passing through the gates, you step into a tranquil garden with ponds and lines of frangipani trees."
Paul Robinson, MICE operations manager for Exotissimo Vietnam, says: "It is a unique venue for corporate events because of its size and the city's history being the imperial capital of Vietnam.
"Hue has retained a lot of its colonial and imperial charm on the banks of the Perfume River. It is also not yet well known as a venue [for major business events], so it still has the 'wow' factor for companies and organisers who are looking for something different."
The Citadel was the site of many business events hosted by companies such as Kyocera Corporate, a multinational firm based in Kyoto, Japan.
The Kyocera group had various teambuilding games instead of a formal meeting in The Citadel compound and was transported by cyclo [a traditional Vietnamese ride] to the various areas of the heritage site.
"In the evening, the group had an Imperial Dinner that was an exact replica of one that would have taken place in the time of the Imperial court. Everything was replicated, even the entertainment and the dressing of the group [as royal courtiers]," Robinson says.
Another Exotissimo client says of an event held at The Citadel: "Arriving by local cyclo, dressed in traditional outfits and dining in these hallowed grounds was an unforgettable experience. No detail was left unnoticed and everyone agreed it was the highlight of our trip."
The fortress has many buildings and open spaces that can be used for events from groups of 40 to 200 people.
"Infrastructure is coming along, with transportation and flights becoming more readily available," says Carmen Marienberg, general manager at Hue's La Résidence Hotel & Spa.
FAST FACTS
CAPACITY
Between 40 and 200 people
HOTELS NEARBY
• La Résidence Hotel and Spa
• Hotel Saigon Morin
• Pilgrimage Village (Hue)
• Grand Mercure Gerbera Hue (opening soon)
WHO'S BEEN
• Kyocera Corporation
• Capgemini
• AGF – Assurances Générales de France
• Renault SA
• P&G – Proctor and Gamble
CONTACTS
Exotissimo Vietnam
email: mice@exotissimo.com