PROJECT management professional Haryati Md Haidar has become Kuala Lumpur Convention Centre's first director of strategic projects.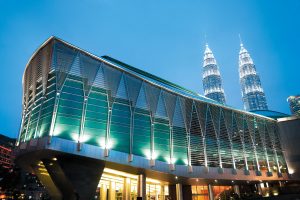 Haryati, who has been with the centre since its opening in 2004, will be responsible for establishing the structure and framework for the venue's strategic projects and organisational change management.
She will also streamline and help provide cross-divisional support to ensure seamless project management.
"We are very delighted to have Haryati join our senior leadership team and be the trailblazer in this new role," said Alan Pryor, general manager of Kuala Lumpur Convention Centre.
Pryor said Haryati's new role came as the business events industry has seen significant changes in the past  few years partly because of Covid but also due to ever-evolving trends and requirements from clients.
More… KLCC opens digital-events studio
"As an organisation, we are constantly looking to adapt to these. In line with that, we have a number of major projects in progress where we are looking at how we support the delivery of these projects and how we roll out the changes with solutions that have consistency and quality throughout," he said.
"Haryati has been with the centre since its opening and is well-versed on all our business management processes, providing her with a clear understanding on how change may impact our organisation at various levels. We are confident that she is the right person to lead the centre's progressive transformation."
Since joining the centre, Haryati has been heavily involved in the successful implementation of the Event Business Management System. This encompassed the venue's entire operation from sales processing, event planning and delivery and inventory, to resource planning and revenue management.
Backgrounder… Centre helps organisers 'reimagine' events
During that period she also designed, developed and customised process flows, business cases and management reports.
In 2009, Haryati was key to the delivery of the centre's Integrated Business Management System, where she was responsible for compliance monitoring. She was also integral to the development of the venue's strategic approach to ensure it met the requirements of its integrated management system standards, including quality, food safety, occupational safety and health, sustainability and business continuity.
Haryati holds a Bachelor's degree in Business Administration from Marquette University, Wisconsin. She began her career in 1989 as a programmer during which worked on some of Malaysia's major development projects.