LEADING Australian groundsman Malcolm Caddies will be taking charge of stadium playing surfaces and landscape at Hong Kong's Kai Tak Sports Park, ASM Global has announced.
For the past 19 years, Caddies has been grounds manager at Suncorp Stadium in Brisbane which, like Kai Tak Sports Stadium, is managed by ASM. He will take up his role as general manager of sports turf and landscape in October.
The multipurpose sports precinct, built on the site of the former Kai Tak Airport, is set for completion in the second half of 2024 and a 50,000-seat stadium with retractable roof will be the centrepiece.
"Kai Tak Sports Park is set to be one of the greatest sporting precincts in the world and this appointment will highlight Malcolm's skills in being able to accommodate all sporting codes, delivering world class pitches for international competition," said Harvey Lister, chairman and CEO of ASM Global (Asia Pacific).
"The appointment illustrates the value of the ASM Global Advantage. Malcolm applied for this role amongst a strong field of international candidates, and this is proof of ASM Global's commitment to create rewarding careers for our people."
Caddies said he was proud of all that he and his team achieved at Suncorp Stadium. "Kai Tak Sports Park is an incredible project and I am looking forward to playing my part in making it an enormous success on the world stage," he said.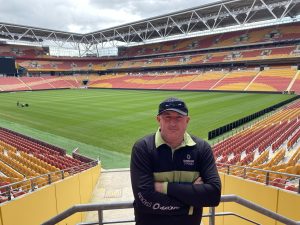 Caddies' new role at Kai Tak Sports Park will involve leading the operation and management of the sports fields and landscape at the Sports Park, as well as managing an off-site Turf Farm. Initially he will work with the design and build team to oversee and advise on the construction and operation of the playing surfaces in the Main Stadium and Public Sports Grounds.
Darren Burden, ASM Global's executive director at Kai Tak Sports Park, said: "Malcolm has a fantastic reputation and will no doubt make an invaluable contribution to the success and performance of the Sports Park.
"I believe his extraordinary knowledge, experience, and skills as an internationally acclaimed groundsman will bring unique qualities to the role." and very much look forward to welcoming him to Hong Kong."