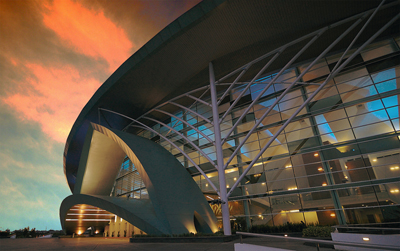 Kuching in the Malay language means cat, an animal that is well renowned for its elegance, poise and self-assurance.
With its brand new and very elegant Borneo Convention Centre Kuching (BCCK) having just opened its doors, Sarawak's capital has every reason to feel more confident.
The new centre is located on the banks of the Sarawak River, just 38km from the city centre on the Kuching Isthmus. Sarawak is one of two East Malaysian states on the island of Borneo (the other being Sabah), and the island is shared with the Sultanate of Brunei and Indonesia.
Most of the island is still untouched rainforest, one of the last great centres of pristine nature on the planet. Sarawak may never be a meetings and conventions player on the scale of a Kuala Lumpur or Bangkok, never mind Singapore or Hong Kong, but that is precisely its pulling power. With such unspoilt natural wilderness in its backyard, the BCCK has something these other cities can never build or develop.
Another positive factor for the centre is the growing trend towards eco-tourism. The BCCK's architecture is rainforest-themed. The roof is shaped as a ririk leaf, a rainforest plant important to local indigenous cultures. Rainwater is automatically channeled down the central vein of the leaf on the rooftop and collected for irrigation in the Centre's gardens and grounds.
BCCK chief executive Trevor McCartney, says: "We have executed in excess of 30 events to date and have recently hosted two international events. These were IEW (International Energy Week) and the Malaysia Global Business Forum. The staging of IEW was in support of the Malaysian government's initiative in harnessing the tremendous opportunities in the energy sector through the Sarawak Corridor Of Renewable Energy (SCORE). It provided the platform for power producers, oil and gas producers, technology suppliers, regulators, consultants and investors to explore new technologies, introduce new initiatives, develop new partnerships and enhance cooperation."

He adds: "IEW was a three-day exhibition with a conference. We had exhibitors from countries around the Asia-Pacific region plus some high-profile companies from Europe, showcasing products and services.
"Immediately after IEW was the Malaysia Global Business Forum. The forum was created as a platform for enhancing global business cooperation with Malaysian and facilitate Malaysia businesses to invest and penetrate global markets. It also brings together key industry, government and private-sector players for highly targeted discussions and networking sessions. Smaller meetings and events were also held under this banner to assist specific sectors and as a way to address key issues."
So successful was the forum that the organisers have already chosen the BCCK as the venue to hold next year's event.
Amelia Roziman, marketing and communications manager, Sarawak Convention Bureau, says: "Sarawak is burgeoning into a competitive business events destination.
"Sarawak can now cater for approximately 5,000 people as new hotels such as Four Points by Sheraton, Pullman Kuching, The Lime Tree Hotel and 360 Hotel have come on line. Now, there are more flights from overseas, particularly from Singapore, with more airline providers such as AirAsia, Tiger Airways and Silkair.
"The Sarawak Convention Bureau provides support with the competitive bid process in terms of professional quality bid documents, personal letters of support, financial support of up to US$6,000, and site inspection visits," she adds.
McCartney concludes: "Our centre presents a refreshing alternative to business travellers as we are the only world-class convention centre that is side by side with a million-year-old rainforest."
CAPACITY
Capacity: five to 5,000
Great Hall capacity: 3,915 seated
Number of meeting rooms: 14
OTHER FACILITIES
Business Centre, VIP suites, outside broadcast facilities, Wi-Fi, parking for 600 vehicles, simultaneous translation booths
CONTACT
Borneo Convention Centre Kuching
The Isthmus, Sejingkat,
93050 Kuching, Sarawak, Malaysia
tel: 60 82 392 888