ASIAWORLD-EXPO has embarked on a US$77.2 million renovation to be conducted in phases over five years to ensure there are no disruptions to daily business event activity at the Hong Kong mega venue.
The launch of the mammoth project with facility upgrades across more than 70,000 square metres comes as AWE marks its 15th anniversary and adopts the theme "Change – Possibilities" as it looks forward to a business recovery from the Covid pandemic.
An AWE spokesman said the HK$600m investment would benefit exhibitors, concert performers and people visiting the venue in a new era of "expotainment events".
In addition to upgrades across AWE's venues, the renovation also covers technology and network advancements along with smart solutions for sanitisation.
Tech and networks
Upgrades will also introduce the Wi-Fi 6 system – the first system of its type in Hong Kong events and offering a "four-times better performance in device-dense environments".
The better connections are designed to support bandwidth-intensive streaming video and intelligent applications like Augmented Reality (AR), Virtual Reality (VR) and Artificial Intelligence (AI) to provide a strong foundation for IoT-based innovation.
After operating for 15 years, this is a milestone year for us. This is the perfect time to launch a large-scale renovation project, one which will position AWE for the many opportunities that lay ahead.
Even more enhancements are in the pipeline, ensuring AWE remains at the forefront of the industry, to the benefit of all stakeholders. As we witness the recovery of business markets worldwide, AWE is proud to welcome everyone with a new face and even finer facilities.
Irene Chan, AWE chief executive
With the rise of 5G mobile network technology, AWE has also upgraded its facilities to support higher signal stability with ultra-high speed.
Mobile Studio is also being introduced as a hybrid meeting facility with standalone lighting and power for use in an exhibition area or elsewhere in the venue for hybrid events.
The additions are meant to ensure organisers can create "seamless and immersive" experiences for their clients and show visitors.
Smart Solutions for Sanitisation
Toilets in public areas and halls have been renovated in phases with all handwashing devices in washrooms integrated with an advanced ozone disinfection system which treats the water to eliminate viruses and bacteria.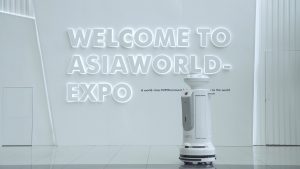 This ozone system has also been installed in the kitchens at AWE, helping to eliminate contamination and chemicals on ingredient surfaces, and keeping hands, containers and facilities clean and sterilised.
In what is described as a first for the global MICE industry, AWE introduced the three-in-one CLeanTech device, which helps sanitise visitors and their carried items in just 12 seconds. This installation has now been adapted to a tunnel setting for large-scale crowd admissions.
More… AsiaWorld-Expo opens frontline in Covid-19 battle
More smart solutions have been implemented throughout the year, including all escalators featuring built-in UV devices to constantly sanitise handrails with measures also taken to minimise risk when pressing elevator buttons and other surfaces.
Programmed robots are also deployed to enable large-scale sterilisation during venue changeover between events.
Events lined up at AWE include the 2021 Hong Kong Brands & Products Shopping Festival and the Puppy Summer Fun Expo, both of which are debuting at the venue, in addition to Music Is Live 2021.