Early in February, the Asia Society Hong Kong Center (ASHK Center) moved to its new home at a 1.4-hectare heritage site in Admiralty on Hong Kong Island, which was originally used as a military explosives storage compound between the 1860s and the 1940s. This location is among the last vestiges of the British military presence in Hong Kong, and contains buildings of significant historical and architectural merit that need to be preserved.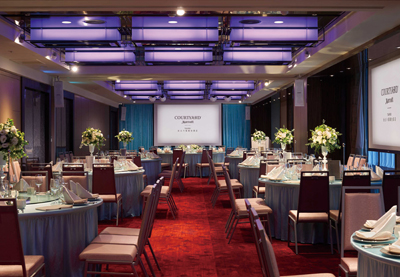 Abandoned for more than 30 years, the compound emerged from months of renovation – funded by the Hong Kong Jockey Club Trust – as a cultural hub from which the city chapter of the non-profit Asia Society can carry out its educational programmes, which will include lectures, exhibitions, performances, film screenings, tours, seminars and conferences.
Adaptive Reuse Project
Different sectors of the community as well as concerned citizens bonded together to push for this "adaptive reuse project".
"This is not just heritage preservation, it is also coupled with revitalisation," said T Brian Stevenson, chairman of the Hong Kong Jockey Club during the opening of the new ASHK Center, heralding "the adaptive reuse of these heritage buildings into what has now become a totally revitalised and functioning set of buildings to serve the community as a centre of arts, culture and contemporary affairs".
The ASHK Center combines new construction with the four former military buildings. Three of these buildings are listed as Grade 1 heritage buildings. While conserving the architecture and interior, these sites where gunpowder was processed, packaged, stored and distributed more than half a century ago have been renovated for contemporary use.
The ASHK Center has had a full line-up of events since moving to its new home, ranging from a lunch panel discussion on Chinese Investment in Africa to a children's summer interactive workshop called "We All Live in the Forbidden City". It also hosted an exhibition of Buddhist arts from February to July and is now running another one that displays a 186-piece Indian jewellery collection from the 17th to 19th centuries. The exhibition, called "When Gold Blossoms: Indian Jewellery from the Susan L Collection", will be at the ASHK Center gallery until February next year.
Hidden gem
Credit Suisse Room
A stone's throw away from the upscale Pacific Place Mall and standing right next to the British Council, the ASHK Center is located in a green oasis within an urban area composed of towering skyscrapers of steel and glass. This tangible link to Hong Kong's past has a few venues within its premises that can be leased for corporate events.
In a venue-strapped city like Hong Kong, fresh venue options within a heritage site are hard to come by, so the new ASHK Center is a blessing for event organisers. The centre has one multipurpose hall, two meeting rooms, two outdoor venues and one theatre, as summarised below:
• The Hong Kong Jockey Club Hall
On the upper ground level of The Pavilion, it is a large multipurpose function hall that accommodates up to 240 people banquet-style. It is an ideal space for lectures, seminars and receptions.
• Credit Suisse Room
One of the two meeting rooms in the Starr-Greenberg Building (Former Laboratory), suitable for intimate receptions with round-table setting for up to 12 guests. It can hold up to 20 people theatre-style.
• Lee Quo Wei Room
This meeting room is suitable for small- to medium-sized luncheon events with round-table setting for up to 48 guests.
• Joseph Lau Roof Garden
An exterior staircase leads from The Pavilion up to the stunning Joseph Lau Roof Garden. Set against the Admiralty skyline, the roof garden is a place for quiet contemplation and an ideal outdoor venue for up to 150 people.
• Courtyard
This second venue can hold up to 120 people for cocktails.
• Miller Theater (Former Magazine B)
Added to the compound between 1905 and 1907 for storing ammunition, it has been converted into a 107-seat facility for a variety of creative programmes.
Also on the premises is the stylish AMMO Café, which can hold up to 156 people. The restaurant provides a modern counterpoint to the deep history associated with the other venues within the ASHK Center. Nevertheless, its avant-garde interiors, which drew inspiration from the 1965 science-fiction masterpiece Alphaville, retain a connection to its military milieu, such as in the use of bent copper mesh and rods.
The F&B outlet, serving Asian and Mediterranean cuisine, is the official in-house caterer for all events hosted at ASHK Center venues. Organisers who are keen to book one of its venues, however, must bear in mind that the centre gives priority to its educational mission over commercial interests.
Says Rachel Ngai, catering sales manager, AMMO Café: "The ASHK Center has instituted a rental review panel, which balances its own institutional needs with inquiries from outside commercial interests. While they are happy to consider rental requests, they are prepared to turn down ones that they are not able to oblige."
CAPACITY
Exhibition space: The Asia Society Gallery (Former Magazine A), built between 1863 and 1868, is among the oldest remaining military buildings from the colonial period in Hong Kong.
Conference space: The centre has one multipurpose hall, two meeting rooms, two outdoor venues and one theatre. The biggest venue is The Hong Kong Jockey Club Hall that can hold up to 350 people. There are two meeting rooms, one with a capacity of 20 people and the other 50 people. Two outdoor venues can cater for groups of 120 and 150 people. Finally, there is a small theatre that can seat up to 107 people.
Other facilities: There is Visitor Center that has a permanent exhibition on the history of the Asia Society Hong Kong Center and the transformation of The Hong Kong Jockey Club Former Explosives Magazine. The Asia Society Store on the lower ground level of The Pavilion has an array of interesting items and publications, including innovative products designed by local Hong Kong artists.
Contact: Asia Society Hong Kong Center, 9 Justice Drive, Admiralty, Hong Kong
Tel: +852 2103 9511
Email: enquiryhk@asiasociety.org
Website: www.asiasociety.org.hk
Gigi Onag