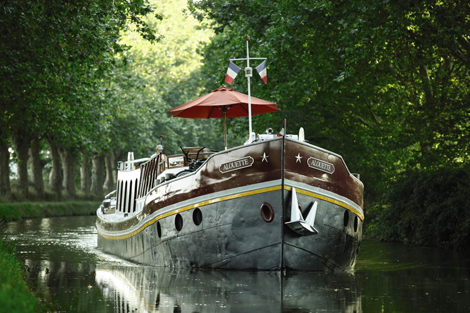 For wine lovers, experts, or just those who want to have a taste of the real France, a slow boat through Burgundy in the company of a wine expert is on offer from luxury travel operator Belmond. Its new launch is Wine Academy on board its Belmond Afloat fleet of luxury barges in Burgundy, France. The Wine Academy can be added to a bespoke itinerary and the activities are led by a local expert who can tailor the Academy's 'education des vins' activities accordingly, from introductory level to those who are budding wine collectors. The Wine Academy will include an immersive programme of talks to inspire the exploration of Burgundy and its most precious asset.
Wine master and Belmond Afloat in France's resident expert, Pascal Wagner, leads the Wine Academy and is often referred to as a walking encyclopedia of oenology. Pascal has over 30 years experience and grew up footsteps from the special Grand Cru vines of the region.
Your group will not always be on board. As an example, an introductory session with 11 different wines might take place during lunch at Chateau LeFlaive in the world famous village of Puligny Montrachet, followed by a blind tasting at Chateau Pommard, well known for producing award-winning Pinot Noir wines. Other highlights include Cremant tasting, Burgundy's own sparkling wine, and an optional hot-air balloon flight, across some of the finest vines spread over 230 hectares, for the ultimate birds eye view.
The Wine Academy is available for charter groups of four people or more, booking any cruise staying aboard Belmond Amaryllis, Belmond Hirondelle or Belmond Fleur de Lys, with various routes available along the picturesque Bourgoyne canals. The wine-focused activities offered as part of the Academy take place on three days throughout a six-night cruise.
Belmond Afloat in France offer tailor-made itineraries around Cote D'Or, France Comte, Saone, Provence, Valle du Rhone, Canal du Midi and Burgundy. The barges can accommodate between four and 12 passengers and cruises are offered on an all-inclusive basis with a complete crew including chef, hostess, captain and tour guide. Other activities available are cycling along the canal paths, visits to local chateaux and markets, plus cooking classes.
A week's private charter starts from £26,400 on an all-inclusive basis including private transfer – based on 4 people travelling on board Belmond Fleur de Lys. The 2015 season begins on 29 March and ends on 18 October. Prices for the Wine Academy start from an additional £700 per person based on four people in a group.
For more wine-inspired creative ideas, click here