WHEN a distressing video of a turtle with a straw stuck in its nostril went viral, it triggered international campaigns to eradicate maritime plastic waste.
It all started in 2015 when scientists studying olive ridley sea turtles in Costa Rica came across the injured reptile and spent ten minutes removing the straw.
Three years later, and the campaign against plastic straws has grown to become an international movement.
Latest figures from the Get Green Now environmental movement show that nearly 400 million plastic straws are used every day in the US alone, and that around a million seabirds and 100,000 marine animals die every year after ingesting plastic refuse.
While plastic waste is a global problem, some regions are worse than others, with a 2017 report from Ocean Conservancy Asia claiming that Asia is the worst of all. It says China, Indonesia, the Philippines, Thailand, and Vietnam dump around 60 per cent of all plastic waste into the ocean, more than the rest of the world combined.
Opinion: Let's reboot green thinking
And three years after the turtle video started doing the rounds, the issue of plastic straws and other waste has worked its way up hotel groups' environmental agenda.
Hyatt, for example, plans to eliminate single-use plastic straws and drink picks from all its hotels as part of its 2020 Environmental Sustainability Vision. As of September 1, straws and picks will be available on request only, with eco-friendly alternatives provided where available.
Hilton Hotels has also announced that it is doing away with plastic straws across Asia Pacific by the end of 2018. The move is part of its Travel with Purpose programme.
Marriott International plans to remove plastic straws and drink stirrers from all 6,500 hotels and resorts by 2019. The world's largest hotel company says the move will eliminate about a billion straws and 250 million stirrers.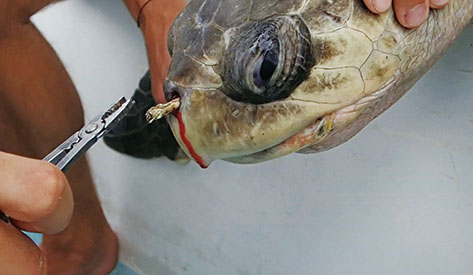 Six hotels in Singapore operated by Millennium Hotels and Resorts are also moving away from single-use plastics, gradually replacing them with greener alternatives over the next year.
Making the announcement ahead of World Environment Day in June, the group said Orchard Hotel, Grand Copthorne Waterfront Hotel, M Hotel, Studio M, M Social and Copthorne King's Hotel would make the move.
Anantara, along with sister brand Avani, the first major hotel brand to eradicate plastic straws at every single property in Asia, has said it is now preparing to expand the move globally, banning single-use plastic straws by the end of 2018.
Hong Kong is also moving away from plastic, with Hongkong and Shanghai Hotels, owners of The Peninsula Hotels, moving towards a ban on plastic straws by November this year. It is the first step in the company's global approach to transition away from all single-use plastics by 2020.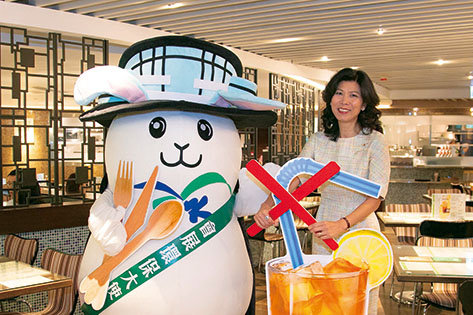 Hong Kong Convention and Exhibition Centre (above) is taking a major step towards banning plastic with a new sustainability initiative under the slogan "Think Before Plastic" (above). The measures, which were introduced in July, include the replacement of plastic disposable cutlery with alternatives at all HKCEC restaurant outlets and concession stands. Plastic straws will also no longer be provided, with paper ones available upon request.
HKCEC management expects to cut out the use of more than 1.3 million pieces of plastic disposable cutlery and 330,000 plastic straws over 12 months.
Thailand's resort island of Phuket faces similar challenges from plastic waste, but the island's hotel association is hoping to change that with a series of initiatives aimed at reducing the use of plastic, tackling the garbage that washes up on its shores, and educating staff, local communities and tourists alike.
Straws are, of course, only a part of the plastics problem, as Steven Russell, plastics division vice president at the American Chemistry Council, reminded on a visit to Singapore in July. He was there to meet with plastic waste companies and consumer brands to address global waste management problems.
Russel's view is that there is the danger of lulling companies and individuals into thinking they've done enough to save the ocean, when the issue of waste goes way beyond straws.
"The best that can be said about the collective action to eliminate straws is that it's good at raising awareness, but it's not the solution," Russel says. "It would be a shame to think, we've banned straws – we're done. That would be environmental malpractice, to address only 0.2 per cent of the waste stream."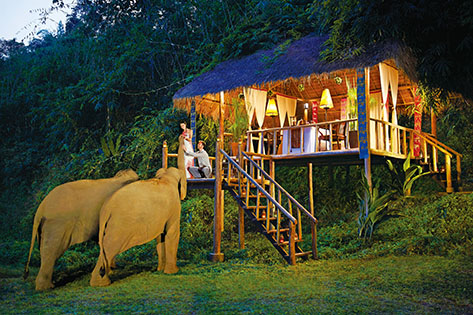 THAI GROUP OPTS FOR BAMBOO
BAMBOO is being substituted for plastic straws at Anantara and Avani Hotels and Resorts across Asia.
The fast-growing bamboo species is being harvested around the Anantara Golden Triangle Elephant Camp and Resort in northern Thailand and has been perfected for hygienic drinking use with the help of local artist Khamchan Yano, who has been working with the resort and villagers. A social enterprise has been set up to supply the hotel and provide local employment.
In Sri Lanka, Anantara Peace Haven Tangalle has added a plot of bamboo to its organic garden, which is tended by local villagers. Bamboo shoots will grow alongside tea, black pepper, cinnamon, cloves and rice.
William Heinecke, founder, CEO and chairman of Minor Hotels, which operates both Anantara and Avani, says: "It's important for us to play an active role in reducing the consumption and wastage of plastic globally. Across Asia, this will save 2.5 million plastic straws in the first year alone."