MIXED-REALITY technology has been rolled out at Marina Bay Sands' new Hybrid Broadcast Studio at Sands Expo and Convention Centre.
Launched today at Singapore's first hybrid trade show, TravelRevive, the MR capabilities are set to enlarge the studio's hybrid tech toolbox, allowing event planners to transform their events through impressive presentations.
MR technology integrates the virtual and physical worlds to create an immersive and interactive presentation.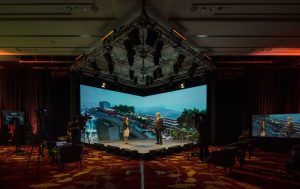 Coupled with the studio's cutting-edge three-dimensional stage and immersive backdrop, MR technology allows presenters to have a more meaningful interaction with digital data and the environment, bringing presentations to life through hyper-realistic visuals.
A spokesman for Marina Bay Sands said the MR capability is the latest technology to enhance the cutting-edge Hybrid Broadcast Studio, which was launched in August.
The original version of the Hybrid Broadcast Studio was created within a week to provide broadcast-quality live-streaming capabilities, hologram functionalities and a 3-D stage fitted with an immersive LED wall backdrop and floor that can display stunning visuals.
"Marina Bay Sands has accelerated our adoption of technology to adapt to the new environment," said Paul Town, Marina Bay Sands' senior vice president for resort operations.
More on this… MBS opens hybrid-event studio
"We are providing a comprehensive platform for our clients to transit into the hybrid sphere successfully – using digital modes, hologram functionalities and now Mixed Reality (MR).
"By enhancing our studio with MR technology, event planners will now have an industry-ready solution to capture the attention and imagination of their virtual and in-person audiences. This will further increase delegate engagement and drive greater content and idea generation among key communities.
"It has also given us the opportunity to work with technology partners to add value for our clients and their events. This is the future of storytelling and we hope to continue inspiring the industry, driving digital transformation and elevating hybrid event experiences," Town said.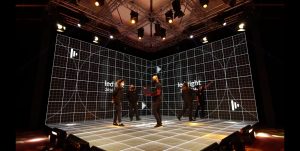 Since early October, the integrated resort has hosted several Singapore hybrid pilot MICE events including WiT Experience Week 2020 (October 1) followed by Singapore International Energy Week.
In January, Marina Bay Sands will be the global broadcast centre for 2021 PCMA Convening Leaders. The event will utilise best-in-class technology, including MR, to transform presentation formats and broadcast keynote speeches in real-time to multiple locations globally.
Marina Bay Sands says the resort is the first in the world to have a pool of certified Digital Event Strategists to steer conversations and assist clients in navigating the world of hybrid events.
Opinion… How hybrid is saving us
"While we continue investing in our infrastructure, facilities and technology, it is our team of dedicated staff who are the driving force behind the creation of successful events at Marina Bay Sands," said Ong Wee Min, the resort's vice president of conventions and exhibitions.
"Prioritising their personal development and providing them with the necessary resources to upskill is important in the sustainable growth of an industry-relevant MICE workforce," Ong said.
He said event planners could look forward to upcoming enhancements made to the Hybrid Broadcast Studio such as a full Extended Reality (XR) hybrid events solution that would redefine meeting experiences.