TE PAE Christchurch Convention Centre in New Zealand has partnered with a locally based technology company to launch a virtual tour of the venue, which is expected to open to the public in 2021.
JIX Reality specialises in building digital experiences and will use XR (extended reality) to showcase the new centre to clients and the Christchurch community.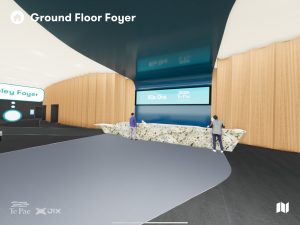 The new venue was expected to open in October with 50 events already confirmed, but construction issues have caused delays, according to New Zealand press reports.
Meanwhile, the virtual tour can be viewed online, or using a phone, iPad or virtual reality headset. A separate iPad app is also available.
Each experience starts at Te Pae Christchurch's main Oxford Terrace entrance and ground-floor foyer before "guests" visit the centre's flexible spaces, including the 1,400 seat Auditorium; the Rivers Room – a 1,000 seat banquet space; the 2,800 sqm exhibition halls and  smaller meeting rooms and pre-function areas.
Depending on the viewing method, the tour either follows a pre-determined path, or users can undertake a self-guided 360-degree experience and visit specific spaces.
"Christchurch is well-known for being innovative and pushing the envelope in those areas where it has the expertise and passion to make a difference, so it's little surprise that hi-tech solutions are one of the city's growth industries," Te Pae Christchurch general manager Ross Steele said.
More… Business Events Christchurch launched
"JIX Reality is a great example of this, the team are forward-thinking and creative – they came up with some industry-leading ideas and had the technological capability to make it a reality.
"When we needed to look at solutions that would allow us to open our doors, so to speak, while the borders remained closed – they quickly adapted our new virtual product to suit."
Let's Meet In… Christchurch and Canterbury
JIX Reality Founder and CEO, Sakthi Ranganathan, said: "Right from the get-go, our objective was to not offer a standardised product or agency service but rather create a customised experience for Te Pae Christchurch's customers.
"We have a flexible approach to development that allows for adaptations to unforeseen circumstances like the current pandemic, and in fact over time, the final product evolved from being solely a virtual reality experience to being an experience that can be enjoyed virtually by anyone anywhere in the world, regardless of device," Ranganathan said.
"We are excited to continue the partnership with Te Pae Christchurch and look forward to rolling out many more digital experiences that will be the first of their kind in New Zealand."