Some of the most astonishing cultures, landscapes and wildlife can only be accessed from the watery highways of the world's landmark rivers. And though boating excursions haven't always conjured images of luxury and leisure, boutique river cruises have been making waves in luxury tourism, offering an outstanding alternative to incentive trips on land. River boats are often much smaller than sea-going ships, creating intimate dining areas and flexible itineraries that make them a great option for corporate charter. Enjoy dinner or a weeklong stay on these stunning cruises.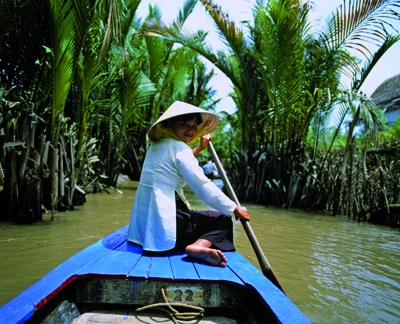 The Ancient Nile (Egypt)
What: One of the most renowned rivers in the world, the Nile is home to the landscapes of legends and biblical tales, and is a momentous setting for a river cruise. The Oberoi Zahra offers eight-day, seven night excursions, hosting guests in 25 luxury cabins and two large, luxury suites that are 50 sqm in size with a living room, private terrace and open air jacuzzi. On board, the facilities include an outdoor swimming pool, gym, steam room, library and theatre. Along the way, passengers will witness some of Egypt's most prominent attractions, with small luxury coaches used to transport guests between onshore destinations.
Where: The Oberoi Zahra travels between Aswan and Luxor, cities to the south of Cairo, with only a 30-minute transfer between the ship and airports in both locations. It stops at historic sites such as the ancient Temple of Edfu, one of the best-preserved temples in Egypt, and the Valley of Kings, where guests can visit the tombs of King Tutankhamun and Ramses VI. A trip to the West Bank of ancient Thebes, the temple of Kom Ombo, the Colossi of Memnon and a trip to the Botanical Garden by felucca, a traditional Egyptian sail boat, are all on offer. Guests are joined by a multilingual Egyptologist both onboard and off.
Why: Apart from experiencing relics from one of the world's ancient civilisations, the vessel's sleek interiors and spacious lounge and dining areas often cater to groups on incentive trips and annual meetings, with a capacity for
54 in the dining area. The executive lounge can host six on board, and the Panorama theatre can accommodate 20 theatre-style, with presentation facilities across three screens. Aside from its meetings facilities, the Oberoi Zahra is ideal for winding down, as it is the only Nile cruise with a full-service spa.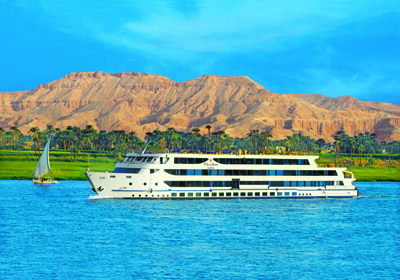 Cruise Indochina (Mekong)
What: Following the success of its Amazonian sister cruise, Aqua Expeditions will launch a new experience along the Mekong in September 2014. The Aqua Mekong is a state-of-the-art vessel made from sustainable materials and designed with local aesthetics in mind. The cruise can accommodate up to
40 guests and is available for three to seven day excursions, catering for corporate charters, incentive trips and private holidays. Founder Francesco Galli Zugaro worked with cruise ventures in the Galapagos before coming to the Mekong, tapping into the burgeoning market of ultra-luxurious small ship cruises.
"Word spread about our two Amazon cruises and the possibility of supremely luxurious accommodation and fine dining, while exploring some of the most remote wildlife. [On the Mekong] we identified an authentic programme, which enables guests to explore Cambodian and Vietnamese cultures with local guides [with a guide to guest ratio of 1-to-1] who know every animal, bird and tree found in the jungle. Our trips are educational experiences," says Zugaro.
Where: Depending on the itinerary, cruises run between Siem Reap and Phnom Penh in Cambodia, Phnom Penh and My Tho, Vietnam, or Ho Chi Minh City and Phnom Penh. Along the way, on and off shore activities are available, such as trips to the former home of French writer Marguerite Duras, riverside bicycle rides, bird watching excursions or a sampan journey into the Tra Su Cajuput floating forest in Chau Doc, Cambodia, home to rare painted storks, endangered turtles and 140 species of aquatic plants and flowers.
Why: With a staff of 40, the Aqua Mekong can cater to clients who are keen to charter the cruise with a specific theme or focus in mind. The cruise's amenities are comprehensive, and include both indoor and outdoor dining areas, a plunge pool, private library, games and screening rooms. Due to its shallow draught, the Aqua Mekong can navigate waters that larger ships can not access, offering guests an enhanced exploration expererience. To top it off, the Aqua Mekong's environmental footprint is a fraction to that of a larger ship's, says Zugaro, adding, "We do not disturb the local way of life."
Sensational Siam (Thailand)
What: Gliding along Bangkok's Chao Phraya river, Classic Barges offers an ultra boutique service of one to three day river tours between Bangkok and Ayutthaya, the old Thai capital, 80 kilometres north of its present one. The company's most recently refurbished vessel, the Montha, has been converted from an antique rice barge made from golden teak and mahogany, and includes one main state room on the lower deck, a dining area and lounge, plus forward and aft decks that make accommodating venues for drinks and canapés.
Where: Known as the 'River of Kings,' Chao Phraya was used as a transport route for dignitaries in ancient Siam (as well as for invading forces from Myanmar), but it was – and remains – an integral trade route, making it a key attribute to Siam's wealth. The Chao Phraya is endowed with sightseeing opportunities, and the cruises' most popular programmes include stops at Ayutthaya, local artisan colonies and a selection of ruins and temples, including the famous Wat Chaiwatthanaram, which dates back to the 17th century and the Thai defeat of the Khmer in Cambodia.
Why: The Chao Phraya is one of Bangkok's famous attractions, home to religious shrines, riverside communities, and local wildlife. Classic Barges offers versatile packages including group day packages that can accommodate up to 12 people. Ideal for a corporate day-outing, a popular itinerary sees the Montha stop at the Royal Thai Folk Arts and Craft Centre, Ayutthaya Garden River Home Resort & Spa for lunch and the Bang Pa-In Summer Palace, accessible by cable car.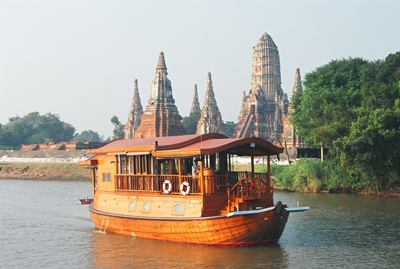 Yangtze Experience (China)
What: With tai chi, Chinese cuisine and silk embroidery classes on board, the Sanctuary Yangzi Explorer is a cultural destination in its own right. Although one of the smallest vessels on the Yangtze, the cruise offers extensive amenities including fitness and business centres, a spa, a double decker theatre, and a function room that can accommodate up to 40. The cruise can host up to 124 passengers, with 38 deluxe cabins, 20 suites and four large specialty suites, sized between 75 and 95 sqm. All suites have their own private balcony.
Where: Three night excursions depart downstream from Chongqing to Yichang, while four nights takes guests upstream from Yichang to Chongqing. Along the way, a trip to the town of Fengdu gives an insight to local culture on the Yangtze's shores, while the Qutang Gorge, the narrowest of the Three Gorges, and Xiling Gorge, the longest, offer views that have brought the river its fame. The Explorer sails through the locks of the Three Gorges Dam, the world's largest hydropower project, giving passengers a remarkable view of the giant 181-metre tall structure, which is notorious for the environmental and social disruption caused by its construction.
Why: The Sanctuary Yangzi Explorer has a history of charters by institutions wishing to hold their annual assemblies, team-building exercises, as well as ordinary meetings in a setting that is both comfortable and impressive. Product launches, fashion and automobile shows have taken place on board, and the Explorer's spacious function room is ideal for business events planners looking for a venue that offers boutique service, but also features roomy, accommodating facilities.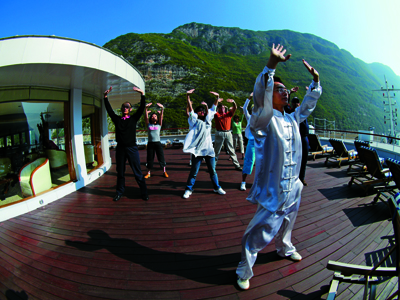 African Adventure (Botswana)
What: The Zambezi Queen was built in the 1990s to transport guests between the Namibian town of Katima Mulilo down the Chobe and Zambezi rivers. However, due to its size, navigating the vessel was inefficient and it was converted into a floating hotel for visitors of Namibia's Caprivi region. In 2008, the ship was redesigned and now offers tailored experiences to passengers intrigued by the African wilderness and safari. The Zambezi Queen has 14 suites, all of which offer floor-to-ceiling views and a private outdoor balcony.
Where: The Zambezi Queen travels on the Chobe River, where the borders of Botswana, Namibia, Zambia and Zimbabwe meet. The cruise departs from Kasane Immigration Office in Botswana, returning to the same point with the option of two or three night excursions. On and offshore excursions are available, including water-based game viewing and bird watching from tender boats, tiger and bream fishing (seasonal) as well as three to six hour game drives in Chobe National Park, where the densest population of elephants in Africa can be found. A full day return trip to spectacular Victoria Falls is also available by land transfer.
Why: Frequently chartered for corporate use, the basic, three-day itinerary suits many incentive travel groups, with comprehensive safari activities that are sure to bond groups through the experiences of the surrounding wildlife.
With the lounge and dining areas seating 30, the Zambezi Queen can accommodate large groups, and meals can be served either on small, intimate tables or two long tables.
Meander to Mandalay (Myanmar)
What: Myanmar is Asia's destination of the moment, and Belmond's Road to Mandalay river cruise will celebrate its 20th birthday in 2015. The cruise offers three to 11 night excursions that can work well for travellers who have arrangements either side of the cruise in Bangkok, Yangon, Inle or Ngapali. On board, guests can choose from five categories of cabin, from the Governor's to the Single cabin, with a maximum capacity of 82 passengers.
Where: The Road to Mandalay sails Myanmar's largest river, the Ayeyarwady, departing from the ancient city of Bagan and offering a selection of itineraries that can be tailored to meet the needs of each group. Visits to cultural cites such as the famous U Bein Bridge, Mount Popa National Park, King Bodawpaya's unfinished pagoda and the Sagaing Hills, considered the centre of Buddhism in Myanmar. Water puppet shows and performances by the Burmese Royal Acrobats are also on the entertainment agenda.
Why: The Road to Mandalay has hosted a range of group charters, and each experience can be personalised with cabin gifts, entertainment and bespoke menus. Special arrangements can be made for group activities, including tours by horse drawn cart, riverside champagne receptions, sunset barbecues overlooking fields of pagodas, hot air balloon flights plus meditation and wellness workshops.