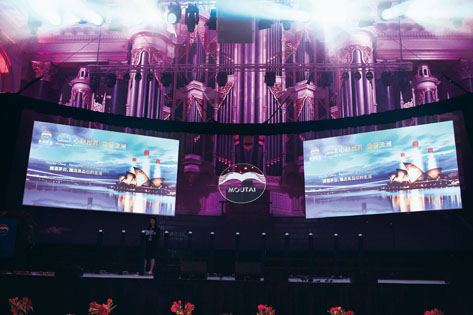 MOUTAI China launched an Australian brand of the famous spirit with a star-studded gala dinner at Sydney Town Hall in May with more than 500 guests gathering to celebrate 46 years since the liquor, traditionally used as a toast for special occasions in China, was imported into the country.
The event was masterminded by Sydney-based event services and exhibitions specialists Staging Connections, which built on the theme "Let the world fall in love with Moutai, let Moutai go to the world" by evoking the brand's 2,000-year history throughout.
Moutai has been produced in China's Guizhou province for centuries, with families passing down the secret of its highly intricate production method. People who produce Moutai usually spend a lifetime perfecting their craft.
Made from organic sticky sorghum, it takes five years to produce one bottle of Moutai. The spirit is distilled nine times and then aged for three years in ceramic pots, with a production cycle that mirrors the Chinese lunar calendar.
Moutai is highly regarded in Asia as a prestigious gift and is a traditional drink to accompany Chinese dishes in much the same way as saké complements Japanese food.
WINNING PITCH
Various stakeholders in the events industry recommended Staging Connections to Moutai in 2017. The team is renowned for executing immersive, 360-degree brand experiences on a large scale, which is what Moutai was looking for – an event that was "unique, impactful, exciting and brand-centric".
Staging Connections took part in a highly competitive pitching process and its success came down to experience in high-profile global events, such as Amway Taiwan. Moutai said Staging Connections' expertise, understanding and capability set it apart.
Staging Connections was responsible for all aspects of the evening, from technical design, and creative and digital delivery through to the red and gold-themed décor. Tables were dressed in traditional gold linen with centrepieces and complementary red floral displays.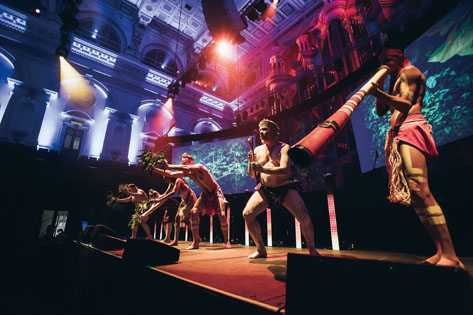 HIGHLIGHTS
The highlight of the evening was the unveiling of a special Australian label of the spirit. Ten VIP guests were invited on stage to activate a tailormade lighting display, counting down to reveal the new Sydney limited-edition bottle.
Upon entering the venue, guests were welcomed into a cocktail space featuring iconic brand labels of the spirit from the Moutai archives – each presented as a piece of art. They were then led through an exhibition space showcasing the brand's story and history, with interactive displays. A custom-made, suspended
20m x 5m holographic screen showcased the content across borderless displays, highlighting the cultural significance of the occasion.
Moutai has separate labels for every province in China, and for the first time, an Australiana-themed label has been added to the archives. Vintage labels were exhibited, giving guests the chance to celebrate the brand's story and place in Chinese culture with a pre-dinner drink.
A separate display under the eastern gallery of Sydney Town Hall was designed with touch screens and pillar-wrapped graphics for guests to further immerse themselves in China's national spirit.
The gala dinner featured a traditional Aboriginal dance, entertainment by the Moutai China Group, and an operatic performance by soprano Emily Anne Garth, who sang in both English and Chinese.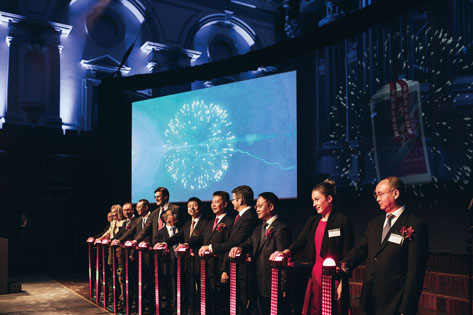 UPSHOT
John Schryver, Staging Connections director, special events, said the Sydney team produced a spectacular event that transfixed delegates. "The event was an incredible success. Showcasing a new product is so effective when given the opportunity to present an entire sensory experience using technology to educate and excite guests."
Mocha Du, representing Moutai China, also praised the event. "We could not be happier with the result. Our VIPs and delegation were enthralled by every aspect of the event and [it] really engaged with our message.
"The event was months in the making, requiring the Staging Connections team to juggle many moving parts and please multiple stakeholders in Australia and across the globe. The level of professionalism was outstanding, and nothing was toomuch trouble."
---
CHECKLIST
EVENT: Moutai's Australian label launch
ORGANISER: Staging Connections
LOCATION: Sydney Town Hall
ATTENDEES: 500 guests
BIG MOMENT: Unveiling of the new label by ten VIP guests
DATE: May 30, 2018