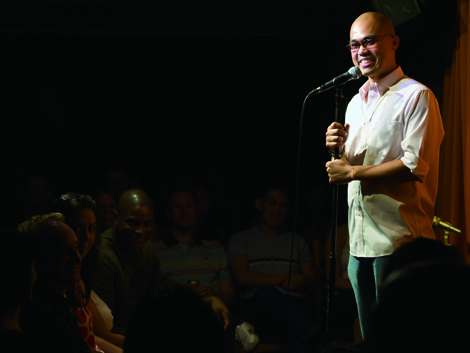 Most of us have sat through long, monotone presentations. Even if the subject matter is interesting, attention can wane. At corporate events, this can be especially true as there is a common perception that business is serious, and all interactions should be straight-faced.
Attitudes are changing, however, and event planners are increasingly realising that incorporating humour can make an event more memorable.
"Laughter helps to break the ice and makes people more relaxed," says Jami Gong of comedy club TakeOut Comedy in Hong Kong. "It also keeps people awake and makes them pay more attention. It also unites people."
But having a laugh doesn't only make an event more fun, it can also help get the business message across more effectively.
"We often deal with jaded groups that may justifiably feel that 'teambuilding sucks'. So our event directors use the common tool of good comedy introductions to disarm them," says Talan Miller, managing director of Australia-based teambuilding operator, Sabre Corporate Development.
"Event planners should discriminate between comedy for pure entertainment – which is always fun if done well – and interactive comedy and entertainment with the purpose of delivering a business message. When comedy is intelligently linked to learning processes or business outcomes it can also be quite a potent inclusion at a corporate meeting or event. Current insights from neuroscience concur that linking appropriate humour can trigger emotional responses that enhance memorability and post-event recall for key themes."
IT'S NO JOKE
How to include humour, and what sort of humour to introduce, is something that should be done with care. Bad language is strictly inappropriate, and event planners should take into account that staff may come from different cultural backgrounds.
"Understanding cultural difference is very important," says Jason Moran of Australian leisure and corporate events company, TimeOut Adventures. "Offensive language
is a no-go, and I think also ensuring that the guests are not the butt of jokes, which can make people feel uncomfortable is important."
Jokes about competitors can be a good way to unite staff – as long as the jibes are carefully and tastefully delivered, says Gong.
"If the event is for HSBC, for example, then I would avoid making jokes about that bank and would instead make gentle fun of the Bank of China," he says. "Picking up on company themes is also a good idea: I was the master of ceremonies at a Rabobank event, which is a Dutch company, so I researched about the colour orange and wove that into my chat. Everyone appreciated that I had put some work into researching and making my interactions relevant to the company."
Being culturally aware doesn't only refer to being sensitive to people's backgrounds, but also to the culture of a particular company. Some companies are more conservative than others, and event organisers should use good judgment as to how much light-heartedness is appropriate for the event.
"In Hong Kong, I find that especially local Chinese companies don't want too much fun," says Gong. "So it's important to get the tone right and use discretion."
OUTSOURCING
It can make sense, especially for overseas events, to sign up with a agency that specialises in handling entertaining corporate events from start to finish.
TimeOut Adventures, which has facilities across Australia, offers a range of activities designed to be fun as well as bond staff. These include Segway eco-adventure tours and Olympics-style races, walking on water in giant plastic balls, recording a bopping heads music video, giant foosball, laser clay, pocket flips, magic photo booth, and next-gen karaoke. They can tailor-make itineraries for companies.
"Most of our activities are fun, such as the bopping heads music videos that give people a great laugh when they participate," says Moran. "So through interaction and doing our activities, people are laughing at themselves or their colleagues."
For Sabre, which runs team-building games including a real-life fashion show and assembling and riding bicycles which are then given to needy children, interaction and participation are also key.
"Our aim is that humour is generated from the group themselves, with careful direction and assistance when required, of course," says Miller. "We find this to have much greater and more lasting value than scripted, externally delivered comedy, which, no matter how clever, tends to get some laughs in the first instance, but just doesn't go as deep as humour that integrates the audience in an immersive way. Providing a carefully tailored framework for the people themselves to generate the humour delivers greater authenticity and relevance around the desired messages of the meeting or event."
Sabre's events are thus designed to be a blank canvas on which the group can project their own, appropriate and personally relevant, humour.
"You can rely on a creative team challenge to generate company 'in jokes' that will sit within the existing threshold of tolerance for their own company, national and religious cultures," he says. "Who better to pitch comedy and humour than the leaders and teams themselves?"
Sabre has, in recent months, designed and delivered movie- and advertisement-making activities that are designed to deliver business messages with creative humour for major international IT firms, banks and pharmaceutical companies.
"Our haute couture Fashion Fiasco event has likewise been used with a major Telco and international accounting and consulting firm whose outward conservatism resulted in some initial scepticism that quickly turned into outrageously funny portrayals of company values and objectives," says Miller.
They also have comedic and tailored introductions for military-themed activities, such as their Strike Force and Battlespace events, that are designed to pave the way for the delivery of serious content by breaking down barriers and cynicism first. Miller says major automotive and aerospace clients have signed up for these events.
A FUNNY THING
There are various ways that event planners can add laughter to their event. Select an appropriate performer to book, outsource to a company that specialises in creating entertaining corporate events, or keep it in-house with some executive comedy training.
BOOKING
There is a variety of agencies supplying performers to corporate and leisure gatherings. In the UK, Showwaiters provides waiters that interact amusingly with guests during lunch or dinner, while in Australia, The Three Waiters are a trio of servers who seem like regular waiters only to break out into opera singing, competing against each other for guest applause.
A humorous MC is another option. Stand-up comedy has bloomed in Asia over the past decade with comedy clubs opening. Often these clubs can supply MCs and stand-up comedians who are familiar with the requirements of corporate events. The Comedy Club in Singapore, for example, has supplied comedians and one-off comedy acts to clients such as Standard Chartered, Pernod-Ricard, Apple (Singapore), Toyota, and the Starwood Group, to name a few.
Gong, who is regularly hired to MC at events in Hong Kong, recently chaired an anniversary party for the Hong Kong Maritime Museum at the city's Pier 9 for which he created an interactive game. He made attendees play his version of "rock, paper, scissors": people had to stand up, choose a partner near them, take out a minimum of HK$20 and play rock, paper, scissors. Whoever lost, lost their money and had to sit down. The winners played the next standing person, and so on, until there was one overall winner. This person was called up on stage, and asked if he or she would like to keep the money or donate to the museum.
"Of course, that was putting them on the spot and they had to donate the money," says Gong with a chuckle. "But instead of the usual sit-down dinner, followed by lucky draw, after which everyone leaves en masse, I did something unexpected. While what I do for every event depends on budget, scheduling, and what event planners are looking for, I always aim to do something out of the box. People love that. A funny MC helps so much – I can't stress enough how important it is to get things going and get people involved."
Gong also books other performers for his corporate clients. He is very strict about only booking comedians with clean, clever material.
"I show event planners videos of my performers so they can choose which ones are appropriate for their company, and I get approval before they get on stage. I also always work closely with event planners to tailor the performances to match the company, and make sure I know their expectations and the company culture."
HUMOUR AND PRESENTATIONS
For events that only involve company staff, those running meetings or seminars can be coached as to how to add a touch of humour to their presentations. As Gong says, who doesn't like funny speakers?
"Speakers don't need to do stand-up comedy, they just need, in a 20-minute presentation, to share personal, light hearted stories every eight minutes or so," he says "The stories should be something people can relate to; think of it as part-speech, part-entertainment. If you run short of time, you can always say, 'Sorry, my time is up, please come see me later, or check my website – people always remember funny speakers, their funniest teachers, or their funniest professors."
For those whose hands begin to shake at the thought of speaking in public, care should be taken when trying to force humour into speech.
"Unless an in-house manager or presenter has a natural predisposition towards being credibly humorous, they need to be very careful that their attempts at humour don't go down like a lead balloon, which can detract from the credibility of their messages," says Miller. "We have all sat through the presentation with inbuilt gags that just fall flat. The awkward laughter afforded to a senior manager's bad jokes purely in deference to their status can also be a little demeaning to all concerned. It's far better to play it straight unless good comedy comes naturally and can be pulled off by the person delivering it."
For presenters to whom humour doesn't come naturally, Miller suggests cultivating a relationship with a colleague who does have the credibility for being the "class clown". A Dean Martin and Jerry Lewis-style chemistry of the straight-faced man with the comic can work well. Another alternative is to obtain clips, memes or images that will appropriately enhance a message with comedy that is a more sure-fire hit. Great care must be taken to ensure a cultural fit to avoid offence, and of course, that it is copyright friendly.
Gong points out that if a staff member is reluctant to give a presentation, they should not be forced.
"If someone doesn't want to be on stage, then don't make them," he says. "They will look awkward and the audience will be able to see it."
Gong runs stand-up comedy classes every two or three months in Hong Kong, and has previously been hired by companies to run classes for staff.
"Practice doing stand-up two or three times a week and I promise you'll get over any fear of being up on stage in front of an audience," he says.
THE PROFESSIONALS
The Comedy Club, Singapore
Tel: +65 96357896
info@thecomedyclub.asia
Sabre Corporate Development, Australia
Talan Miller, Tel: + 61 7 5530 5522
tal@sabrehq.com
Showwaiter, UK
Tel: +44 203 397 8077
contact@showwaiters.co.uk
TakeOut Comedy, Hong Kong
Jami Gong, Tel: +852 6220 4436
jamigong@gmail.com
www.takeoutcomedy.com
The Three Waiters
TimeOut Adventures, Australia
Jason Moran, Tel: +61 407 480 711
jmoran@timeoutadventures.com.au