INCENTIVE organisers in Asia consider convention bureaus and local DMCs more vital when creating itineraries compared to planners in other parts of the world, according to a new study.
SITE Foundation launched its Report on Incentive Travel in Asia during a pan-Asia webinar on June 2 with panelists Lisa Xu, managing director of East Star China; Andrea Teo, of Pacific World Singapore, and Bruno Simões, of DOC DMC Hong Kong-Macau.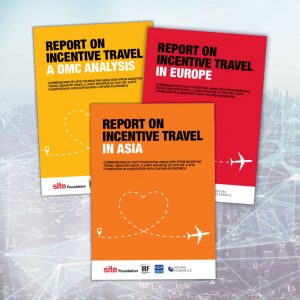 The 70-page study is one of three from the Society for Incentive Travel Excellence, with the others analysing prospects for destination marketing companies (DMCs) and incentives in Europe.
Average spending among DMC clients in Asia also outperformed those in North America with "Asia at the upper end of cash spend on incentive travel", Pádraic Gilligan, SITE's chief marketing officer, who moderated the webinar, said.
"Most business comes direct from clients, followed by trade shows, DMO or CVB referrals. The official tourist board is hugely important in terms of sourcing business [with] hotels and DMCs in Asia [than] North America or Europe," Gilligan said, referring to destination marketing organisations, management companies and convention bureaus
More… Luxurious Bio-security: incentive travel's new normal
Research for the Asia Pacific report took place before the Covid-19 outbreak and gathered responses from 288 SITE members, 30 per cent of whom were buyers and 70 per cent suppliers.
The top five countries based on the number of respondents were India, China, Thailand and Indonesia.
Southeast Asian countries ranked highest in Asia when incentive travel organisers placed business, according to the report's findings, but the region's fell to fifth place when planners were asked about future destinations they would choose.
Northeast Asia destinations such as Japan, South Korea and Taiwan ranked higher as choices for future incentive travel programmes followed by western Europe, Oceania and emerging European countries such as Poland and the Baltic States.
Meet the black-belt who gets a kick from incentives
Meetings were considered integral to incentive travel experiences for Asian buyers, while suppliers in the region relied more on destination marketing organisations for lead generation than their counterparts in other global regions.
Value-for-money also ranked higher among planners on Asia when selecting destinations compared to those in Europe and North America, but Asia also showed a higher spend per delegate.
More from Pádraic Gilligan… What we should keep in mind about Covid
In terms of post-Covid recovery hopes, Lisa Xu managing director of East China Star, told the webinar that planners were working with Shanghai tourism authorities on domestic events, which meant organisers having to "downscale" programmes until market conditions improved.
Xu said East China Star was working on a local brands fair at Shanghai's Yu Garden and creating a series of city walks. "There will never be one standard way of reorganising the industry," she said.
Positive signs of China's business events industry were seen with the Hunan Auto Show held successfully with new health procedures, WorldSkills Shanghai 2021 scheduled for September next year and the rescheduling the China International Import-Export Fair, the largest event of its type in the world.