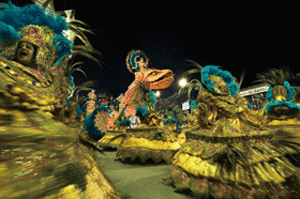 RIO DE JANEIRO, BRAZIL
Rio Carnival
WHAT IS IT?
Let your hair down with song and dance at the Rio Carnival, hailed as the greatest show the world has ever witnessed. Attracting over 500,000 foreign visitors to its grounds yearly, everyone is given the right to be on his wildest behaviour in a carnival that's considered an extravagant "act of farewell to the pleasures of the flesh". From fiery samba parades to dance balls of all kinds, the carnival poses as the perfect opportunity to loosen up and simply have fun.
WHEN IS IT?
The 2009 Rio Carnival is scheduled to start on February 21.
WHAT CAN YOU DO THERE?
Your carnival experience will never be complete if you fail to visit the massive Samba Parade held in the Sambodromo, a sprawling 700-metre long venue built specifically for the grand event. Expect to be dazzled by the influx of beautifully crafted costumes donned by the performers, some of whom are cheekily clad at the top to provide that extra bit of "oomph" for spectators. For those interested to find out what goes on behind the scenes, there's always the Samba School visit for a peek. Unless you need to be up and about early for that board meeting the next day, there's also a great deal of thematic balls and street parties for downing a few beers and further merry-making into the night and beyond.
CONTACTS
Rio Convention & Visitors Bureau, rcvb@rcvb.com.br
Rio Carnival Services, www.rio-carnival.net
SINGAPORE
Chingay
WHAT IS IT?
Meaning the "art of costume and masquerade" in the colloquial tongue, Chingay is a parade focused on bringing out the vibrancy of Singapore's ethnic mix. Featuring a grand procession of colourful jumbo floats and unique street performances that run through Orchard's shopping belt all the way up to Marina Bay, its recent 2008 edition saw the Red Bull racing show car enter as part of the lineup as a special prequel to the city state's imminent F1 event. It also featured a post-event street party for members of the public to chill out through the night.
WHEN IS IT?
It is usually held sometime during late January to early February.
WHAT CAN YOU DO THERE?
Delegates will find themselves more than occupied with just the Chingay – there's the Singapore River Hongbao, an exhibition of Chinese mythic folklore; the Chinese New Year celebration in Chinatown that see over 500 stalls selling delicious festive goodies; there's also the Huayi Festival of Arts performance at the Esplanade, all located within a 15-minute drive to the Suntec International Convention and Exhibition Centre. The Singapore Tourism Board also recommends the Original Singapore Walks where participants can experience authentic bits of local Chinese heritage.
CONTACT
Singapore Exhibition and Convention Bureau, secb@stb.gov.sg
CEBU, THE PHILIPPINES
Sinulog Festival
WHAT IS IT?
The Sinulog is a festival that honours the child Jesus, or the Santo Nino. Initially made up of students who danced to the tune of traditional instruments, the event gradually attracted the participation of every sector in the local community under the aegis of the city mayor, until it bloseventually becoming a grand affair that attracts people far and wide.
WHEN IS IT?
The festival is held annually on the third Sunday of January and lasts nine days.
WHAT CAN YOU DO THERE?
Aside from lively bazaars, large trade fairs and Ms Cebu or Festival Queen contests, there is also the option of joining either one of three processions: the solemn parade where devotees follow the Santo Niño to the Basilica; the fluvial procession where the Child King leaves his home for a stay with his father; or the Sinulog Grand Parade, where you are able to experience the celebration at their climax. The Cebu International Convention Centre, ideally located in Cebu's business district, can handle big conferences, and there's also a list of accommodation and dining options available on the city's tourism website.
CONTACTS
Cebu City Tourism Commission, www.cebucitytourism.com
Cebu International Convention Centre, cicc.cebu.gov.ph
IRELAND
Saint Patrick's Day
WHAT IS IT?
A unique tradition that celebrates all things Irish, people of both Irish and non-Irish descent rise to the occasion by dressing in shades of green or orange, having typical Irish-based meals, accompanied by the trademark Guinness or Murphy's, and of course, not missing out on that one festive parade which over 3,000 performers participated in 2008.
WHEN IS IT?
The next Saint Patrick's Festival will run from March 12 to 17, 2009.
WHAT CAN YOU DO THERE?
The Saint Patrick's Festival has a fun-filled selection of events like treasure hunts that are ideal for team building. There's also the National Lottery Skyfest featuring a brilliant pyrotechnic display, and the Festival Parade itself, which sees marching band contingents take to the streets with a blast. The nearby Westbury Hotel provides a good vantage point for delegates to view the activities from their rooms, with its seven boardrooms, capable of hosting a maximum of 50 persons each. It is also conveniently located opposite the shopping hub of Grafton Street. In addition, the Convention Centre Dublin is scheduled to open in 2009, with facilities that can take a maximum of 8,000 delegates.
CONTACTS
Dublin Convention Bureau,
www.dublinconventionbureau.com
Westbury Hotels,
JAPAN
Hanami (Flower Viewing) Festival
WHAT IS IT?
The Hanami Festival, better known as the Cherry Blossom Festival, is the time when Japanese celebrate the coming of spring by viewing the beautiful sakura flowers in full bloom. Groups of families and friends, some dressed in traditional kimonos, often gather under the branches of these colourful cherry trees during the season, making it an occasion for a picnic, bringing bento boxes containing beautifully presented meals.
WHEN IS IT?
Due to the climatic difference between northern and southern Japan, the festival can occur anytime from February in Okinawa to late May in Hokkaido, usually lasting for a period of one to two weeks.
WHAT CAN YOU DO THERE?
Japan Inside Tours offers an assortment of group packages in March and April to coincide with the spring season. Some experiences include soaking in the hot spring baths in the mountains of Hakone, visiting century-old shrines in imperial Kyoto or simply savouring the taste of sashimi and other seafood delicacies in local sushi bars. For meetings and conference space, the Kyoto International Conference Centre, located just an hour away from Kansai International Airport by airport shuttle, offers some seven halls and another 70 rooms for meeting planners to hold their corporate events.
CONTACTS
Kyoto Convention Bureau, hellokcb.or.jp
Inside Japan Tours, bookings@insidejapantours.com
KOREA
Gangneung Danoje Festival
WHAT IS IT?
Registered with Unesco as one of the "Masterpieces of Intangible Heritage", the Dano Festival is the largest festival celebrated in Korea. In ancient times, locals used to pray to the guardian deities for bountiful harvests and also good health for the year ahead. The festival regularly attracts about one million visitors annually, including some 230,000 local residents.
WHEN IS IT?
The festival spans over a one-month period from April to May, with the main festivity held during the final days in early May.
WHAT CAN YOU DO THERE?
Apart from daily shamanic rituals and performances, the adventurous can pit their skills in swinging contests or ssireum (wrestling) competitions; the religious can wash their hair in iris water for good luck; while food connoisseurs can savour the tastes of surichwi rice cakes or yeot (Korean taffy).
A must see is the Dwanwo mask drama, a pantomime drama about a local deity enacted by government officials. Cultural performances abound in Korea.
The COEX in Seoul is just about an hour's flight away, but for nearer alternatives for your event. The Sun Cruise Resort in Gangeung, a unique ship-shaped hotel situated on the cliffs, offers a total of four convention rooms that can house up to a maximum of 1,500 delegates reception-style. Companies are spoilt of choice as Korea rises as a premier meetings and incentives destination.
CONTACT
Korea Tourism Organization,
Sun Cruise Resort, www.suncruise-resort.co.kr
MONGOLIA
Naadam Festival
WHAT IS IT?
A festival that traces its roots to the typical wedding and hunting spectacles staged by the Mongol armies in the past, Naadam celebrations take the form of three main activities: wrestling, horse racing and archery. These are sports the locals are known to excell in. It formally commemorates the beginning of Mongolian independence in 1921.
WHEN IS IT?
Festivities typically commence every year from July 11 to 13.
WHAT CAN YOU DO THERE?
With flights into the city via countries like China, Japan and Korea, Black Ibex Expeditions suggests an eight-day package for group sizes of four to16, which includes city sightseeing in Ulaanbaatar, the viewing of large-scale horse racing and other folk performances, a trip to South Gobi to marvel at the grand canyons of Eagle Valley, and the thrill of racing through the sand dunes of the Khongor Desert. A shorter three-day itinerary is also available on request. The local authorities have proposed future projects like an Adventure Land that aims to build lodging and conference facilities, proving that Mongolia can just as well be your next exotic destination for meetings and incentives.
CONTACT
Mongolian Tourism Ministry, www.mongoliatourism.gov.mn
Black Ibex Expeditions, marketing@discovermongolia.mn
SARAWAK, MALAYSIA
Rainforest World Music Festival
www.rainforestmusic-borneo.com
WHAT IS IT?
Held in Sarawak Cultural Village, within the scenic realms of Mount Santubong in Kuching, the Rainforest World Music Festival (RWMF) honours the diversity of "world music" through a series of concert-like performance by famous musicians and also native gigs hailing from Borneo. A set-up of food, craftwork and festival souvenirs at the site further adds to a cumulative festive experience.
WHEN IS IT?
This year's RWMF is scheduled to take place from July 11 to 13.
WHAT CAN YOU DO THERE?
The musical feats should pretty much keep your evenings occupied, but if your ears need a break, there's always the Rainforest World Craft Bazaar and Folk Art Forum to attend. Apart from a longhouse retreat offered by the Sarawak Convention Bureau where meeting planners can request for the musicians to play exclusively for their group, delegates can also choose between two tour packages with accommodation offered in hotels like the 305-room Holiday Inn Kuching, which can handle conferences of up to 650. Itineraries include workshops, presentations, a nature trip to Bako National Park where you'll be introduced to Borneo's indigenous rainforests and wildlife, and also a city tour of Kuching's star attractions such as the Cat Statue and the Tua Peh Kong Temple.
CONTACTS
Sarawak Convention Bureau, info@sarawakcb.com
Borneo Mainland Travel & Tours, info@borneomainland.com
MEXICO
Day of the Dead
WHAT IS IT?
A festival influenced by pre-Hispanic and Catholic customs, the Day of the Dead is a revered Mexican holiday for honouring family members. Contrary to the solemn and teary-eyed "funeral setting" as expected from these events, locals actually celebrate the occasion dressing in fanciful skeleton-like ornaments, having lively reunions at family burial plots and holding religious rites that include setting off a noisy array of fireworks. It is believed that memories of their loved ones are kept spiritually alive in this period of recollection.
WHEN IS IT?
The event occurs in the first two days of November – the first being for infants and little children (angelitos); the second being for
older adults.
WHAT CAN YOU DO THERE?
One of the tour operators under Mexico Convention Bureau – Mex-Inca Travels – has a 10-day incentive package that allows corporate groups to pay a visit to scent-laden marigold fields cultivated as early as May in preparation for the festival. It also includes opportunities to witness the Vigil of the Little Angels in the morning, and a similar all-night gravesite account for the adults that take place in the communities surrounding Lake Patzcuaro. For those who find the harmless experience too nerve rattling, the other days are mostly insights into the city's cultural heritage and beautiful countryside.
CONTACT
Mexico Convention Bureau, meetings@visitmexico.com
Mex-Inca Travels, imayett@mex-inca.com.mx
HONG KONG
Dragon Boat Festival
WHAT IS IT?
Chinese people all over the world pay tribute to the honourable court official, Qu Yuan, who committed suicide by drowning himself in the Mi Lo River as a protest against corruption during dynastic rule. The locals attempted to protect his body by throwing food into the river to feed the fishes, or rowed out in distinctive long narrow-like boats to scare them away by sounding thunderous drums. The evolution of the festival now sees people eat rice dumplings (zongzi) and take part in dragon boat races.
WHEN IS IT?
The fifth day of the fifth month, according to the Chinese almanac; this year's celebrations are scheduled to be on June 8.
WHAT CAN YOU DO THERE?
Eating dumplings with meat fillings wrapped in bamboo leaves and perhaps a little swimming are the standard practices, but the true highlight will undoubtedly be the competitive dragon boat racing, of which crews of 20 to 22 paddlers train months before to effectively tough it out with rival teams. The Hong Kong Tourism Board suggests a package that allows corporate groups to catch the fervour of participants in the Tai Po District Boat Races, along with separate visits to the Man Mo Temple and also Hong Kong Heritage Museum to learn about the history of New Territories.
CONTACT
Gray Line Tours of Hongkong Ltd, sales@grayline.com.hk