AN IMMERSIVE interactive 3D experience is opening in Macau as destinations in the Greater Bay Area prepare for an easing of restrictions on group gatherings and regional "travel bubbles" to restart the visitor economy.
TeamLab SuperNature Macao represents one of Sands China's largest investment in non-gaming attractions and is set to soft-open on at The Venetian Macao, Monday, June 15.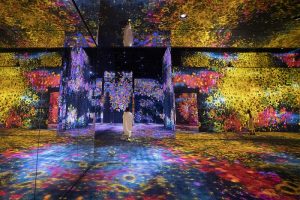 The new permanent exhibition at the Venetian's Cotai Expo covers more than 5,000 square metres under eight-metres-high ceilings. A complex, three-dimensional world with varying elevations filled with deeply immersive artworks has been created by TeamLab.
TeamLab is a collective made up of international artists, programmers, engineers, CG animators, mathematicians and architects. The  installation is described as a "body immersive" interactive experience centred on a group of works that blur the boundaries between people's bodies and art.
More on this… Experiential, immersive techniques vital to next-gen events
"It represents a new generation of art where visitors can change the nature of the works in real time and directly affect outcomes through synergistic interaction," teamLab said.
Previous teamLab exhibitions have been included on Time Magazine's "The World's 100 Greatest Places of 2019" list and was named as one of the "Top 10 Art Exhibitions" for 2015-2018 by designboom.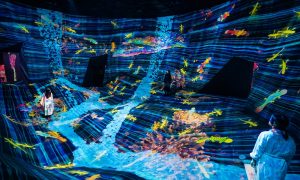 Highlights at teamLab SuperNature Macao constantly changing artworks such as Valley of Flowers and People: Lost, Immersed and Reborn and Inverted Globe Graffiti Nature – Red List.
Installations let visitors immerse their bodies in the artworks where they can influence shapes and give the sense that they can even blend with them.
More… Staging a 3D-backdrop revolution
TeamLab's previously unreleased laser-based works entitled Light Sculpture – Plane Series will premiere as part of the new installation. Laser beams will be used to create bewitching light planes in 11 separate "shows" to immerse visitors in complex 3D objects that reconstruct space in real time.
TeamLab is widely exhibited worldwide, including in New York, London, Paris, Singapore, Beijing, Taipei, and Melbourne among others. The permanent museums MORI Building DIGITAL ART MUSEUM: teamLab Borderless opened in Odaiba, Tokyo in June 2018, and teamLab Borderless Shanghai in Huangpu District, Shanghai last November.
The installation is open 10am to 10pm daily and health-declaration forms must be signed.
For details on visiting and teamLab…