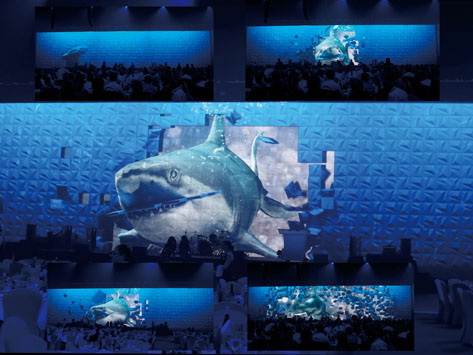 A REVOLUTION is taking place in the world of event backdrops and one of the big game changers comes in the form of a new type of lightweight panel.
When a series of Acrylonitrile Butadiene Styrene (ABS) scenic panels are clipped together, they create dynamic three-dimensional seamless stage backdrops.
The 3D modular backdrop scenic panels are the creation of Gold Coast-based event décor company Backdrops Fantastic Australia, with eight panel designs currently available.
Honey Wall, Stealth Wall, Geo Wall, Orb Wall, Ripple Wall, Infinity Wall, Lux Wall, and Ice Wall, use panels that have engineered depth to allow ground and ceiling lights create vibrant colours and shadows for a range of stage backdrop effects.  They are pieced together with quick-release levers that require no tools to form the walls.
The quick-release levers are used in conjunction with custom cross bars, and the panels can easily be installed by integrating with common audiovisual push-up and base-plate rigging or, in larger applications, attached to tri- or box-truss rigging.
Once installed, the panels create a backdrop that replaces standard drapery or labour-intensive stage sets.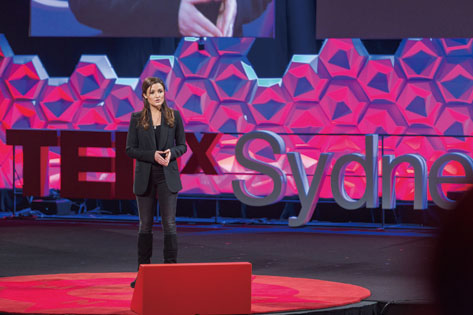 Thomas Brown, managing director of Modular Backdrops Australia, says the interlocking 3D panels allow the wall to be adapted to any venue. The Stealth Wall, for example, forms the ideal canvas for a variety of lighting and augmented reality 3D projection mapping for corporate events.
"Stunning 3D visual animations as seen on outdoor projection mapping projects and festivals, such as Sydney's Vivid, can be achieved at corporate conference or gala awards," Brown says.
"The matte-white finish of each ABS plastic panel is perfect to reflect and absorb lighting or projection blending, and has been meticulously measured and 3D scanned so that each panel is digitally replicated to become the ideal canvas for true spatial augmented reality 3D projection mapping."
Brown says 3D projection mapping in the corporate market for a conference, awards dinner or themed event is only slightly more complicated to implement than commonly used wide-format projection screens and large format projection blends.
A wireframe of the wall mapping space provided by Backdrops Fantastic Australia makes the finishing touches of alignment easier.
"Backdrops Fantastic Australia not only provides the digital files for clients to produce their own 3D animations, but has internal and external resources to produce custom content or re-use off-the-shelf animated content," he says.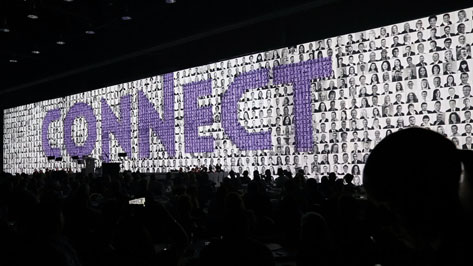 "A variety of entertaining projection mapped content has been produced, such as giant sharks bursting through the wall and Olympic swimmers swimming through and breaking the wall."
In February, the Backdrops team travelled to the United States to accept the Best New Product/Technology at the Special Event Gala Awards held in New Orleans. The win was for a fully immersive undersea themed event that the company produced for Clubs NSW held at the Gold Coast Convention Centre in 2016
"Winning the 2018 International Special Event Gala Award for Best New Product/Technology is such a gratifying feeling," Brown says.
"The research and development to produce our modular product line and then adapt the technologies of augmented projection and mapping on to them in a corporate event space was an extremely challenging but rewarding process.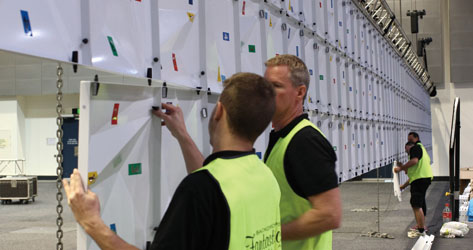 "It is a process that could not have been possible without an extremely trusting long-time client who, in 2015, allowed us the full creative licence to explore and experiment with something she never fully comprehended until she saw it live at the final rehearsals.
"The Gold Coast Convention Centre also played a major part in the successful win by actively joining us in a real desire to see this concept come to life, by lowering existing access and pricing barriers to make it a truly inclusive creative process."
Brown also praised the "smaller, passionate players" that supplied lighting, moulding and other expertise. These companies included Ikonix, Pixe Line and Forum.
"We are honoured to have been the recipient of this prestigious international award, but want it known that it was only achieved by partnering with the amazing flexibility of the venue, commitment of our client and creative talents of our external technical partners to innovate and strive for something different than the same old ho-hum our Australian industry struggles with every day."
The win in the US comes shortly after the company's modular panel product line was launched in Denver, Colorado, under the name Modular Backdrops USA.