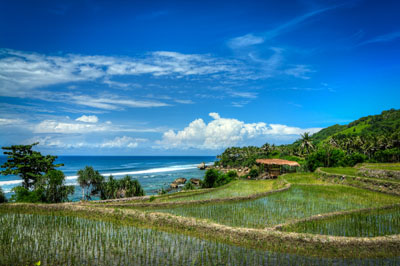 Nihiwatu resort
Where: Located on Sumba Island, 400 km east of Bali, Nihiwatu is marketed as an outpost for surfing, sport fishing and hiking. The resort was born out of a desire to preserve the local culture on Sumba and empower local communities, where the resort employs more than 90 per cent local Sumbanese.
What can groups do? Nihiwatu founded The Sumba Foundation in 2001, a non-profit with a mission to alleviate poverty in Sumba. Providing clean water, education and health services, as well as eradicating malaria are the foundation's priority projects. Trips to the foundation's clinics, schools and communal farms can be organised and tailored for groups that want to make a difference during their stay.
Datai Langkawi
Where: Perched on the northwest tip of Langkawi, Datai Langkawi is one of the island's boutique resorts,
with 122 rooms, suites and villas. The resort is nestled in the heart of Langkawi's ten-million-year-old rainforest and overlooks Datai Bay, which is recognised by National Geographic as one of the
top 10 beaches worldwide.
What can groups do? The resort has a team of resident naturalists as well as a marine biologist available to take groups on tours that highlight Langkawi's vast and exotic eco-system. Building environmental awareness is key to these guest programmes, which include a geopark cruise of the Unesco-protected Kilim Karst mangroves, which date back 400 million years, bird watching, beach and reef walks, jungle trekking.
Song Saa Cambodia
Where: Song Saa private island in Cambodia's Koh Rong archipelago is a 25-minute boat journey from Sihanoukville in southwest Cambodia. The resort is Cambodia's first luxury private island resort with 27 villas, built entirely with sustainable materials in line with the company's environmental commitment.
What can groups do? The Song Saa Foundation was established in 2013 with the aim of protecting the archipelago, championing Cambodia's first marine reserve in 2006 and the country's first island-based solid waste management system. Guided by Song Saa's conservation manager, groups can take part in island safaris, khmer fishing village visits, sea turtle education workshops and medical and education outreach activities.
Angsana Bintan
Where: A 55-minute catamaran ride from Singapore, Banyan Tree's Angsana Bintan offers a secluded getaway for groups in the subtropical South China Sea. The environment is central to Angsana's approach to hospitality, where staff put on tours of Bintan's local mangroves, nature walks through the jungle and visits to the hotel's conservation lab.
What can groups do? The seas around Bintan are native to hawksbill and green sea turtles, and eggs are regularly washed up onto the hotel's surrounding shores. The hotel regularly organises events for groups where the critically endangered baby turtles are released back into the ocean. The hotel also offers group visits to local schools, where delegates are offered the chance to teach a lesson of their choosing to students.
Shangri-La Rasa Ria Kota Kinabalu
Where: Kota Kinabalu is known more for its lush canopy and exotic wildlife than for its beaches, but the Shangri-La Rasa Ria's expansive private beach has some of the whitest sands and clearest water in this coastal city. Golfing, sea sports, cycling tours and horseback riding excursions are popular activities for groups either side of meetings.
What can groups do? For the past 20 years the hotel has worked jointly with Sabah Wildlife Department to fund the Orangutan Rehablitation and Conservation Programme, where orphaned baby orangutans are nursed and rehabilitated before being reintroduced to the wild. The programme has recently concluded, although plans for the wildlife conservation programme are to continue, where visitors can explore nature trails and learn about endangered indigenous wildlife living in the surrounding 64-acre nature reserve.