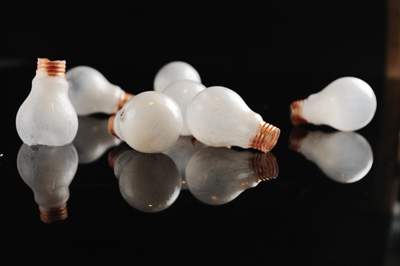 Many chefs dislike the term "molecular cuisine", but laboratory techniques are now well established in restaurant kitchens, and increasingly evident in the catering at MICE functions.
These include the use of liquid nitrogen for flash freezing, carbon dioxide to create foams or "espumas", and sodium alginate and calcium chloride to convert liquids into solid "caviars" – a technique known as "spherification".
According to Chef Tom Burney of Hong Kong's Invisible Kitchen Catering Company (pictured below, left), molecular methods can be invaluable in delivering what he describes as "the wow factor".
"Food can be theatre. The development of molecular gastronomy and its increasing accessibility is enabling food to play a key integral part in an event. Nowadays technologies and kitchen equipment are far better than previously, and it is now quite easy to smoke, sous vide, compress, foam, dehydrate or even spherify on site at an event," he says.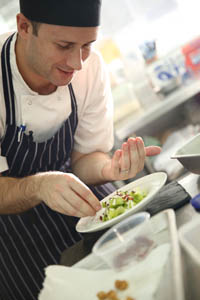 Theatrical touch 
The element of surprise is important. Burney's mini cashew nut margarita pizzas, for example, make a ball of cashew nut milk look like a ball of mozzarella. Dry ice oxidation also adds a theatrical touch to some canapés.
"We serve a tomato consommé out of a tea pot which has dry ice in it. This gives the impression it is hot, but really it's cold," Burney explains.
Orchestrating the sort of surprises Invisible Kitchen can offer for an event generally involves working with the client to refine and develop ideas – in line with such determining factors as theme, location, venue facilities and budget.
"I long list ideas, and consult with the client for initial feedback, after which some of the ideas will be taken to the kitchen for test cooking," he explains.
"I work with my team to explore the canapés and get some recipes we're mostly happy with as a starting point. Each time we cook a new dish we make adjustments to the recipe."
Finally a tasting session is held for the client, so that after discussion recipes can be tweaked later or approved on the spot.
Robin Zavou, who has just [beginning of August] succeeded Uwe Opocensky as executive chef of the Mandarin Oriental Hong Kong, says that certain elements of the menus for the Mandarin Grill and the Krug Room have influenced the presentation of some canapés for events. Opocensky was strongly influenced by Ferran Adria and had worked at El Bulli.
Chocolate cigars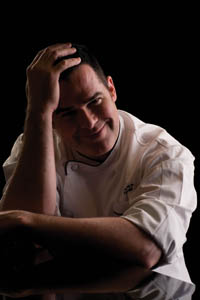 "We have in the past used lots of different moulds for canapés. For example, with foie gras we have made snails or mushrooms, and made cigars out of chocolate. These really add a different 'wow' element and talking point at an event. We use liquid nitrogen a lot as it helps when doing large parties. It freezes instantly and saves us waiting for the products to freeze. Dry ice is used a lot, and we use aromatic perfumes and smells to enhance the experience."
Zavou stresses, however, that for maximum impact these techniques need to be employed in the service of an overarching theme.
"All event organisers are looking for a new and creative aspect to any function, so creativity has to be a focal point when designing menus. Canapés can make a difference if the theme is correct and the canapés match that theme. Of course they have to taste good too," he adds.
Paul McLoughlin, culinary director of Hong Kong's Cordis Hotel (pictured right), says his master list of over 80 types of canapé for clients to choose from is updated annually in line with new trends in cuisine, but that many event "bites" are created on a bespoke basis.
Cotton candy
"Often I create special canapés based upon our guests requests and needs. I like to keep pushing myself to keep being creative. Generally they trust us and do not need to have a tasting, but if they want to, we are more than happy to, and it is our responsibility to make them happy," he says.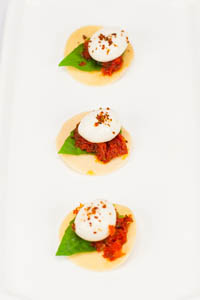 Molecular techniques have blurred the line between food and drink, with liquids often presented as solids. Mixologists can now make canapés as well as cocktails, and in the case of at least one of London's top speakeasies it is outside catering that keeps the bar viable.
"Functions are where the money comes from to support the bar," says Paul Tvaroh of Lounge Bohemia, visiting Hong Kong for a guest bartender stint at Quinary where he presented, among other canapé creations, cotton candy made with bitter Campari and a Petit Four Mushroom made with mushroom infused vodka.
"The bar is kind of like a little showcase – a stage on which you show people what you can do. Most of the business is for private clients that want to make their clients happy or surprised or both," he says.
Strongly in vogue though molecular techniques may be, Robin Zavou stresses that the fundamentals of preparing successful canapés do not alter.
"Rules don't really change. Top produce, cooked properly, served in an interesting and varied way and being always fresh, seasonal and tasty is what is at the core most important."