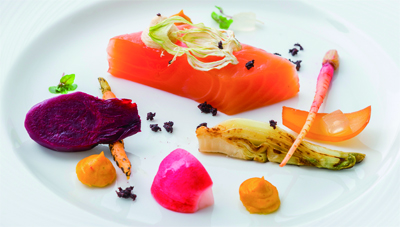 From canapés created with locally sourced ingredients to banquets based around sustainably farmed meat and fish, menus at corporate events have taken on an increasingly eco-conscious flavour of late.
One of the venues that looks set to lead the trend when it opens this December is International Convention Centre (ICC) Sydney, which is set to achieve gold certification from the Leadership in Energy and Environmental Design (LEED) programme. Its food philosophy, "Feeding Your Performance", will see the convention centre put together menus showcasing seasonal and ethically sourced ingredients. By establishing a broad network of artisan farmers and producers, its dishes will include locally sourced produce such as Cowra lamb, Eden mussels, Willowbrae cheeses from Hawkesbury and Adina olive oil from the Hunter Valley, says ICC Sydney's executive chef, Tony Panetta.
Panetta says that by working with nutritionists, his team (below) has additionally been able to create dishes that maximise physical and mental performance. "Meals that are high in protein and low in saturated fats are good for the overall health of delegates and help them maintain focus. We're also increasing the ratio of plant-based proteins in dishes to boost digestion and concentration," he says.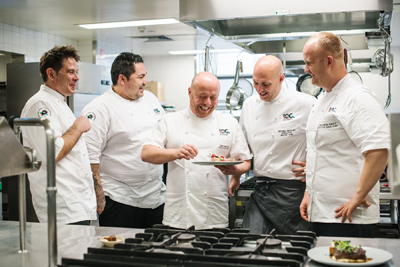 Indigenous produce
Melbourne Convention and Exhibition Centre (MCEC) is another venue that is putting local suppliers first and incorporating organic produce into its dishes. Executive chef Peter Haycroft (right) says his chefs have created a menu that incorporates organic and indigenous produce that is suited to the extremes of the Australian climate. "This menu takes advantage of the fresh local produce when at its best, by using organic produce grown without the use of herbicides and pesticides. The seafood species are all sustainable native and all the meat is free range and raised chemical free."
Some popular menu items include homemade organic yoghurt and muesli cups, home-baked organic fruit muffins and a superfood-boost salad with kale, goji berry, chia seed, corn, fresh jalapeño and wild rice topped with feta and a raspberry mustard dressing. "Health and wellbeing, fitness and exercise exhibitions and conferences regularly opt for organic menu items," he adds.
Creating organic banquets and meals for large groups is not without its challenges, as finding farms that can supply in large quantities and getting consistent products can both be difficult, says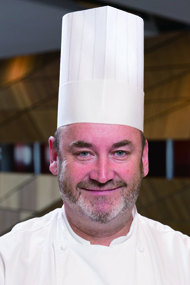 Haycroft. "As the price of certified organic products is generally quite high, we partner with suppliers that use ethical farming methods including organic but are not necessarily certified," he explains.
The Melbourne venue is also introducing delegates to organic wine including Mount Avoca, a vineyard that has been certified organic for more than three years. Another of its suppliers is Caledonia Australis, which stopped applying herbicides to its Chardonnay vineyard in 2008 and uses under-vine mowers to maintain the vineyard floor without breaking or cultivating the soil.
Supporting urban agriculture
One hotel group that has been championing sustainable practices is Accor, which recently announced that it plans to cut food waste by a third by asking restaurants to weigh and record food that is thrown away to determine how best to cut food waste.
Lynn Lee, Accor Hotels sustainable development and communications director for Asia Pacific, says delegates can expect to see plenty of sustainably sourced dishes on the menu.
"As part of our sustainable development programme Planet 21, we support sustainable food models. Our choices sometimes lead us to opt for a local product from non-intensive farming over an organically farmed product that needs to be imported from a faraway country," says Lee.
As part of Accor's commitment to supporting urban agriculture, it will plant 1,000 vegetable gardens in its hotels by 2020.
Based on where its hotels are located, menus are adjusted according to specific characteristics of that country. "We support local food suppliers and limit our food supplies from distant sources – products that need to travel several thousand kilometres – where possible," adds Lee.
One of its properties, Fairmont Yangcheng Lake in Kunshan, on the eastern outskirts of Suzhou, China, has its own 33-acre organic farm (below) located inside the water park of the hotel that produces organic fruit trees such as loquat, pear and seasonal organic vegetables and also makes its own honey. "Harvested fruits and vegetables are served in the hotel's restaurants and available on menus for corporate groups," says Lee.