Food is the bread and butter of every successful event. Get the menu right, and everything else falls into place. However, the standard of cuisine today means that it will take more than a prawn cocktail or consommé to get tongues wagging. As a result, many event planners have begun integrating a client's brand or event theme with the menu to create lasting memories. These range from themed buffets to experiential banquets, creating an exciting challenge for culinary experts and event teams.
The sit-down dinner
For event planners who want to make a sustained, elaborate impression, the sit-down dinner should complement the theme and tone of an event. As a more conventional catering option, it's important to inspire with a blank canvas, says Yamilette Mcano and Mireya García of Maya Consultants, a premium event-managing firm based in Hong Kong.
"When planning our events, we always bring a mood board to the chef, offering a collection of pictures that reflect the sort of direction we would like each course to take. This visual aspect is important in getting creative juices flowing, and it has helped us to effectively translate our clients' requests."
This is what Maya Consultants did with the HandsOn Black and White Ball, an annual fundraiser hosted at the Island Shangri-La in Hong Kong. With black and white as the central theme, the team added a touch of glamour to the event with disco balls as table centrepieces. In addition, they wanted one of the courses to reflect the event's theme and get people talking. Spurred on by a mood board of dishes made from black and white ingredients, the catering team developed a white and dark chocolate disco ball dessert that guests could dismantle and open, which resonated both with the HandsOn circular logo and the glittering centrepieces.
These days, premium quality ingredients are non-negotiable, so it's presentation where planners compete for maximum impact.
Silks Palace restaurant at the National Palace Museum in Taipei has tapped into this trend by launching its Imperial Treasures Feast. Comprising nine courses, each dish resembles one of the artefacts held in the museum's collection. Some of China and Taiwan's most famous relics have been recreated in edible form, such as a jade piece sculpted into a bok choy from the Ching dynasty, and a copper cauldron that dates back to the Warring States period in ancient China. Using broiled bock choy in a broth of chicken and ham and a tureen filled with quail eggs, bamboo shoots, chicken and pork tendon, these dishes translate the museum's most iconic pieces into a banquet that will be difficult to forget.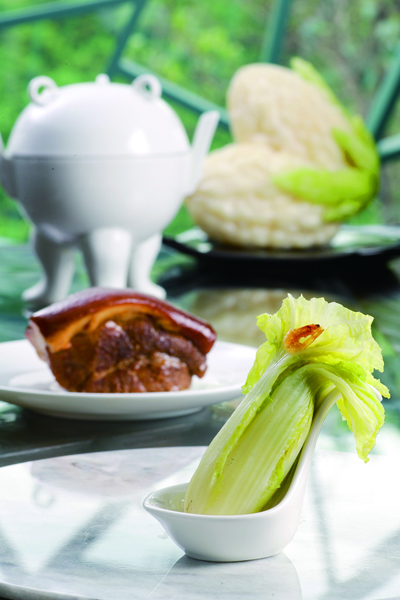 Buffet bonanza
Events that are less formal and more fluid look to buffet setups as a catering option, which often allow for more inventive displays. The JW Marriott Hanoi hosted the 2014 SOPHOS Partner Connections Conference, which saw potential collaborators converging on the Vietnamese capital for a three-day corporate agenda. A Hanoian menu made up the event's culinary backbone, and the team consulted a local food specialist to help refine traditional street food dishes into a format that was suitable for the event.
The hosted meals were designed to be as lively and engaging as possible, and to facilitate interaction, the team created small dining areas with cocktail tables interspersed with cooking stations.
"During the SOPHOS kickoff party, we brought in a whole tuna fish on one of the stations," says Ralph Frehner, vice president of food and beverage, Asia-Pacific, Marriott International. "We also incorporated 'daily highlights' for conference attendees. For one of the coffee breaks, we brought in an ice-cream van to the venue, which was a hit among the participants. We also jazzed up tea break offerings with traditional Vietnamese iced coffee and the JW Marriott Hanoi's signature Vietnamese egg coffee."
At Hong Kong's Langham Place, Mongkok, the catering team has prepared an offshoot of the traditional buffet for delegates and guests. The Elevated Culinary Concepts offer a range of buffet tables with themed canapés and beverages, such as the Picnic, Wellness and Tokoro Oyatsu concepts, which offer European summer treats, flavours from Traditional Chinese Medicine and Japanese cuisine respectively. Designed especially for corporate breakfasts and meeting breaks, one of the hotel's bestsellers is the "I Love Mongkok" concept, which brings to life the area's local flavours and street food scene.
Mongkok is famous for its curried fish balls, kaya toast and pineapple buns, and Langham Place offers these in a coffee break between meetings. "If guests are having a meeting, it gives them a chance to see the real Hong Kong during their 20-minute break. We aim to take the best of Mongkok and show why it is such a foodie hotspot for both locals and visitors," says Tiffany Yau, assistant director of catering at Langham Place Mongkok.
Champagne lifestyle
Hosting a cocktail party that guests will remember can be a challenging task, as planners work to ensure maximum engagement during a limited time slot.
Riviera Events, an events company based in China, was in charge of conceptualising the drinks reception at ILTM Asia 2014, hosted at the Langham Xintiandi, Shanghai.
"It's crucial to make a good first impression, so the arrival experience and initial drink must be memorable," says Louise Cronin, marketing communications manager at Riviera Events.
The team created a "Champagne Dress" – a tiered structure wrapped in the Langham's signature pink-and-gold brand pattern, that supported 100 glasses of Bollinger Champagne. Inside the dress stood a model, who greeted guests and offered them a glass of bubbly.
The reaction was fantastic, says Robert Blackborough, director of food and beverage at the Langham Xintiandi. "Hundreds of guests queued to have their picture taken with the famous Bollinger Champagne Lady, all through the night. They sent pictures to their friends and posted them on Weixin, the Chinese version of WeChat."
With the prominence of social media in China, a photo opportunity with the Langham Champagne Dress had guests engaging with the brand, as well as advertising ILTM Asia's fabulous champagne spread.
Not so cookie cutter
As head of pâtisserie at the Hotel Le Meurice, Paris, Cedric Grolet is well versed in food presentation and detail. At the hotel's Le Dali restaurant, named after artist Salvador Dali who once frequented the hotel, Grolet has championed a menu of intricate desserts called Dessert Dessin. The menu offers a selection of meticulously crafted morsels of food art, inspired by realistic representations of fruit and classic French sweets such as millefeuille and Paris-Brest.
One of the unique pieces on the menu is the Lemon to Share, made from a fine shell of white chocolate, yuzu mousse, the core of a Menton lemon, and tiny, juice-filled pearls from a caviar lemon. Fashioned together, Grolet creates one of the menu's most coveted desserts.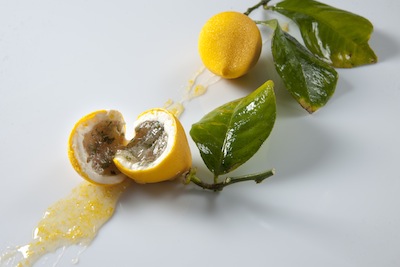 "I wanted to combine the simplicity of a piece of fruit with the luxury and refinery of Le Meurice – to invent a realistic dessert that creates an explosion of flavour," says Grolet.
Another option in food art is the "Go Healthy" menu from Mövenpick Hotels and Resorts, where chefs flaunt their sculpting skills by carving motifs and designs out of watermelon, eggplant, oranges and grapefruit.
One of Mövenpick's stand-out chefs is Ajith Piryantha from Mövenpick Resort & Residences Aqaba in Jordan. He was taught the art of food sculpture from his family, rather than receiving any formal training, and is renowned for his sculptures of doves, women's faces and intricate flower arrangements, used to decorate buffets or bars during breakout meetings and conferences. Each carved fruit display is tailored to client requests, and offers a creative alternative to standard table garnishes.
ALCOHOLIC ART
An art installation that serves food and drink? This is standard practice for Ulrika Lövdahl, global art manager of Absolut, a leading brand of premium vodka that has supported and invested in art since 1985. At the 2014 Art Basel event in Hong Kong, Absolut collaborated with Hong Kong artist Nadim Abbas to create the most recent offering of the Art Bar series – Apocalypse Postponed, following contributions from previous Art Basel artists Adrian Wong and Mickalene Thomas.
The event was held at Soundwill Plaza in Causeway Bay, where a pop up space on the 17th floor was transformed into a post-apocalyptic bunker complete with sandbags, blacked out windows and bartenders in protective bodysuits. Each of the five nights featured a changing programme of performances and DJs, as well as cocktails that complemented the installation's sci-fi theme.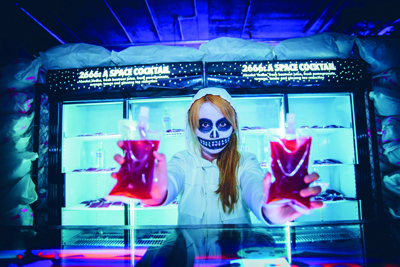 Assisted by a team of collaborators, Abbas conceptualised everything from costume design and music to the drinks menu. "Nadim worked with some of our top Absolut mixologists to come up with a series of cocktails that reflected the concept. He drew inspiration from real-world technologies used to provide nutrition in difficult conditions like space travel, such as in the use of effervescent tablets in Ca+ cocktail," says Lövdahl.
Four cocktails made up the drinks menu, but two stood out: Ca+, a vodka and sake- based brew served in a plastic highball with a calcium tablet and ginger pipette, and 2666: A Space Cocktail, a deep red concoction of beetroot and pomegranate juice, vodka and absinthe served in a vacuum drink pack.
"Nadim and the mixologists conducted a series of in-depth consultations to develop flavour combinations that they felt would work best, with interesting methods of consumption."
Lövdahl says the novelty was what brought people in, night after night. "Guests enjoyed the unique experience of Nadim's delicious cocktails. In particular, it was fantastic to see people's intrigue and reaction to 2666: A Space Cocktail, drinking out of what looked like medical blood bag!"