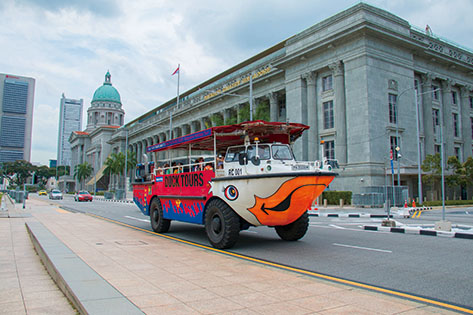 LAND AND WATER JAUNTS
What's it like? Is it a boat, is it a bus? In the case of the remodelled World War II Vietnamese war crafts used by Singapore Duck Tours, the answer is both. These amphibious vehicles offer visitors the chance to get close to some of Singapore's most famous and dramatic landmarks on land and on the water.
Itineraries: The hour-long journey divides its time between water and road as live commentary describes the genesis of sights such as the Civic War Memorial, Merlion statue, ArtScience Museum, Marina Bay Sands, and the Fountain of Wealth, the world's largest fountain.
All aboard? 93 passengers divided among three vehicles.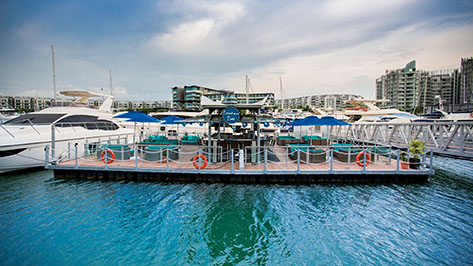 SEA ESCAPE
What's it like? Named for its latitude above the Equator, One15 Marina has 270 berths and is located near the W Hotel Sentosa Cove. With facilities to accommodate mega yachts of up to 200 feet, and a clubhouse with restaurants, bars, spa, gym, and conference facilities, One15 is a yachtie's fantasyland. Planners can arrange evening cocktails at the Boaters' Bar, on a deck among the boats, with tipples made from premium spirits, tapas-style bar bites and live music. At sunset the view takes in crimson-stained yachts bobbing in the waters around the bar.
Itineraries: Groups itching for some sea time can charter a yacht to nearby Indonesian and Malaysian islands, or book a sunset cruise on a catamaran, super yacht, or mono hull.
All aboard? 100 at the bar, 55 on a boat.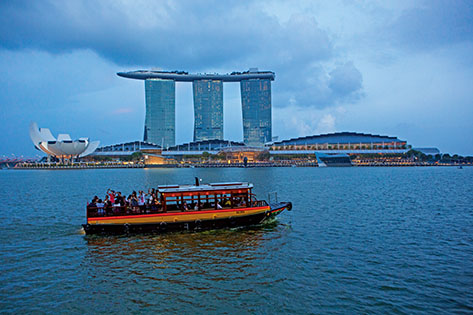 CRUISING HISTORY
What's it like? Colloquially known as bumboats, the colourful vessels of Singapore River Cruise each hold 45 passengers.
The 40-minute cruise navigates the Singapore River, taking groups along Clarke Quay, Boat Quay, Merlion Park, and Marina Bay, with audio-visual commentary recounting the deep history of the waterway and riverside. Guests will learn about bridges named after historical figures such as a Governor of the Straits Settlements or Governor General of India, see the spot where Sir Thomas Stamford Raffles, an agent of the British East India Company, is believed to have first set foot in Singapore in 1819, and sail past areas where coolies would unload gunny sacks of rice on to dry land.
For groups: There is the option to pre-order wine and beer to be served onboard.
All aboard? The operator can handle 1,000 passengers.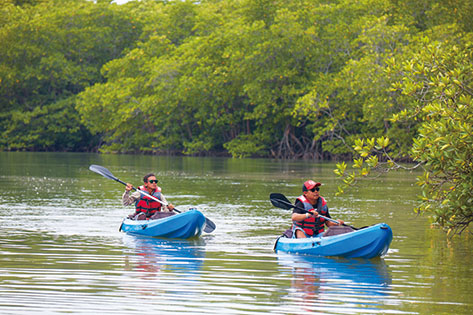 MANGROVE KAYAKING
Where? The Indonesian island of Bintan, a 50-minute ferry ride from Singapore, is home to the integrated destination Bintan Resorts, with 13 separate resorts and four golf courses that unfurl across the north coast.
What's it like? At Treasure Bay Bintan, a waterfront resort complex that has glamping-style accommodation, guests can get wild and explore a mangrove forest by kayak.
Itineraries: The excursion navigates a 2km stretch of river, home to a unique eco-system where paddlers might spot monkeys, mudskippers, or snakes. Trips typically last an hour, though groups have the option to extend to three hours, with the opportunity for additional kayaking around the beach area.
All aboard? 34 in one group with two persons on each double kayak.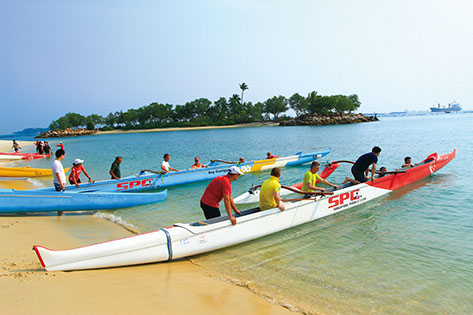 RIDING THE WAVES
What's it like? Generations of Pacific islanders have been using outrigger canoes for transport and fishing. In the Lion City, the Singapore Paddle Club gives groups a taste of a discipline that is not yet mainstream but rapidly growing in popularity (it's the state sport of Hawaii). Based out of Ola Beach Club (which has a full restaurant) on the island of Sentosa, the club caters to all abilities, from novices to seasoned paddlers.
For groups: Newcomer workshops start with a briefing session on the beach, an introduction to the sport, boat and paddling techniques, and stretching before groups are split among the
six-man canoes, known as OC6s. First-timers usually trawl the ocean waters along Palawan Beach and Tanjong Beach, though more intrepid (and fit!) adventurers can journey to outer islands like St John and Kusu. Sessions often end with a short, 300-metre race between participants with bragging rights for the winners.
All aboard? 100 paddlers.