RUSSIA's picturesque city of St Petersburg is being represented for the first time at Hong Kong's only tourism and MICE trade show.
ITE Hong Kong opens tomorrow (Thursday) at Hong Kong Convention and Exhibition Centre with 50 per cent more exhibiting countries and regions than last year, according to organisers TKS Exhibitions.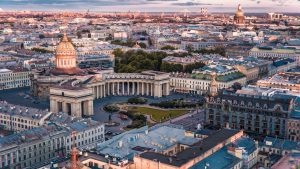 New exhibitors include St Petersburg which is reaching out to independent tourists and outbound travel organisers in Asia despite the ongoing war between Russia and Ukraine.
"The exhibition is a major event in the Asia-Pacific region. The participation of St Petersburg at ITE gives new opportunities to the city for expanding the sphere of hospitality in the international arena and developing cooperation with the countries of the Asia-Pacific region," said a spokesman for the Convention Bureau of St Petersburg, which operates under the historic city's tourism development committee.
A St Petersburg representative declined to comment specifically about any effect the conflict in Ukraine might have on attracting tourists from Asia to Russia.
A special presentation on Friday is being organised to explain the city's entire tourism infrastructure and the itineraries available across different seasons for independent travellers. There will also be fun activities such as a quiz.
Interview… From Russia with Events
"Visitors to the stand of St Petersburg not only communicate with those they meet and learn about the possibilities of business, cultural, educational, event, health and other types of tourism in St Petersburg, but also participate in interactive and entertainment events, take a virtual quiz on knowledge of destinations and distant commemorative prizes," the spokesman said.
Reconnect and Recovery is the main theme of ITE Hong Kong 2022, which incorporates the MICE Travel Expo. The overall event is supported by China's Ministry of Culture and Tourism, Hong Kong Tourism Board, the Travel Industry Council of Hong Kong along with travel and trade associations from across the Greater Bay region.
Opinion… Ukraine: Tanks, Bandwagons and Tragedy
The first day-and-a-half of the four-day show is for trade visitors while the event is open to the public from Friday afternoon.
KS Tong, managing director of TKS Exhibitions, said some overseas participants have travelled directly to Hong Kong and underwent quarantine, but more chose to work with a local representative or are holding online meetings with buyers.
From the Archive… St Petersburg Up Close
"ITE this year will have some 50 per cent more exhibiting countries and regions than in 2021," said Tong. "There will be around 27 exhibiting destinations, not counting those exhibiting online only, and among them 21 have official pavilions or stands [representing] national, provincial or municipal tourism boards.
Countries and regions represented include Bhutan, Canada, mainland China, Hong Kong, Iceland, more than 10 Japanese regions and prefectures, Maldives, Macau, Myanmar, South Korea, St Petersburg, Taiwan and Thailand. TKS says more than 50 travel seminars will be held at ITE.