Strides made by the Japanese capital's convention bureau to establish Tokyo as a meetings, conference and incentive destination capable of hosting groups of all sizes are paying dividends. Now the initiative is being seized by the private sector as it strengthens its bond with Tokyo in the run-up to the 2020 Olympics.
The seeds of this progress were sown when the city proved its prowess at handling large-scale events. In 2012 there was the World Bank-IMF Meetings that required heightened – but discreet – security; IBA Tokyo 2013, with 6,000 lawyers attending, and a series of high-level association and professional gatherings. These triumphs followed a period of dread and uncertainty wrought by the March 2011 earthquake and tsunami in northeast Japan.
But it was the hosting of the World Architecture Congress in October 2011, after the Fukushima tragedy the previous March, that proved pivotal in restoring confidence in Japan as a meetings destination. Perhaps the biggest feather in the cap for Business Events Tokyo is the way in which the giants of Japan's economy are now taking up the baton on behalf of business events in the city, particularly with the approach of the Summer Olympics and Paralympics in 2020.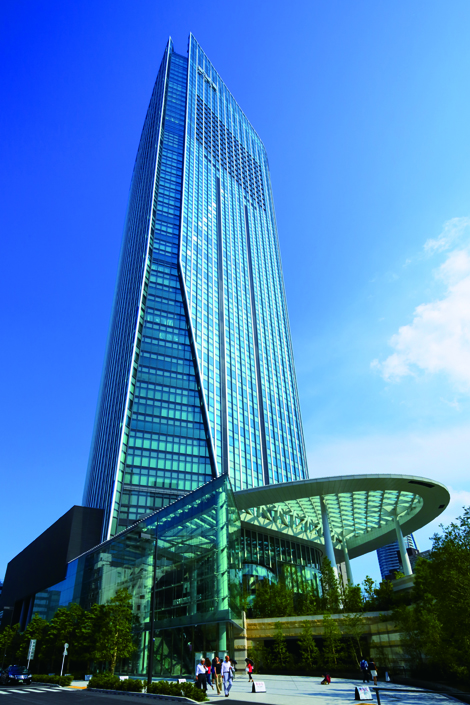 Mori Building
Foremost among these institutions is Mori Building, which is placing itself at the centre of Tokyo's growing conference, business event and incentive travel network. Its newest project – the 52-storey Toranomon Hills – sees Mori towering over Loop Road No.2, which will become the main artery linking the Olympic Stadium to the north of the city and the event's media centre in Tokyo Bay.
This also means easier access to Haneda airport which has a growing list of international airlines and is closer to central Tokyo than the more frequently used Narita. Mori's vision also includes
a treelined grand avenue completed well in time for the opening of the Olympics that will become a landmark with a status matching the likes of Champs Élysées in Paris.
In the top floors of Toranomon Hills is Japan's first Andaz hotel, which opened in June 2014, and extends Hyatt's association with Mori. There is a Grand Hyatt at Roppongi Hills in the next neighbourhood to Toranomon, where the Mori is headquartered.
Mention Mori Building to Tokyoites and the story they tell reflects the economic boom era that began in the 1950s when the developer's empire took shape and the company's logo can now be spotted on office towers across the city. It is this presence that Mori is enriching as Tokyo prepares for more business event visitors and the Olympics.
Tokyo by helicopter
Skyscrapers may form the bulk of Mori's portfolio, but its services can bring delegates even higher. Mori Building City Air Services operates a helicopter service from Ark Hills offering delegates flights to and from Narita airport and a 15-20 minute tour over Tokyo with views of the Imperial Palace grounds, the Big Tree and Tokyo Bay. Other popular excursions are to the geopark area of Hakone and around Mount Fuji. The European-made helicopter is fitted with Hermes luxury seating.
Swordsmiths
Samurai swords have a largely ornamental use in modern times, but their appeal goes far beyond Japan with overseas collectors among the customers of Japan Sword, a corner shop that also has a museum upstairs. The business was founded in the Meiji period (around 1900) and swords, helmets and armour dating back centuries are among the collections. Look for the intricately carved bases of the handles and the markings along the blades, which you are advised not to touch. Each weapon has a certificate with details of its swordsmith and owners over the years and catalogued records are kept to trace lineage.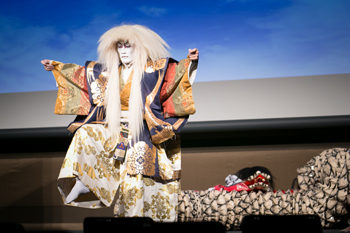 Kabuki welcome
In sporadic bursts of laser lighting and thunderous sound effects, the Main Hall of the Toranomon Forum went into complete darkness only for a figure on the stage to appear with a painted face and a shock of long, white hair resembling a manga villain brought to life.
Welcome to the world of kabuki, or a modern high-tech version of the traditional Japanese theatre form. The stirring lion dance comes from Miyabi-ya Japan whose performances are available to corporate groups for time slots of between 10 minutes and an hour.
miyabi-ya.com
Andaz Tokyo
The aim is that Mori will become an even more familiar name to event planners taking groups to Tokyo as functional meeting and event spaces are a prime feature in both Roppongi Hills and the Forum section of the Toranomon Hills tower.
Toranomon Forum consists of two levels of event and conference space on the fourth and fifth levels floors of the tower where there is also a 590 sqm Main Hall, more than twice the size of two tennis courts. This comes as part of fifth-floor venue space totalling 3,300 sqm including smaller halls and breakout rooms.
While the hosting of larger meetings is the domain of the Forum, Andaz Tokyo has set out to attract the more boutique business events and meetings to the tower's upper floors.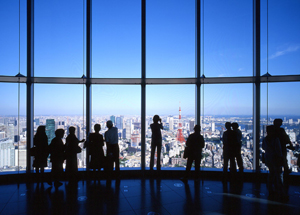 The emphasis at Andaz is on unique spaces in The Studios aimed at upscale, intimate meetings. Impressive views across Tokyo are among the unique selling points, particularly from the terrace and garden at The Rooftop Studio.
A prize setting for cocktails is the Sky Suite, which usually has a tariff of US$20,000 for overnight guests, but the lounge may be used as space for small functions with the views again a prime feature.
Interactive kitchens are proving to be popular at the hotel with facilities available at The Rooftop Studio and the Chef's Studio, which can be integrated into a full-day meeting package or a cocktail event for up to 40 guests.
Grand Hyatt Tokyo
While Toranomon Hills and the surrounding neighbourhood form part of Mori's vision for Tokyo as the 2020 Olympics approach, the Roppongi Hills tower brings conferences and events to the heart of an area that is home to IT and finance multinationals.
In the immediate vicinity is Grand Hyatt Tokyo with 17 event facilities covering 2,800 sqm including a third floor outdoor area suitable for cocktails and product launches. The Gallery, an event and banquet area on the second level, has been recently renovated to include lounge seating that benefits from natural lighting. Cooking classes for corporate teambuilding groups are also becoming a feature with chefs from the Grand Hyatt's four restaurants plus its teppanyaki eatery taking centre stage.
The hotel's meeting facilities are not only used by executives from the surrounding banks and finance houses, Roppongi is home to one of Japan's leading cinemas for premiers and gala evenings held for the film industry are held with the hotel as a prime venue.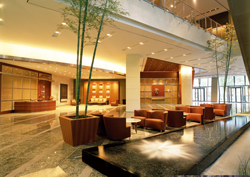 Safety & convenience
There's a good reason for the bulky look of Tokyo skyscrapers and the sense of solidity inside. Engineers have different terms for it such as "seismic isolation" and "vibration suppression" or earthquake proofing. Building design that factors in these processes assure the millions of Tokyoites who work, sleep and spend recreation time in these towers. In turn, the city – with the help of developers such as Mori – will be assuring large numbers of international visitors in the next few years, some of whom will be first-time visitors to Japan and naturally concerned about any hazards brought about by tremors. Convenience is another factor that plays a large but discreet role in the design of Toranomon Hills. Numerous road systems in Tokyo run underground and parking spaces, coach bay and taxi rank are situated beneath the tower's ground level. Planners know that event logistics can be a marathon task, but in Tokyo they are being performed in gold-medal winning style.
NEIGHBOURLY IDEAS
Apart from tending to the concerns of newly arrived delegates, Mori is keen to make the neighbourhood surrounding Toranomon Hills an integral part of its vision. The area is home to shops owned by craftsmen whose skills have been handed down through generations.
The Biwa shop
Japan's only shop specialising in the biwa – a four-stringed instrument resembling a lute – can be found on one of the streets surrounding Toronomon Hills. The shop is owned by fourth-generation biwa maker Fushiki Ishida who says he still feels a tingle of excitement after creating a biwa, stringing it and plucking the very first note.
Izakayas
If groups need a change from high-end hotel restaurants and want to experience a traditional Japanese inn, izakayas are dotted around the Shinbashi area, a short walk from Toranomon Hills. Diners are greeted with a raucous but polite welcome and directed to benches or a seat at the bar. The atmosphere is casual with communal dining encouraged and beer and sake among the beverage staples.
Driving experience
Car showrooms in Japan are unlike anywhere else. While test drives are usually preserved for special customers and require access to a remote road, in Tokyo circuits are often built behind or under a showroom. That is the case with an Audi outlet on one side of Toranomon Hills where drives can be arranged over iron runways.
Temples & shrines
Japan National Tourism Office figures show most incentive groups come from South Korea, Taiwan and Thailand – regions where the faith of Buddhism has a strong following. Meditation is integral to Zen Buddhism and at Seisyo-Ji Temple a zazen experience is available. To the uninitiated this appears a rigid form of endurance with monks tapped with a wooden stick to maintain physical form and focus. But chairs can be provided for visitors with the technique and philosophy of zazen explained. Meditation is practised in Japan by many successful corporate executives who also pay their respects and perform ritiuals at Shinto shrines. The king and queen of The Netherlands were recent guests at the Atago Shrine (below) during their state visit to Japan.