MACAO's official body tasked with attracting international business events has been singled out for honours by one of the world's foremost associations representing exhibitions organisers.
The International Association of Exhibition Events (IAEE) presented the Macao Trade and Investment Promotion Institute (IPIM) with the "IAEE International Excellence Award" during IMEX Frankfurt, Europe's leading trade show for the meetings and conference industry.
IPIM is now preparing to welcome some 50 buyers from mainland China to Meet@Macao MICE Co-operation Promotion and Exchange Conference, at Macao Tower, June 15. International buyers are also being invited through MIX and other channels for online matching sessions with Macau suppliers between June 12-14.
Representatives of corporates, associations or business event planners may apply for the online meetings here…
Click the red 'Buyer Registration' button on the top right if using desktop, or the bottom of the page on mobile devices.     
The IAEE awards are held to recognise the progress made by the association's members in raising the international profile of meetings and events, cultivating industry talent and using exhibitions to develop economic growth in their regions.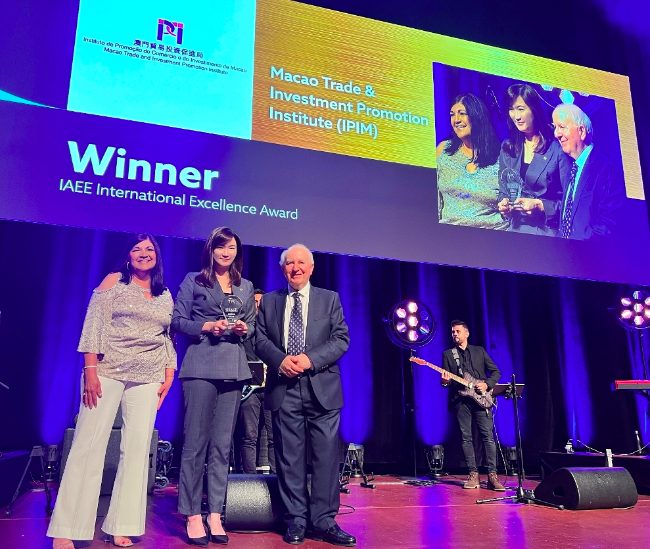 IPIM works directly with the China Council for the Promotion of International Trade as IAEE's Certified in Exhibition Management (CEM) Learning Program partner in China.
"Thanks to the success of the programme, Macao is one of the CEM Learning Program's top performing regions," the IMEX announced during the show's awards dinner in Germany.
Karen Gonzales, IAEE's director of global business development, presented the award.
IAEE's Asia Council is chaired by Gu Xuebin, founder and CEO of WeMeet, with Athena Gong, managing director of Informa Exhibitions China, and Daben Mao, deputy general manager of Shenzhen World Exhibition and Convention Center, as vice chairs.
IPIM's Macao Pavilion at IMEX Frankfurt saw eight representatives drawn from local hotels, conference service providers, resorts, and leisure enterprises among other suppliers.
More… Macau bounces back with 11,000-strong conference
Backgrounder… Macau casinos pledge business events boost
Multimedia presentations promoted the "advantages of Macao's MICE environment and MICE brand", IPIM announced after last month's trade show.
A "Macao MICE Environment Promotion Seminar" and "Precise Business Matching" saw 250 meetings with buyers in and around the pavilion during the three-day show.
IPIM also participated in the Asia-Pacific Regional Conference hosted by the International Congress and Convention Association (ICCA) during IMEX, which tackled future trends and the sustainable development of the business events industry.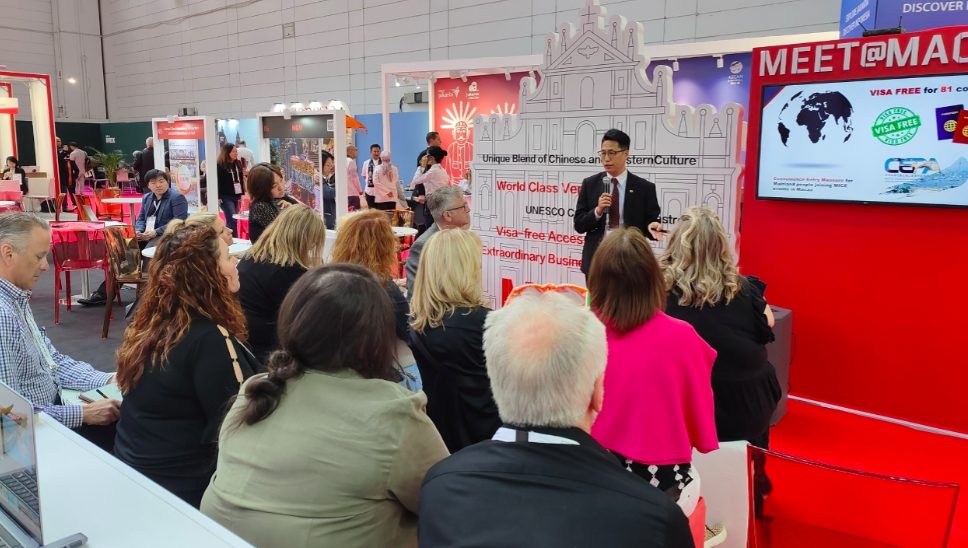 One of the exhibitors at the pavilion said that attending IMEX enabled Macao's convention and exhibition industry to send "the message to potential customers and congress organisers worldwide that Macao is fully prepared for hosting all kinds of events. In only a few days, the representative received enquiries from many regions on Macao's tourism facilities and MICE resources."
Among those enquiries were corporate event organisers from India who commented that "Macao's mature MICE facilities and convenient transport system make the city a good option for incentive travel and exhibition projects for Indian customers".
IPIM said the Indian buyers would be considering "multi-venue events in Macao and adjoining regions" in future and how to extend the duration of those events.
MORE IMEX HONOURS FOR ASIA
Kewalin Suraphanpirosh, from Thammasat University in Thailand, received the MPI Foundation Student Scholarship Award, which celebrates and supports the next generation of meeting planners as part of the IMEX-MPI-MCI Future Leaders Forum International University Challenge. Meeting Planners International (MPI) president and CEO Paul Van Deventer presented the award.
Tatsuo Arai, managing director, corporate office, MCI Japan – Japan Convention Services – was one of four people honoured in the Paul Flackett IMEX Academy Awards, named in tribute to the former IMEX managing director, The Flackett awards climaxed the gala dinner and recognised long-term commitment to the industry and how the awardees pushed "boundaries around innovation" during their careers.