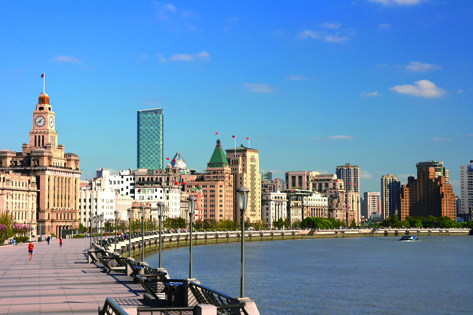 USP
Shanghai in the mid-19th century was a non-descript town of just a couple of hundred thousand inhabitants along the Huangpu River. Its population today tops 24 million.
The dramatic change in Shanghai's fortunes came about when – following Britain's victory in the First Opium War (1839-1842) – it was forced open as a treaty port. Shanghai then boomed, becoming a centre of commerce, shipping and finance by the 1930s, and a playground for international merchants, bankers and adventurers, who built their banks, clubs and trading houses on the riverfront boulevard.
The Bund today is Shanghai's most famous landmark and a living museum of municipal preserved buildings ranging in architectural styles from neoclassical and gothic to art deco. Many house some of the city's most acclaimed restaurants.
Venues
Fairmont Peace Hotel – The city's most venerable hotel is a Bund landmark and a Shanghai institution. The personal vision of pre-revolutionary Shanghai's most celebrated tycoon, Victor Sassoon, this art deco masterpiece, originally called the Cathay Hotel, threw open its doors in 1929. Extensively but sympathetically renovated, the Peace today boasts 1,800 sqm of function space (including its original ballroom), as well as an outdoor roof terrace with glorious river views.
W Shanghai – The Bund – Thanks to its prime location, across Suzhou Creek just north of the Bund, panoramic views of the waterfront are a given at W Shanghai. The hotel also boasts 17 meetings spaces covering 5,800 sqm.
Waterhouse Hotel at South Bund – This 19-room boutique design hotel is adjacent to lifestyle and entertainment complex Cool Docks on the South Bund. The property's pillar-free, multi-purpose event hall, alongside a warehouse, covers 743 sqm and has been used for everything from corporate functions and fashion shows to product launches.
Excursions
Shanghai Tower – It's impossible, from the Bund, not to see and admire hulking Shanghai Tower, across the river in Pudong. The 128-storey skyscraper is the tallest building in China, taking the No.2 position globally. City views from the observation deck on the 118th floor are unparalleled.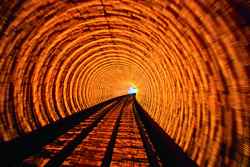 Bund Sightseeing Tunnel (left) – The quirkiest way of reaching Shanghai Tower from the Bund is via the Bund Sightseeing Tunnel.
A futuristic rail car travels through a 647m tunnel beneath the river, the journey accompanied by an incongruous psychedelic light-and-music show.
Huangpu River Cruise – Getting on to the river permits wider views of The Bund. Cruises range from a 30-minute dash to a leisurely 3½-hour option. Evening trips are advised, when a Blade Runner-esque performance of mammoth LCD screens and occulting neon lights up Pudong's skyscrapers.
Cool Docks – Located on the South Bund, the 25,000 sqm area (below) was once the site of a grease factory. It is now a flourishing entertainment district of chic bars, restaurants and boutiques, as well as artists' studios.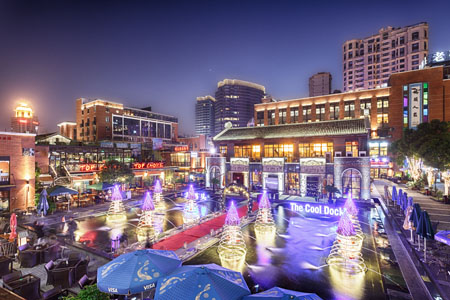 Connections
Shanghai Pudong International Airport – Shanghai's main international airport sits approximately 40km southeast of the Bund (50-60 minutes by taxi). Pudong Airport has two
main passenger terminals. A third terminal, a satellite terminal and two additional runways are planned for coming years.
Shanghai Hongqiao International Airport – Located about 20km directly west of the Bund (taxi: 40-50 mins), it has two terminals and mainly operates domestic flights with limited short-haul regional routes that include Tokyo, Seoul, Hong Kong, Macau and Taipei.
Shanghai Metro – Shanghai's underground rail system is one of the largest and most efficient in the world, and serves the entire city. The nearest station to the Bund is Nanjing Road East, 400 metres west of Fairmont Peace Hotel and served by Line 2 and Line 10. The station links directly with Pudong Airport (1 hour, 25 minutes) and Hongqiao Airport Terminal Two (37 mins) via Line 2; Line 10 serves Hongqiao Airport Terminal One (41 mins).