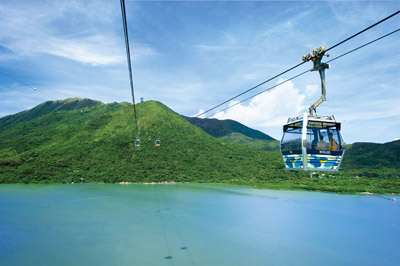 The tens of thousands of business travellers who come to Hong Kong every month find a world-class city of more than 7 million people from nearly one hundred different nationalities, all living and working in close proximity and harmony.
English is widely spoken, the streets are safe day and night, the transportation network is second to none and the local 'can-do' work ethic is astounding. But what also draws visitors to this former British colony on the sub-tropical southern coast of China is its sheer physical beauty, set in sharp contrast to its fabulous five-star hotels, restaurants, shopping and nightlife. That mix creates an enchanting combination of Sydney, New York, San Francisco and Rio de Janeiro.
Hosting business meetings, conferences and international exhibitions is a major and growing industry here, well supported by the Hong Kong Tourism Board and its MICE arm, MEHK. Winters are mild with temperatures rarely dropping below 12-15 degrees celsius, while Hong Kong's hot summers run from mid-May till early October. So why don't more clients make more use of this city's stunning coastline and rolling green hills?
The answer, said Karine Koh, is cost. Koh, client engagement director for WRG Live (Asia), which has handled a number of large-scale outdoor events, notes that any outdoor event posed a certain risk due to unpredictable weather. This required a full-scale back-up plan, which could double the costs, as the back-up facility must be prepared with the same care as the primary venue, to ensure that both are in tune with the client's message.
The availability of space and the additional cost due to limited infrastructure has also been a big deterrent for outdoor venues in Hong Kong. Additional costs may include hiring a marquee and setting up basic amenities, bringing electricity to a site and dealing with noise level concerns.
Outdoor experience
"We have had numerous requests to look for outdoor venues, but to date we have had to turn [those venues] down as they had not been within easy access to urban areas. The closest locations are at least a 45-minute drive from the heart of urban Hong Kong, and this is an important deterrent," Koh said.
But the outdoor experience, which ranges from a cable-car journey to Ngong Ping (main picture) to harbourfront events, when the skies are clear can be remarkable, particularly for teambuilding activities and family days.
"Your guests can experience the great outdoors, and you have flexibility for spatial creativity. The sky is the limit!"
The Hong Kong Government's long-term goal is to create a public waterfront that matches those found in Sydney, New York, San Francisco, Boston and Vancouver.
That would also produce an ideal venue for outdoor events, with Hong Kong Island's skyscrapers on one side and Victoria Harbour and the Kowloon skyline on the other, creating a 360-degree panorama of light.
In the meantime, however, Koh recommends the Central Harbourfront area, and the West Kowloon Promenade, on the opposite side of the harbour.
Read more about Hong Kong Central Harbourfront and the events that can be held there
SYMPHONY UNDER THE STARS
WRG has managed the annual 'Symphony Under the Stars' at the Central Waterfront. The event is hosted by The Hong Kong Philharmonic Orchestra, with the Swire Group, the orchestra's principal patron, sponsoring the concert.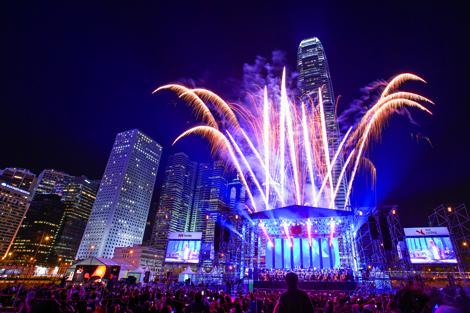 "The Central Harbour Front definitely provides the space that is suitable for a concert like Symphony Under The Stars," said Katy Mo, senior producer for WRG Asia. "However, with an outdoor venue like this one, government-approved licensing is required to secure the land to use the space for the event. Due to this, allowances for additional time must be made to secure the respective licenses from the different regulatory government departments."
Weather, as always, is the crucial unknown factor, and several consecutive days of rain can lead to cancellation. WRG negotiated with authorities and the venue provider to have the event postponed by a day in the case of persistent rain.
"As such, allowances must be made and this means more time for set-up and having additional manpower on stand-by to push ahead with a second-day set-up, in case of multiple rainy days."
Working in raw outdoor spaces also means that all infrastructure, amenities, and facilities need to be catered for, from electricity and toilets to water supply, barricades and security. Special zoning and targeted crowd management was used to control the 15,000 music lovers who turned out for the event.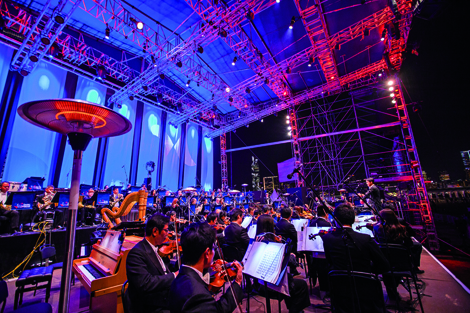 "For Symphony Under the Stars, all components of the event were diligently assessed and planned for. Our team's prior experience from working on this particular event in this location in the past allowed them to know what was required and how to work in the outdoor space."
And it worked, with the thousands of fans oblivious to the behind-the-scenes work and planning that didn't stop until the last notes drifted across Victoria Harbour.
MULTIPLE CHOICES
Hong Kong's Fun & Funky Outdoor Venues
Until several years ago Hong Kong had very few outdoor venues that were suitable for business functions. Today, with the government working to improve the city's air quality, more and more hotels and restaurants are beginning to offer open air venues where Hong Kong's outdoor beauty, from its harbour to its outlying islands and beaches, can become the centrepiece at the next corporate event.
Here is a selection of Hong Kong's outdoor venues; old and new, intimate or expansive. The good news for event planners is that few of the venues we spoke to were willing to name their clients, past or present, for competitive reasons. That much competition indicates it is still a buyers' market.
Café Deco
This restaurant, high on cool Victoria Peak, is open 365 days a year. It boasts a striking Art-Deco décor, as well as a beautiful open kitchen and a 15,000 sq ft dining area on two floors. Café Deco's best feature is its semi-open area that offers jaw-dropping night views of Hong Kong and Victoria Harbour, which is sure to take visitors and local clients' breath away. The restaurant can accommodate 400 guests for a buffet, or 440 for a sit down dinner and 700 for stand up cocktails.
info@cafedecogroup.com
The Upper House
One of the most stylish hotels in Asia, The Upper House is situated high above Central District's Pacific Place shopping centre. Its cosy outdoor venue, called The Lawn, can host 100 for stand-up cocktails, or 35-40 for a formal sit-down dinner, with tables set up right on the grass. The mood here is both stylish and mellow and the views are stellar.
upperhouse.com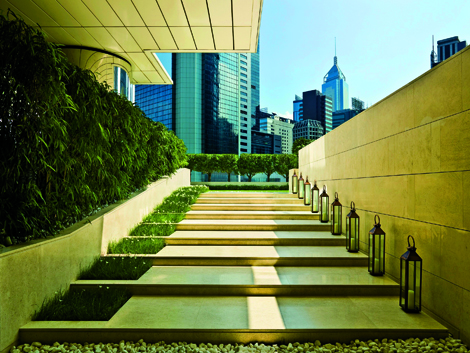 Repulse Bay hotel
The Repulse Bay hotel on the south side of Hong Kong Island boasts beautiful views overlooking the beach and the South China Sea beyond. This setting, which includes The Front Lawn (which can hold 400 people for cocktail parties) and The Garden, was made famous in the celebrated Hollywood film Love is a Many Splendoured Thing, starring William Holden.
therepulsebay.com
Gold Coast Hotel
Located on the sea at Tuen Mun in Hong Kong's Western New Territories, the Gold Coast Hotel offers three outdoor venues; the tree-lined Dream Garden, ideal for 100 to 300 guests for cocktail parties or a theatre setting, while Blossom Square or Love Avenue are perfect for 80 to 100 guests for cocktail parties. As a back-up in case the weather does not behave, the hotel has an equal sized indoor venue.
goldcoasthotel.com.hk
Mavericks
One of Hong Kong's nicest beaches, on mountainous Lantau Island, has an outdoor venue available for events. Located on the same island as the airport and Hong Kong Disneyland, this open-air eatery is expected to be a popular venue for small corporate groups looking for something out of the ordinary. Mavericks focuses on local, organic and sustainable food, complementing its sunset-on-the-beach location. Transport to Pui O Beach can be arranged via private boat, with a transit time of about 40 minutes from Central District. Buses can also be hired from Central District, or directly from Hong Kong's Chek Lap Kok International Airport.
mavericks.hk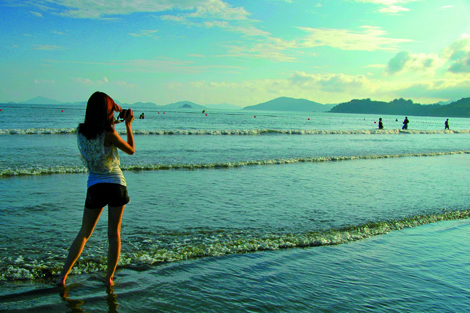 HOTEL HIGHLIGHTS
Auberge Discovery Bay
Expansive sea views and the surrounding green hills make Auberge Discovery Bay, on Lantau, Hong Kong's largest outlying island, a handy retreat for city dwellers looking to escape the urban chaos. The hotel offers 1,300 sqm of business events space including eight function rooms and the Grand Azure, a pillar-less venue that holds 700 people for a cocktail party. Outdoor venues include the Grand Azure's terrace, the Marine, and the Chapel Piazza. The Bounty, a traditional European tall ship, is an exciting venue for the corporate mariner, sailing between the hotel and Hong Kong Island. It is suitable for both cocktail cruises and onboard team-building exercises.
aubergediscoverybay.com
Harbour Plaza Resort City
Located in the north-western region of the New Territories, Harbour Plaza Resort City is the largest of the Harbour Plaza Hotels and Resorts with 1,102 rooms. The resort itself is surrounded by Tin Shui Wai Central Park, and its meetings facilities include four private function rooms, and the Grand Ballroom, which holds between 360 and 640 guests. The resorts tennis courts can be transformed into a creative outdoor business events space.
harbour-plaza.com
Hyatt Regency Sha Tin
With views over the expansive Tolo Harbour and Kau To Shan mountains, Hyatt Regency Sha Tin offers a variety of meeting and event facilities, including nine boardrooms and the Regency Ballroom that can accommodate 500 people theatre-style. The hotel's outdoor event options are varied. There are three Salons with adjoining terraces, a spacious landscaped garden, and the famous Chinese restaurant, Sha Tin 18's outdoor deck.
hongkong.shatin.hyatt.com
Gateway, Marco Polo hotels
The 400-room hotel in Tsim Sha Tsui has four function rooms, each themed and named after a colour. Be on Canton restaurant offers a spacious outdoors lounge and terrace, ideal for alfresco dining and drinks receptions.
marcopolohotels.com
Island Shangri-La
The Island Shangri-La is known for its plush interiors and stunning artwork, home to the largest Chinese silk painting in the world. The Island Shangri-La has 565 rooms and is located above bustling Admiralty station and Pacific Place shopping centre. The selection of meeting and function rooms spans two floors with room capacities ranging from 12 to 1,000. An inviting 150-sqm outdoor events space boasts tropical greenery and great views of Victoria Peak.
shangri-la.com
Grand Hyatt Hong Kong
Situated next door to Hong Kong Convention Centre, the 539-room Grand Hyatt Hong Kong is well-known for its extensive meeting and events facilities. Featuring 24 venues, the harbour front hotel can accommodate between 12 and 1,600, with its Grand Ballroom being one of the largest in the city. The 11th floor is home to a large outdoor garden and pool area measuring 640 sqm, creating a leafy space that caters well to after-parties and launch events.
hongkong.grand.hyatt.com
Park Lane Hong Kong, a Pullman Hotel
The Park Lane Hong Kong is located in Causeway Bay, one of Hong Kong's most exclusive shopping districts, and is within easy reach of the city's CBD. Comprising 813 rooms, the Park Lane recently celebrated its 40th anniversary with renovations to its meeting and conference facilities, improving noise pollution and updating tech amenities.
A new addition to the hotel's venues is the 396 sqm roof top garden on the 28th floor, which offers panoramic views of the city and harbour, offering an impressive setting for cocktail receptions and outdoor private dining.
parklane.com.hk