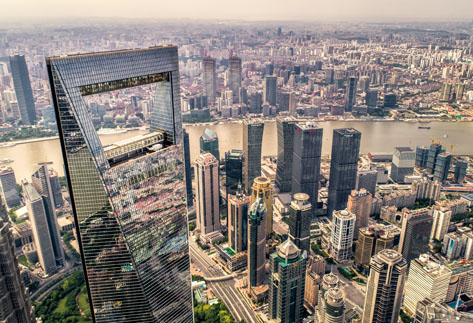 CULTURALLY rich cities surrounding the glitzy commercial powerhouse of Shanghai have offered novelty day-trip options for conference and incentive planners. But there is a growing debate as to whether they could really be an alternative to Shanghai for full-scale international business events.
Getting to the cities of Suzhou, Hangzhou and Nanjing was also far from straightforward, so the option was generally offered to delegates who wanted a deeper immersion into Chinese culture and history.
Options for planners, however, have grown in recent years, with satellite cities beefing up their MICE credentials and – thanks to high-speed rail links, modern freeways and more frequent flights – becoming far more accessible, ready and willing to stage events, the most high-profile example being the G20 summit in Hangzhou attended by President Xi Jinping, who once worked in the city.
But all roads ultimately lead back to Shanghai, a city with an extraordinary range of hotels and a cosmopolitan sheen that is alluring.
One of the recently opened properties is the Sukhothai Shanghai. Its 300 sqm ballroom has a ceiling at 5.3 metres and can accommodate 230 guests for banquets. Helene Fong, sales and marketing director, says an annexe to the hotel, The Cha House, a red-brick mansion constructed in the 1920s is proving just as popular for events.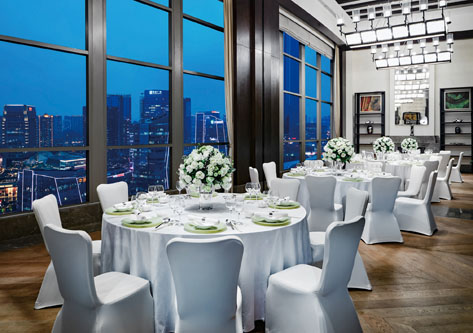 "MICE planners are constantly seeking new and interesting venues with unique ambience – and exclusivity," she says. The idea that luxury has taken on a new interpretation also applies to the MICE industry. People attending conferences demand accommodation in an independent exquisite hotel, bespoke dining experiences, personal and approachable service and no cookie-cutter offerings.
"Shanghai is special because exhibitors can showcase and engage with Chinese decision-makers and is an important hub for many large corporations in the Greater China region. It's still growing and the world-class lifestyle and entertainment offerings meet the demands and expectations of different types of MICE planners."
Gunther Homerlein, general manager of Destination China, has introduced a couple of novel approaches that give a different perspective on the city.
Delegates wanting a rumbustious nightlife tour can hook up with one of Destination China's handpicked Bar Angels and Bar Devils, students studying Chinese in the city who know the high life and the low life, and can communicate with locals, asking questions a regular tour guide might find it uncomfortable to pose.
Shanghai, and other cities, might look modern and western on the surface, but officialdom can still be difficult to navigate without expert help.
"One of my key lines is that you don't need a DMC when things go right, you need one when things go wrong," Homerlein says. "It can be a guest losing a passport in a nightclub, issues with government or a change in the 'rules of venues'. We are always on the ground with the client, both as supplier and partner."
Homerlein has watched the changes in Shanghai, and its surroundings, with awe. "Shanghai has amazing energy, great hotels, modern and classic venues, good access, which is very key, and a great transportation system," says Homerlein. "Suzhou is not at all well known by foreign clients – its drawcards are the historical gardens and canals, as Shanghai has very limited ancient Chinese relics.
"Hangzhou is getting more airtime because of the G20 summit but, again, knowledge of the destination is limited. Most clients would prefer to do Shanghai and would use Hangzhou, or Suzhou, as an extension."
Delegates from Asia are also likely to require a Shanghai-focused itinerary, given its fame internationally and reputation as a city that likes to party. There is an amazing choice for planners with almost all the major brands represented.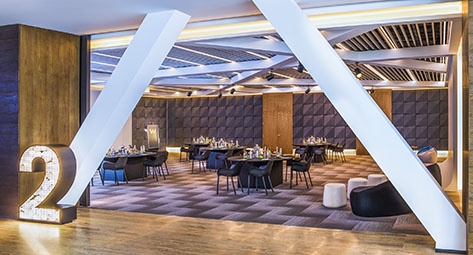 The W Shanghai – The Bund, held 200 events, from weddings to conferences, in the first few months of its January 2018 opening, clearly hitting the spot. It has 6,000 sqm of events space including the 2,050 sqm Great Room. Executives are confident the W's events appeal will endure in the city.
"Word-of-mouth is more powerful than ever," says Tiffany Chou, director of sales for MICE. "Most MICE planners will only approach hotels when they have heard good things from previous event planners."
The Cordis Shanghai, Hongqiao has two large-scale ballrooms and a rooftop bar with pool deck that offers a unique space for informal meetings, after-parties or team building. It is also a five-minute drive from the National Convention and Exhibition Centre and the Hongqiao rail and transport hub.
On the other side of the Huangpu River, The Grand Kempinski Hotel Shanghai, located in the city's finance centre, targets mid-sized meeting groups, with the ability to cater to up to 360 people in the 705 sqm ballroom.
Laifong Yip, director of sales and marketing at the Grand Kempinski, says: "Shanghai is really becoming a hot MICE destination in the last two years, competing with big cities like Seoul, Tokyo, Hong Kong and Singapore. International planners are attracted by the authentic Chinese experience their attendees can have here paired with Shanghai's international vibe. There is always something new to discover."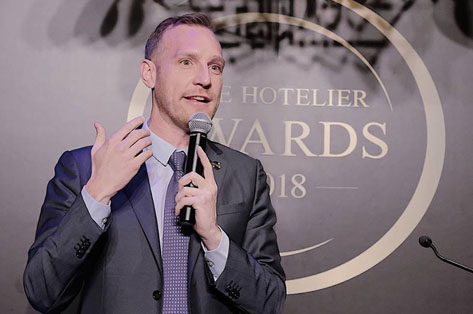 OFFSITE TRENDS
RIVIERA Events co-founder and director Stephane de Montgros (above) has witnessed explosive growth in the eastern seaboard region of China during the past decade. He says a visit to the region gives a snapshot of just how far China has come.
De Montgros points to "a rich mix of state-of-the-art, recently opened luxury hotels" and a wide range of government-owned venues such as museums and former warehouses that are available for private events.
"Nanjing, Suzhou and Hangzhou also offer several cultural backdrops, as well as outdoor nature-focused options," he says.
"We feel that MICE planners are looking for aggressive pricing more and more, while not allowing any compromise on the quality of delivery. In that regard, I believe China offers a very solid solution for companies in need of value-for-money projects.
"We have also noticed Shanghai and the wider region has been particularly welcoming of visitors by willingly granting visas.
"Another trend that we have noticed is that more planners prefer to host their events in off-site locations, to avoid the standard hotel ballroom format and offer, where possible, unique views and scenery of the city."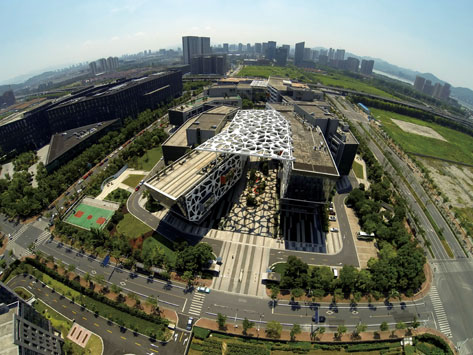 ALIBABA'S HOME
LONG hailed as one of the most beautiful cities in China, Hangzhou has also become renowned as the home of Alibaba, the internet consumer giant founded and headed by Jack Ma.
The former English teacher is the man who revolutionised shopping for 1.4 billion Chinese, setting up the online site Alibaba and its consumer arm, Taobao. Every store in the west with aspirations to have a slice of Chinese spending accepts the Alipay system.
The redefining of Hangzhou has meant an explosive growth of international hotels to host visitors to the Alibaba complex.
Among the high-end hotel arrivals is the Park Hyatt Hangzhou which has 1,100 sqm of event space, including a 650 sqm ballroom and five breakouts.
"A focus on the 'uncommon making life exceptional' defines each tailored event," says Eric Gong, director of sales and marketing, at Park Hyatt Hangzhou.
SUZHOU: NEW WATER TOWER
A SPLENDOUR of modern architecture is rising high above Suzhou, one of China's famed water cities.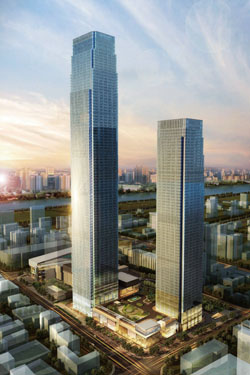 The 450-metre-high International Finance Centre will feature a Niccolo hotel on the upper floors, a ballroom, seven function rooms and The Conservatory, described as "a breathtaking glass venue above the skyline". When it opens in 2019, it will be the fifth property of the Wharf-owned brand.
Jennifer Cronin, president of Wharf Hotels, says the city is known as the Venice of the East, surrounded by canals and lakes, a unique selling point, which will feature in delegate itineraries.
Already up and running is the Intercontinental Suzhou, located on the waterfront promenade of Jinji Lake in the thriving Suzhou Industrial Park commercial leisure and residential district. The 27-storey crescent-shaped hotel has 427 guestrooms, six restaurants and lounges, a luxury spa and an indoor infinity pool – all boasting panoramic views
"We can offer outside catering in gardens, museums or scenic spots," says Jimmy Mei, the Intercontinental Suzhou director of sales and marketing.
"We once organised an event in the Kun Opera House (below), which is in a traditional Suzhou garden. Guests interacted with the Kun Opera performers to learn the history of the opera, the costume and makeup for different characters, and watched a performance in the garden."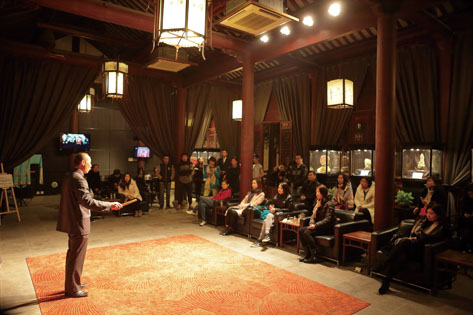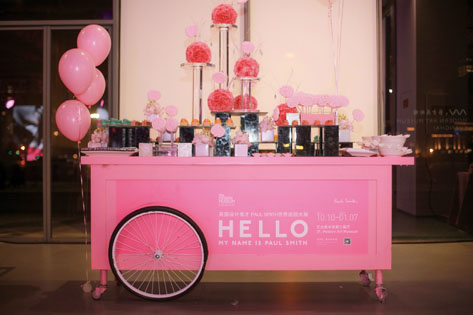 FORMULA FOR FASHION
• In April, the Pudong Shangri-La East Shanghai organised outside catering (above) for the Shanghai Formula 1 Grand Prix, as well as a party for designer Paul Smith's exhibition at the Shanghai Modern Art Museum for 200 guests.
"MICE planners today are looking for unique event experiences, gone are the days where rates and space were all planners requested," says Carol Chung, Shangri-La Hotels and Resorts' senior vice-president for China sales.
• Jing An Shangri-La, West Shanghai's "Romance in the Clouds" experience. It starts the moment groups are collected from the airport by Rolls-Royce. They can enjoy an exceptional dining experience in the Shangri-La Suite, which is personally attended to by the chef of 1515 WEST Chophouse, a Champagne breakfast and a three-hour CHI, The Spa, journey. The offer also includes a cruise along the Huangpu River in a private yacht.
• The Kerry Hotel Pudong offers a new MICE concept, "Work & Play", which provides a variety of venues, tailored F&B options, and modern teambuilding facilities. The hotel's inflatable Kerry DOME, located on the fifth floor of the hotel, sits on an outdoor terrace spanning 388 sqm that accommodates up to 320 people. It boasts a direct view of the skyscrapers and stunning scenery.