Grand Hyatt Lijiang
Where? In China's southwest Yunnan province. The property spans two sites – a city-style complex in Gucheng district and a collection of luxury lodges in Ganhaizi Meadow – both offering unique perspectives of the famed Jade Dragon Snow Mountain. The properties are just 30 minutes apart.
What's special? The city hotel is an architectural masterpiece, resembling a traditional Naxi house with state-of-the-art trappings. Nearby Shuhe old town is home to three Unesco World Heritage sites and is a vision in itself, with cobbled alleyways and traditional tiled-roof buildings.
Just 17km away, the Mountain Lodge (below) occupies a scenic spot on the slopes of the Jade Dragon Snow Mountain. All 117 villas and suites are decked with oak-beam rooflines, wooden fireplaces and tribal textiles, complimenting the rustic backdrop.
For planners: In addition to exploring the old district, delegates can enjoy a round at the Jade Dragon Mountain Golf Club – billed as the world's longest golf course – or a calming outdoor yoga session at the Lodge.
The 305-room city site hotel has a 3,000 sqm multipurpose venue, housing 10 meeting spaces and a 900-sqm ballroom.
Banyan Tree Yangshuo
Where? Also in China's south west, near Guilin city, and a 90 minute drive from Guilin Liangjiang International Airport.
What's special? Yangshuo is famed for its rice terraces, limestone mountains and winding rivers. Visitors to the Banyan Tree can bask in these surroundings from the luxurious confines of a
world-class establishment.
For planners: The 142-room hotel is in easy reach of pleasent local attractions such as the Li River and Guilin town. Cultural excursions include village tours, painting and culinary classes. The property's four meeting rooms range from 28 to 50 sqm in size, ideal for smaller gatherings, while the ballroom can accommodate up to 200 people.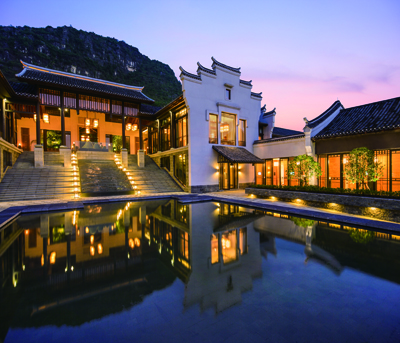 Silky Oaks Lodge
Where? On the banks of northern Queensland's Mossman Gorge River, the lodge is a scenic hour's drive from Cairns airport or 20 minutes from Port Douglas.
What's special? Bordering Daintree National Park, the world's oldest rainforest, the lodge is a stepping-stone to encountering the 330 types of bird and
74 mammal species in the area.
Accommodation comprises 36 tree and river houses that allow guests to immerse themselves in the tropical surroundings.
For planners: Delegates can enjoy on-site activities including hiking, biking, canoeing, swimming, snorkelling and riverside yoga. The lodge is also in easy reach of Mossman Gorge, offering rainforest walks and indigenous experiences.
Nestled among the terrain, the naturally lit conference room can accommodate up to 80 people, the open-air pavilion up to 100.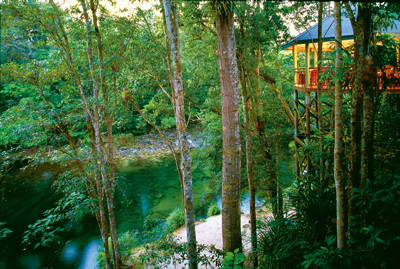 Lizard Island
Where? Uniquely located on the Great Barrier Reef, the resort is only accessible by private charter from Cairns Airport. Flights run twice daily and take about an hour.
What's special? With 24 unspoilt beaches and over 1,000 hectares of national park, the island is a natural haven. What's more, recent renovations have taken the resort up a notch, with the addition of a 154-sqm villa, private plunge pools and a sophisticated revamp of the interior.
For planners: Diving and snorkelling opportunities abound. Otherwise, groups can enjoy the likes of nature walks, beach picnics, sunset cruises, paddle skiing and dinghy sailing. The 40-suite property welcomes incentive groups of a limited size, but the resort can also be booked for exclusive use.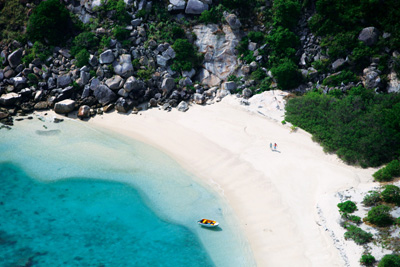 The Sanchaya Bintan
Where? On Bintan Island, a 45-minute ferry ride from Singapore's Tanah Merah Ferry Terminal and a short plane ride from Jakarta.
What's special? The award-winning Sanchaya is a design spectacle, resembling the European salons of the 18th and 19th centuries. The estate's 30 villas and suites enjoy picturesque views over the ocean, tropical gardens and a lagoon. On arrival to the island, delegates enjoy express immigration clearance via the hotel's VIP lounge in the ferry terminal.
For planners: Many of the on-site activities hark back to colonial times, such as croquet, petanque with pastis and traditional archery. Delegates can experience the surroundings via seaplane or boat cruise, or try golf, bike riding, mountain hiking or scuba diving.
The Sanchaya's function room can host up to 75 people and opens up to a colonial-style terrace. Overlooking the South China Sea, the adjoining lawn is perfect for outdoor engagements.
Until November 1, the hotel is offering planners a free villa or suite for every seven booked (maximum two free rooms).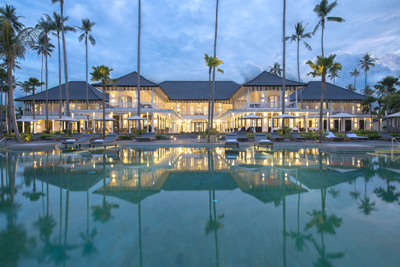 Tugu Malang
Where? In the heart of Malang old city in East Java, about 30-minutes drive from Abdul Rachman Saleh Airport.
What's special? The hotel design is a rich fusion of Dutch colonial, Chinese and Indonesian styles. The property is also adorned in Javanese and Chinese antiques, giving it the feel of a heritage museum.
For planners: Cultural excursions abound, from temple and "becak" ride tours to sarong, cooking and flower arrangement classes. The 49-room property has six intricately decorated function spaces, including an open-air venue that can accommodate 1,500 and a 300-sqm colonial ballroom.