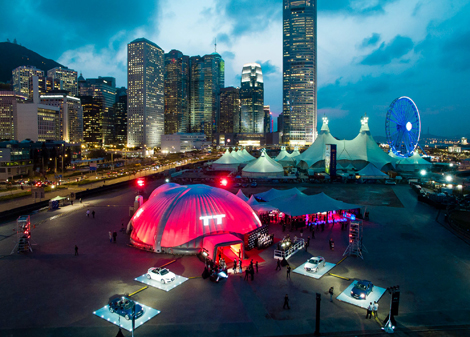 Winning Pitch
Car manufacturers Audi wanted to create an exhilarating event for the launch of the third generation of its iconic Audi TT. Creative agency Imagination was given a brief to deliver the launch to coincide with the release of the action film Avengers: Age of Ultron, in which Audi is showcased as lead man Tony Stark's vehicle of choice. Imagination had seven weeks to organise the event, promising in its pitch to Audi, an "impactful vehicle unveiling sequence".
Highlights
On a large stretch of reclaimed land, Hong Kong's Central Harbour front had yet to be used for a major product launch. Its dramatic backdrop of Victoria Harbour and expanse of tarmac proved ideal for a car launch, offering enough space to accommodate the 600sqm inflatable dome that Imagination had custom-built for the launch.
The design of the event reflected Audi customers' desire for "unconventional and innovative products", says Alistair Petrie, Imagination's executive creative director for Asia-Pacific.
"For us, the insight for this event was clear: buying a TT is a totally emotional decision. The purchase motivation is based not on need, but desire. We needed to get inside the mind of the Audi TT customer to deliver a memorable experience and fully engage with them to create value for the brand."
At Central Harbourfront, guests were led past first and second generation Audi TTs towards the reception area outside the dome. Branded canapés, drinks and signature cocktails were on offer, where Pernod Ricard bartenders entertained guests, juggling bottles and performing tricks for them while they waited to enter.
Inside the dome, guests were given their first glimpse of the new Audi TT. The event's opening sequence was projected across a 260-degree screen, where video content projected an image of the TT hurtling from outer space towards Hong Kong and speeding past neon signs and the city's streets before driving into the Audi dome, at which point the new TT was driven along a ramp leading to the audience area.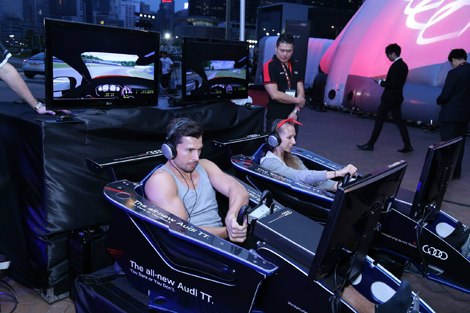 Interactive light-paint performers from Germany provided a dynamic backdrop of rapidly moving colourful shapes as the new Audi was revealed. Food was provided by catering agency Delicious, who prepared a menu of signature canapés for Audi that included pan-seared tuna with mango and papaya salsa, goose liver paté with apricot jam and white chocolate swirls with blueberries.
The Upshot
Imagination said the event generated a Facebook reach exceeding 3.2 million, with photos of VIP guests such as Canto-pop stars Charlene Choi and Andy Hui posted.
Audi Hong Kong marketing manager, Bonnie Li, who placed her comments on the social media platform, said: "The launch party was an awesome spectacle. Audi VIPs and fans flocked to the colourful dome to celebrate the all-new Audi TT, the newest icon of the Audi family."