EVEN when the Hong Kong-Zhuhai-Macau bridge and the emerging Greater Bay Area were merely plans on a drawing board, corporate event organisers were being encouraged to consider multi-city events with itineraries that straddle both sides of the Pearl River Delta.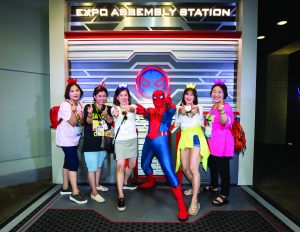 One such event has at last come to fruition in the form of 750-strong groups of incentive qualifiers from Synergy Korea who experienced Macau at one end of the bridge and Hong Kong Disneyland Resort (HKDL) at the other.
Effortless limousine and coach transfers meant the group could enjoy the bright lights of Macau and an exclusive HKDL experience in a four-day programme.
WINNING PITCH
The Synergy Mega Camp 2019 is the first corporate event to span both sides of the HZMB and was organised in co-operation with THE MICE, a Seoul-based PCO that worked with teams at Hong Kong Disneyland and in Macau.
Macau was selected as the anchor destination to let participants experience the enclave's rich mix of Chinese and Portuguese culture, entertainment and luxury accommodation.
A buyout experience at HKDL's Tomorrowland was added as Synergy marked its 20th anniversary. With the HZMB shortening the travel time between Macau and the Lantau resort to within an hour, the Synergy group enjoyed an evening of exclusive Marvel Super Heroes interaction, as well as an elaborate outdoor Disney buffet.
HIGHLIGHTS
Seamless Connectivity – The Korean team from Synergy, a global healthcare product provider, kicked off the Synergy Mega Camp 2019 in Macau on September 22 and 23. At midday on
September 24, the group was transported efficiently on 16 coaches and three limousines to HKDL for the afternoon and evening programme.
The 29.6km HZMB has shortened the travel time between Macau and HKDL to less than an hour, supported by efficient immigration and custom clearance at the checkpoints.
Tomorrowland Buyout– On arrival at HKDL, Synergy leaders addressed the 750-strong group in Disney's Storybook Theater in Fantasyland. Upon leaving the theatre, the Synergy guests enjoyed a glimpse of Jack Skellington's Villainous Gathering, a stage show of Disney baddies, at Castle Hub Stage in Main Street, USA, part of Disney Halloween Time celebrations.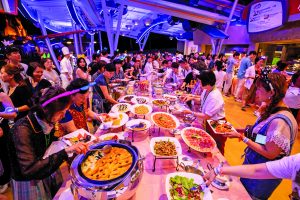 At Tomorrowland, an indoor and al fresco buffet setup extended from Comet Café to the outdoor areas around Orbitron, with Disney's culinary capabilities on full display.
The dessert spread was jaw-dropping and featured a chocolate plate carrying the printed logo of Synergy and its slogan of "Leave a Legacy". Outdoor vending carts served up popcorn buckets, iced lollipops and Lightsaber Churro to underscore the theme-park atmosphere. A VIP dining area was set up inside Starliner Diner, complete with 20th anniversary floral centrepieces, Mickey and Minnie Mouse headbands wrapped in serviettes, and attentive table service for Synergy's important stakeholders.
Throughout the evening, guests lined up to have photo moments with Marvel Super Heroes, including Black Panther and Spider-Man at a dedicated photo area. All guests enjoyed exclusive access to the Ant-Man and The Wasp: Nano Battle! and Iron Man Experience attractions, the two Marvel attractions only available at HKDL, during the event.
Prudential in Disneyland event buyout
As the evening wrapped up, Synergy executives bade all a fond farewell at the stage of Jedi Training: Trials of the Temple to conclude the grand finale of their mega camp at HKDL.
Soon after 10pm, all guests were on their way back to Macau to settle in their hotel before midnight, ready for their return journey to Korea the following day.
UPSHOT
The first-ever multi-destination corporate incentive event in Macau and HKDL delivered multiple benefits for Synergy, said Min Chang Won, CEO of THE MICE. "It gave the group some of the best event experiences that Macau and Hong Kong offer," he said.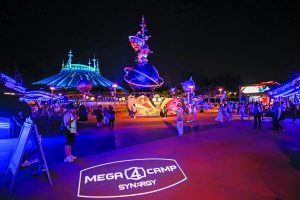 "The journey on HZMB, itself an engineering wonder, was a spectacular experience in its own right. The logistics of transporting the group via the bridge was so convenient as if the group was travelling in a single destination."
Kim Mi Hyun, manager of Synergy Korea, said: "Our group was thrilled to experience two very distinct destinations, Macau and HKDL, in one journey.
"Our VIPs and participants were impressed by the unique experience at HKDL, and the sumptuous F&B offerings in a special Disney-Synergy-themed indoor-outdoor buffet simply exceeded our expectations."
CHECKLIST
EVENT: Synergy Mega Camp 2019
PCO: THE MICE, Korea
VENUE: Hong Kong Disneyland Resort
ATTENDEES: 750 participants from South Korea
BIG MOMENTS: Travelling across the Hong Kong-Zhuhai-Macau bridge from Macau for an exclusive HKDL Tomorrowland buyout event
Date: September 24, 2019
EVENT BY NUMBERS
16 buses transporting the group of 750 guests
3 limousines for VIP transfers
1-hour journey from Macau to HKDL
2 Gobo lights to project Synergy logo at Tomorrowland
More from MIX about the Hong Kong-Zhuhai-Macau Bridge