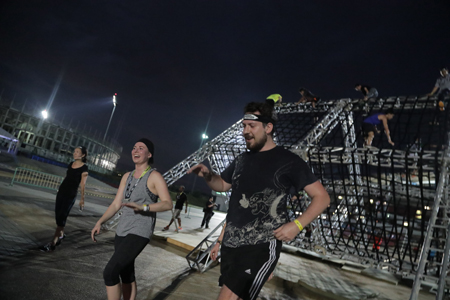 Seldom are the times business event delegates find themselves going from sitting in the audience of a panel discussion to clambering over a five-metre-tall net obstacle within the space of an hour.
However that's exactly what the Sarawak Convention Bureau (SCB) managed to do in August, when industry professionals and media attended the official launch of its new Redefining Global Tribes campaign in Kuching – the bureau's "boldest to date".
Held on August 19, the launch event was divided into two core parts. First came the "Global Tribes Redefined" Business Forum at the Hilton Kuching – a 2.5-hour conference comprising two panel discussions along with remarks from SCB personnel and Sarawak government officials. After that, attendees were shuttled off to the Stadium Negeri Sarawak to take part in the Tribal Warrior Challenge obstacle course, organised by Borneo Tru Events.
"Tribal Warrior Challenge is a physical celebration of the campaign's core message of unity, community and identity," says SCB chief operating officer, Amelia Roziman. "The nature of the challenge highlights the value of teamwork and how the obstacles, as imposing as they seem, can be tackled only through collaboration."
While the course is open to the public, with two sessions in the morning comprising Rite of Passage (7km, 15 obstacles) and Headhunter (10km, 20 obstacles), forum delegates took part in a special "Bizst" (loosely pronounced as "beast") mode. This format is geared towards corporate events and is much shorter, covering 3km with five obstacles.
Aside from the challenge aspect of the obstacle course, the Tribal Warrior Challenge also contributes to the campaign in a second manner – that of "redefining" the way business events are imagined by combining them with drastically different activities.
"It also serves as a continuous effort to package the profession in a fresh new perspective among the public," Roziman adds.
Earlier in the afternoon, forum-goers attended panel discussions with representatives from PCOs, DMCs, airlines, hotel and convention venues. Topics ranged from holding events in Sarawak to the importance of hiring a PCO.
"Everyone knows how to cook an egg, but we still go out and eat at a restaurant – why? Because they have the resources, people, equipment and time to do it," said Mona Abdul Manap, managing director of PCO Place Borneo.
"They also have the economies of scale to actually produce a lot of food at a cheaper rate, so you can enjoy your food less expensively. Most of all, they have the expertise and the skill to do so because they have practice. That is why you need a PCO – not because you don't know how to do it, but because you may not have the time, people or practice to do it."
Combining the forum and the challenge, the Redefining Global Tribes campaign aims to foster the image of Sarawak as a prime business events destination. This follows the state's hosting last November of the 55th ICCA (International Congress & Convention Association Congress).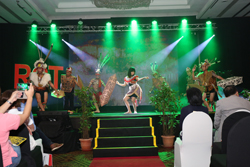 Kuching was one of the few second-tier cities in Asia to hold the event, which has been held annually since 1963, and Borneo's unique tribal heritage helped play a role in securing the event.
"Since 2006, Sarawak has brought in almost 700 business events, equivalent to almost 254,000 delegates and 847,000 delegate days," says Dato' Sri Muhammad Leo Michael Toyad Abdullah, SBC's chairman.
"So far in 2017, the effort of SCB and its sector partners have brought in 34 of these business events, representing close to 12,000 delegates and 33,000 delegate days, which is approximately RM37 million (US$8.7m) in direct delegate expenditure to Sarawak."
The state's chief minister has also previously called for Sarawak to develop a digitalised economy, while Malaysia as a whole is aiming for a double-digit growth figure in line with its National Transformation 2050 – both goals that SCB maintains will be quickened by its new campaign.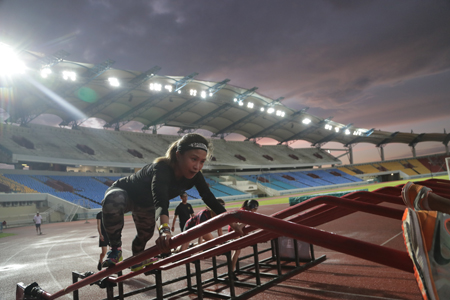 GET INTO 'BISZT' MODE
The format is geared towards corporate events and is 3km. Obstacles include:
• A series of head-height wooden walls to climb over;
• Rows of car tyres to navigate through;
• Two parallel arched metal bars that must be used to cross an area without touching the ground;
• A prism-shaped construct called The Peak comprising horizontal bars that needs to be climbed, and finally;
• Diamond Cube, a net obstacle that has delegates climbing across all four sides of a cube standing on its edge.