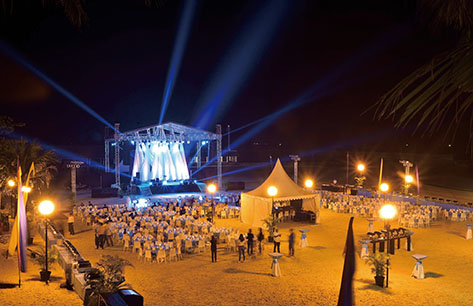 STARS of India were shining at Bintan Lagoon Resort when Bollywood celebrities were guests of honour at an incentive event hosted by Kamdhenu Paints of India.
Indian celebrities Anil Kapoor, Madhuri Dixit Nene and Sonam Kapoor Ahuja headlined a cast of singers, dancers and comedians at this gathering by one of India's largest paint companies, a subsidiary of Kamdhenu Group.
About 600 dealers, retailers and staff from all over India along with their families descended upon Bintan Lagoon Resort, about an hour by ferry from Singapore, for a fun-filled reward programme over three days.
Facilitated by DMC Tourland Travel in Singapore and Sarang Trade Links in India, the Kamdhenu Paint incentive event titled "Kamdhenu Paints 6th Annual Mega Event – Target Ka Badshah" was the first held by the company in Bintan.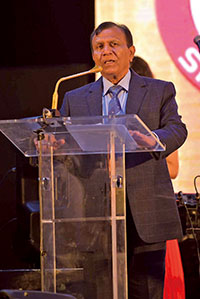 The company's managing director and chairman Satish Kumar Agarwal (right), and director Saurabh Agarwal, also used the occasion to unveil a series of "luxury emulsion" products during an awards night on July 4.
Entertainment highlights included photo sessions with Bollywood celebrities Madhuri Dixit and Sonam Kapoor, an awards function with Anil Kapoor, two nights of entertainment with stand-up comedian Jayvijay Sachan, dance performances by Faizal Khan, and music from Torsha Sarkar and
Abhijeet Sawant.
For a grand finale to the star-studded event, there was a huge fireworks display presented by the Bintan Resorts International, the destination marketing arm of Bintan Resorts.
Guests also enjoyed resort activities including banana boat, jet ski, off-road vehicles, Segway Ninebots and archery at Bintan Lagoon Resort, and two world-class golf courses, among
other attractions.
"We are delighted to have held this event in Bintan. Our guests enjoyed themselves tremendously and it was such a novel experience having this on an island that is so close to and accessible from Singapore," said chairman Satish Kumar Agarwal.
Nibin John, general manager – sales for Tourland Travel, said: "Bintan Lagoon Resort was chosen for its capacity and ability to deliver an outstanding incentive experience for the group.
"The resort even had a team of Indian chefs to cater to the group's dietary preferences, including Jain [vegetarian] meals. The staff and management understood our needs and went beyond to present an unforgettable time for all dealers and celebrities," John said.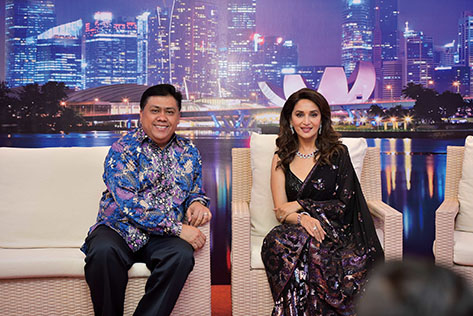 Gerald A. Hendrick, general manager and senior vice president, Bintan Lagoon Resort (above, with Madhuri Dixit Nene), said the resort "was very honoured to be selected for this prestigious yearly event by Kamdhenu Paints".
"The excellent partnership with Tourland Travel and Sarang Trade Links coupled with months of meticulous planning helped to achieve the ultimate experience for Kamdhenu Paints."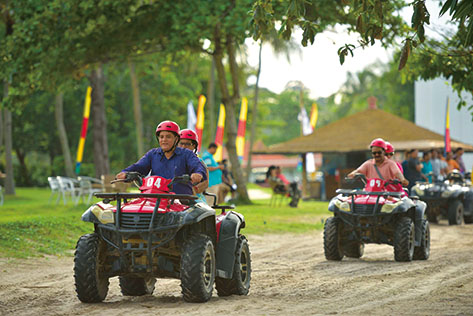 CHECKLIST
EVENT: Kamdhenu Paints 6th Annual Mega Event
AGENCIES: Tourland Travel (Singapore); Sarang Trade Links (India)
LOCATION: Bintan Lagoon Resort
ATTENDEES: 600
BIG MOMENTS: Bollywood celebrity appearances; comedian; new product unveiled; fireworks
DATE: July 3-5, 2018