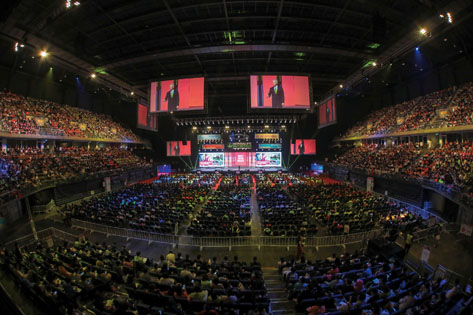 CALIFORNIA-based direct-marketing nutrition company Herbalife held its North Asia Extravaganza at Bangkok's Impact Arena, Exhibition and Convention Centre in June, drawing around 7,000 sales delegates.
The company, which sells weight management tools, nutritional supplements, energy, sports, fitness and personal care products, operates in more than 90 countries through a worldwide sales force of around three million distributors, who are paid both for their sales and the number of people they recruit, a practice commonly known as multilevel marketing.
The nutrition giant sponsors more than 190 world-class athletes, teams and events around the globe, including former Real Madrid star Cristiano Ronaldo, US Major League Soccer LA Galaxy, numerous Olympic teams, and FC Barcelona's Lionel Messi between 2010 and 2013. The company also has a corporate social responsibility programme – Herbalife Family Foundation – aimed at making nutrition available to children in need.
The company operates throughout the North Asia region, with 200,000 distributors in China alone, and also has manufacturing facilities in Suzhou and Nanjing.
The North Asia meeting in Bangkok followed a Southeast Asia event in Singapore in May, which attracted around 15,000 delegates from more than ten countries, including Australia, New Zealand, Philippines, Indonesia, Malaysia, South Korea and Thailand.
Herbalife says June's North Asia Extravaganza – themed "Be The Difference" – focused on "providing North Asia members with the knowledge and tools to build a healthier community around them by adopting a personalised, face-to-face approach to customise specific nutrition programmes for each individual".
WINNING PITCH
Although Herbalife holds its regular Asia regional meetings on rotation in several countries, it has been organising events in Thailand since the 1990s – its 2011 extravaganza drawing more than 20,000 sales delegates to the Bangkok International Trade and Exhibition Centre.
One of its largest regional events to date, though, the Asia Pacific Extravaganza 2013, attracted more than 23,000 people to the Impact Arena, Exhibition and Convention Centre, and the venue, considered the second largest exhibition and convention venue in Asia with an indoor floor space of more than 140,000 sqm, now counts regular Herbalife meetings among the 490 events it holds each year.
Announcing the June event, Herbalife told its delegates: "The 2018 North Asia Extravaganza will be held at the Impact Arena, an integrated venue… it is the preferred destination in Thailand for Impactful events and is a great choice to host the biggest North Asia event of the year."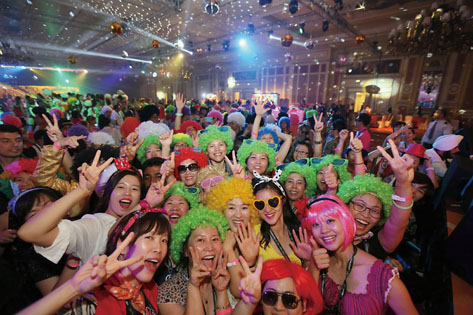 HIGHLIGHTS
Regular features of Herbalife events include a party atmosphere, high-energy entertainment and music. Attendees are often decked out in colourful and sometimes traditional costumes, a theme designed to highlight cultural diversity. Other features include regional and multinational food stalls and fitness and aerobics sessions.
One of the aims of Herbalife's regular gatherings is to instill in members a "clear sense of purpose to go beyond their roles to inspire the people around them to cultivate positive nutrition and active living habits", and this is achieved mainly through keynote speeches.
A highlight of the June event was a speech by Rich Goudis, CEO of Herbalife Nutrition, "who delivered an inspiring address that painted a clear picture for the North Asia member base to understand their role in making the world healthier and happier".
Another highlight was a hands-on training session conducted by Dr Rocio Medina, vice chair of Herbalife Nutrition Advisory Board, who stressed the importance of personalised nutrition and of adopting positive nutrition habits for long-term wellness.
UPSHOT
The meeting was declared a success by Stephen Conchie, senior vice president and managing director, Herbalife Nutrition Asia Pacific, who said that following training at the extravaganza, "Our members are better equipped with solid knowledge to provide their customers with effective personalised solutions to their nutrition and wellness goals, and make a real difference in helping people live healthier, more fulfilling lives".
"Global megatrends, such as high obesity rates, rapidly ageing populations and rising public healthcare costs have a significant impact upon the region," he said.
"With ageing populations being more prevalent in North Asian markets, such as Hong Kong, Macau, Japan, Korea and Taiwan, there is a crucial need for us to help address this issue through our nutrition products and trained members."
---
CHECKLIST
EVENT: Herbalife North Asia Extravaganza
ORGANISER: Herbalife Nutrition
VENUE: Impact, Bangkok
ATTENDEES: Around 7,000 delegates
BIG MOMENT: Keynote speech by Rich Goudis, Herbalife Nutrition CEO
DATE: June 8-10, 2018
---
Group photo by 5 RINGS PHOTOGRAPHY