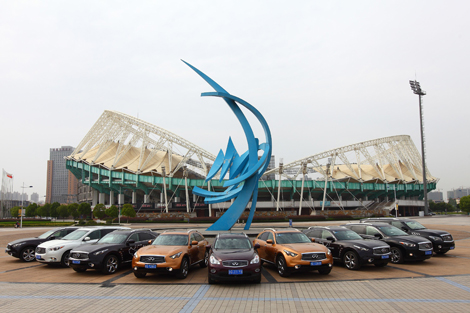 Infiniti, the luxury car division of Nissan, required a National SUV Tour of China to capture audiences and build brand image for its latest sport utility vehicles. The tour also coincided with Infiniti's sponsorship of the second season of A Bite of China TV show, aimed at creating even deeper engagement with the car brand.
Winning pitch
VIPs and media guests were to be taken on a tour of seven historic cities in eastern China. Beginning in Nanjing, the ancient capital of the Six Dynasties, 15-SUV tour would journey through 1,300km of countryside and taking in the scenery of Yangzhou, Suzhou, Hangzhou, Qiandao Lake and Huangshan, ending at Wuhu in Anhui province.
The ambitious event would see Pico TBA Consulting Group activate and deliver planning and event management services as well as hotel and transport logistics.

Highlights
Linking the TV show's characters with the landscape of the country, the tour spotlighted not only the capabilities of the vehicles, but local cuisine. As the convoy moved across the countryside, the stories behind the delicacies unfolded.
Highlights of the tour included sampling beef dumplings in Nanjing, a Pinghua performance in Yanzhou, tasting local village food in Hangzhou and digging for shellfish in Qiandao lake.
Darren Lim, Pico TBA vice-president, said: "Route changes that left our teams with only two weeks to prepare for the event, while innumerable small details needed to be taken care of every step of the way, providing constant excitement and complexity.
The upshot
VIPs and media were particularly complimentary about the huge success of the tour, commending the research and understanding of the route, the various histories and the stories behind the dishes.
"Organising an event of this magnitude with so many variables is always an intricate and changeable task," says Lim. "The many surprises along the way brought into focus the need to constantly improve our awareness of potential problems and operational details in order to continuously deliver at the highest level for premium brands clients. Details and seamless teamwork always make the difference between good and great."