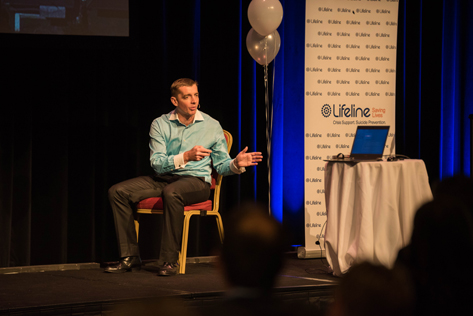 How did you transition into the world of conference speaking? What was your first major event in this field?
In 2006 I was a sergeant at the Police Academy. Recruit instructor Sergeant Paul Trinder, who I worked with when we were both young constables, thought I might have something of value to offer to his recruits by speaking on the shooting and what I had learned from the experience. My talk was extremely well received and I was asked by other instructors to speak to their recruits.
Word then spread outside policing circles and in 2012 Energex approach me to speak to its staff on resilience. Two years later saw my first paid speaking engagement for a conference on mental health. That was the game changer and led to me being awarded the Kerrie Nairn Scholarship by Professional Speakers Australia, which is a 12-month development programme for an emerging professional speaker.
Daryl tells how a night of terror unfolded
My big break came shortly afterwards, when I was selected as the keynote speaker for one of the largest conferences ever held on PTSD [post-traumatic stress disorder] in 2015. To my surprise, I received a standing ovation from military officers, emergency services leaders and mental health professionals from all over the world. It was incredibly humbling.
What types of audiences are you put in touch with? And how does your experience affect the challenges they face?  
My most frequent request is for audiences who want to be inspired and motivated by an enthralling true story, with simple but powerful take home messages that people can apply immediately to their personal and professional lives.
Organisations and industries undergoing change or adversity are also frequent requests. I work with the organisers to understand the audience's particular situation and make my messages relate and resonate with them. It all shows them what the human spirit is truly capable of.
Some would say that talking about the incident is a form of therapy. Would you agree?
Therapy is best left to the professionals. Once someone has dealt with or is comfortable in accepting what they've been through, then speaking in public is sound. Initially a police psychiatrist had counselled me. He was a Vietnam War veteran who had been badly injured by a booby trap and later treated by a respected psychiatrist. The police psychiatrist had helped a number of people who had suffered psychologically from the Balkan Wars in the 1990s. I agree it is rewarding to draw on my experiences to help others by speaking about the lessons I learned.
I still use the same simple measures today. Recently I suffered a devastating running injury when I sprinted and tore a meniscus root on my left knee – it's worse than damaging your anterior cruciate ligament. When the orthopaedic surgeon told me of the surgical procedure and the six months' intensive rehab ahead of me if I was to ever run again, I felt very low. I slumped, but I have learned the hard way that feeling sorry for yourself gets you nowhere. That night I hung my running shirt and shorts on a chair near my front door and placed my running shoes and socks alongside and made a promise to myself: come hell or high water, I will be running in six months.
Every day when I pass by my running gear, it reminds me to dig deep and keep my promise to myself.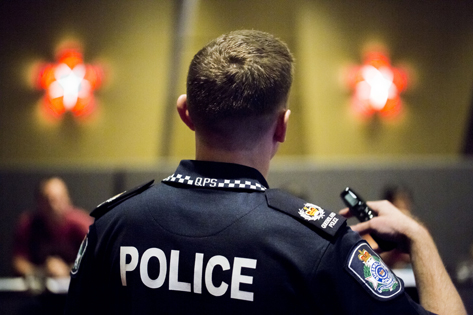 Do you address any other groups besides conference goers? What's your favourite type of audience or event?
I run workshops for small groups on four core areas: resilience, leadership, courageous conversations and brave decisions. Running the workshops enables me to spend more time with people, learn more about them and they learn more about me. So a deeper connection is made, a greater impact is achieved and the exercises and activities in a workshop are loads of fun.
I also have the opportunity to follow up with participants, to see how they are applying the lessons and encourage them to keep
up the positive changes they are making in their lives and the lives of others.
My favourite type of audience is a curious audience. I love being an ambassador for the police and explaining why and how we do certain things. From a simple procedure of how we approach a vehicle in a traffic stop, to drawing on my knowledge as a police firearms instructor, and explaining why we don't aim to shoot people in the leg when we are forced to use lethal force.
How did you set up the Twice Shot project, and where does it go from here?
When I started professional speaking, I was a full-time serving police officer. I quickly realised I needed assistance in managing phone calls and the office. A very good friend of mine, Janelle Colquhoun, specialises in managing musicians with a disability. She stepped up and became my manager. Her work allows me to concentrate on the fun aspects of the business: speaking, engaging and creating incredible experiences for the audience.
I'm soon to appear in a book on resilience, which is my first venture into the publishing field. In the long term I look forward to publishing my biography and taking my speaking and workshops across the globe.
One of Australia's largest not-for-profits will soon be running a fundraising event and launching a short film by director Michael Hanson, which tells a component of my story.
This is part of a feature that appeared in the October-November 2017 issue of MIX. Read Daryl's account of the shooting