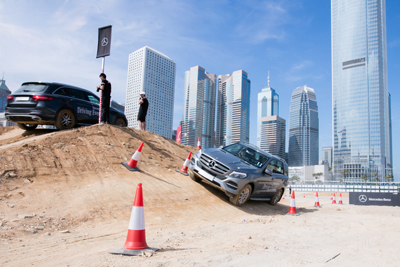 Winning pitch
Mercedes-Benz wanted to provide customers of its luxury sports utility vehicles with an advanced driving experience featuring the different terrains the 4×4 – known as the GLC class – can adapt to. As well as raising brand awareness, the event needed to reinforce its brand values of safety, comfort and driving dynamics among Mercedes-Benz's top customers in Hong Kong and Macau. This would be done with an off-road private driving event at Hong Kong's Central Harbourfront.
A client briefing took place in late August 2015 and the final design was agreed in mid-October. Event materials were created by early November in time for the final set-up on November 7 and the start of the five-day event the following day.
Highlights
Guided by professional drivers, guests were given the opportunity to experience the driving dynamics of the brand's different SUV models, passing through checkpoints on a specially designed course stretching over 36,000 sqm, or about five soccer pitches.
Transformed into a cross-country track, the Central Harbourfront event space was divided into two massive test-driving zones with "drifting zones" that allowed attendees to skid into specially arranged sharp turns.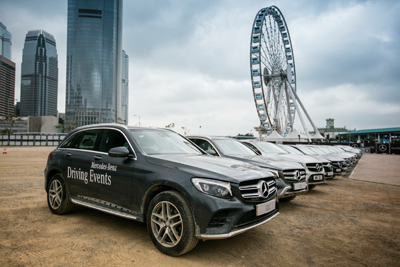 "Off-road zones" were created to simulate features found in real off-road terrain such as steep hills, muddy swamps, logs and gravel patches. Mercedes-Benz held one media session and nine customer sessions with event agency Pico providing creative design, production, site operation and event management services during sessions.
Pico also paid special attention to boosting brand awareness around the harbourfront, designing immersive venue decorations as well as a branded logo above the 15.5m wide, 50m long and 5.7m high hospitality marquee and surrounding the venue with 60m long promotional fence banners. A 21.8m lightbox was created that displayed Mercedes-Benz's tristar logo; this lit the venue at night and added to the city's skyline along Victoria Harbour.
An arched entrance with fence banners and flags made eye-catching branding opportunities for Mercedes-Benz, while Pico installed an LED wall in the briefing room to give attendees an immersive experience of the brand's promotional video. To add a social dimension to the event, Pico created an "Instaphoto" service to capture guests enjoying the experience.
The Upshot
As this was the first motoring event of its type held at the Central Harboufront, no existing precedents existed for permits required or logistics. Negotiations with government departments took place in order to execute logistics for large-scale setups, such as the 50m long marquee and logo lightbox.
Peter Larko, head of marketing communications and PR for Mercedes-Benz Hong Kong, said: "Pico were instrumental in the execution of the GLC launch and they ensured very high quality in both setup, event management and handling our VIPs."