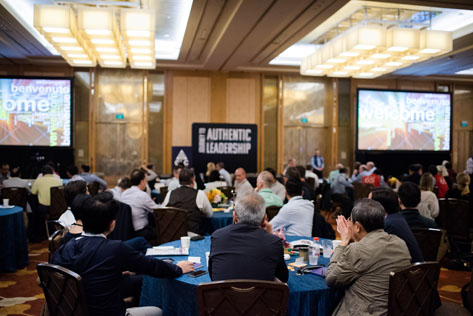 YPO's Global Leadership Conference and flagship event, YPO EDGE, returned to Marina Bay Sands six years after its last event at the venue in 2012, with Singapore the only Asian city to host YPO more than once.
During the week, the venue was transformed into YPO's home, with the CEO leadership organisation's branding displayed across nearly all digital signage and advertising panels. The integrated resort has a pagoda in the centre of its tower one lobby, which YPO was able to brand, which served as a photo backdrop.
Other personal touches included the set-up of a dedicated check-in counter, the presentation of welcoming YPO-branded Marina Bay Sands chocolates, and a daily room turndown service with Marina Bay Sands-branded tokens.
With YPO delegates hailing from more than 90 countries, there was a need for the MICE team to cater to guests with special dietary requests, ranging from gluten-free and halal to vegetarian and vegan. Each day at least 900 to 1,600 delegates had to be catered for per meal.
In keeping with changing meetings industry trends, YPO introduced several new conference elements, one example being the use of a dedicated event mobile app, which needed a strong internet connection. This was made possible by Marina Bay Sands' high performing wi-fi infrastructure, which allows for 40,000 devices to be connected simultaneously.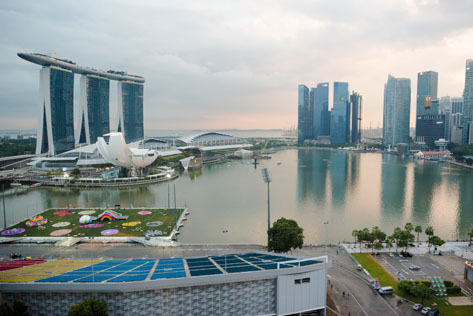 WINNING PITCH
The availability of extensive, flexible, meeting spaces at Marina Bay Sands was a key consideration for YPO when choosing its 2018 venue. The fact that there was a 2,561-room hotel within an integrated resort in the heart of the city was also a factor.
Altogether, delegates occupied a total of 7,736 room nights – the highest the group has booked with a single venue. YPO also made use of nearly 33,445 sqm of events space.
Smaller, alternative venues, including Marina Bay Sands' recently opened LAVO Italian restaurant and rooftop bar, provided intimate spaces for networking events, private gatherings and breakout sessions.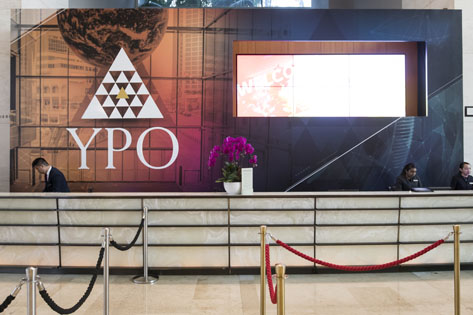 HIGHLIGHTS
Themed "Defy Convention", 2018 YPO EDGE drew more than 2,800 young leaders from more than 90 countries – up from 2,500 in 2012 – to attend a series of plenary and concurrent sessions, discussions and networking around topics of economic opportunity, sustainable environmental change and compassionate leadership.
This year's conference also boasted an impressive line-up of high-profile speakers, including Singapore's Prime Minister Lee Hsien Loong and former world No.1 tennis player Billie Jean King.
The 2018 global leadership conference and YPO EDGE conference at Marina Bay Sands was also YPO's first green meeting, with sustainability incorporated into its event settings. This was made possible as a result of the integrated resort's status as an ISO 20121-certified venue.
Marina Bay Sands' MICE team helped YPO incorporate several green event initiatives, including the set-up of water dispensers instead of plastic bottles, the recycling of plastics, glass and paper where possible, and the automatic diversion of leftover food away from landfills.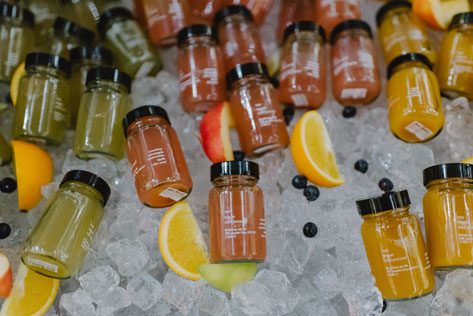 UPSHOT
The event was a great success with Terry O'Connor, YPO EDGE 2018 host city chair and former regional chair of Southeast Asia, saying Singapore and Marina Bay Sands were a "natural choice".
"Singapore is a global city but with exciting features, and YPO had a great experience here at Marina Bay Sands in 2012. Our members gave it a very good rating, and part of that was due to the facilities, flexible space and the convenience of the venue. It's really one of few places globally where we can get all of our members in one location.
"YPO members had a sensational week. The event has been seamless, and I'm overwhelmed by the gratitude they've expressed for the experience they've had at Marina Bay Sands. A large part of that is due to the service we've had from the integrated resort's MICE team, every level of detail was thought through, from the hospitality to the food and beverage arrangements."
Mike Lee, Marina Bay Sands vice president of sales, said: "Our partnership with YPO was formed years ago, and to have the group return to our integrated resort for their 2018 event is akin to welcoming an old friend home. For that reason, some of Marina Bay Sands' senior management, including myself, were personally involved in the planning process with YPO. We were excited to work together again to push the event's boundaries of creativity and build on the success of its 2012 edition."
---
CHECKLIST
EVENT: YPO Global Leadership Conference and YPO EDGE
ORGANISERS: YPO and Marina Bay Sands
LOCATION: Sands Expo and Convention Centre, Marina Bay Sands, Singapore
ATTENDEES: 2,800 delegates from more than 90 countries
BIG MOMENTS: High-profile speakers, including Singapore's Prime Minister Lee Hsien Loong and former world No.1 tennis player Billie Jean King
DATE:  March 5-9, 2018
---