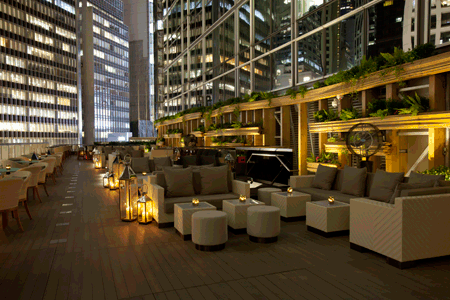 Even amongst business travellers, Hong Kong is a city synonymous with high fashion. There's no shortage of trendy meeting places but by combining forces with Italian power-house label Armani, the Aqua Restaurant Group has been able to bring a previously unseen level of haute couture to the food and beverage market.
With hotels in Dubai and Milan, Armani is no stranger to the field of hospitality. The tie-in with Aqua, however, means the brand's offering in Hong Kong is backed by one of the city's best-known restaurant groups. Although the Aqua Restaurant Group operates chic venues in London and Beijing, Hong Kong is the company's home turf.
Here, Aqua's portfolio ranges from the high-end cuisine and exquisite views at the group's flagship One Peking Road restaurant, Aqua, in Tsim Sha Tsui, to the French rustic home-cooked café chic of La Marmite in trendy Soho. Indeed, many visitors to the city may be familiar with the single remaining red-sailed junk boat that regularly cruises around the harbour. This traditional vessel is called the Aqualuna and is actually another of Aqua's venues – and arguably its most recognisable.
For business event planners, there are few finer Hong Kong experiences than crossing Victoria Harbour aboard the Aqualuna, champagne in hand. For those struggling for an impressive event, take note. Even the most hardened executives will decide that Hong Kong is a good place for business whilst looking onto the modern bright lights and big cityscape of Central from the deck of this colonial-era transport.
The Aqualuna's regular service is already designed to maximise the potential for post-work meetings. From 6.30pm onwards, a 45-minute cruise takes guests across Victoria harbour in absolute luxury. For the ad hoc meeting it's perfect, and onboard cocktails and canapés can help facilitate business.
As one would expect, Aqua's partnership with Armani is a very different proposition from the historic experience of the Aqualuna. The Armani offering is comprised of two venues within Charter House, in Hong Kong's Central district.
Armani Privé is a split-level venue that is capable of hosting up to 350 people for drinks receptions. The downstairs level features a bar, DJ booth and dance floor, whilst the upper level is an alfresco terrace perfect for cocktails. Meanwhile, the adjacent restaurant, Armani Aqua, is a 180-person-capacity venue that serves Italian and Japanese cuisine. The food on offer is not fusion. There is a clear distinction between the Japanese and Italian elements, with dishes served as complements rather than the typically confused hybrids of the two.
Natalie Yeung, Aqua Restaurant Group's director of sales, says: "We cater for many types of business events. Naturally, we're particularly suitable for fashion brands and in Armani Aqua we have a large hallway that can be used as a catwalk or as a place to showcase products."
The two floors of Armani Privé are ideal for planners looking for a unique inner-city destination to host a reception. The main bar and lounge area has a full A/V system and a mini-DJ booth which can be used for presentations. Similarly, the lighting can be customised for specific events. The upper-floor outdoor terrace is one of only a handful found in Hong Kong's Central district that can be particularly impressive, even to onlookers at street level.
Yeung says: "We hosted an event for HBO television and they installed a large, branded balloon which you could see from all around the city. It really drew attention and made the party feel a little more special."
For the full experience, charter options for all venues are available. The evening can be started onboard the Aqualuna junk and following the cruise, guests can be escorted to a post-reception dinner at Armani Aqua. For those concerned that Hong Kong's summer heat will crease their designer suits, the Central pier is easily reached via enclosed, air-conditioned walkways. After dinner, though, cast off those well-cut coats and show everyone what you can do on the dance floor and keep private what happens in Privé.
Sample Package
Start the evening with a leisurely sojourn on the Aqualuna, taking in the view of Victoria Harbour. The boat can be chartered on a per-hour basis for up to 80 guests and is perfect for VIPs.
Depending on the package of food and drinks, the price will range from HK$9,500 (US$1,224) to HK$22,000 (US$2,835), excluding 10 per cent service charge.
After the cruise, guests can be escorted to Armani Aqua, just five minutes away, via air-conditioned walkways.
For a seated meal, the restaurant can cater for up to 180 people and cost varies by date. Booking the venue costs a minimum of HK$100,000 (US$13,000), excluding 10 per cent service charge. A standard four-course dinner menu will start from HK$880 (US$113). An optional two-hour free-flow drinks package is charged at HK$380 (US$48) per person onwards. All prices are also subject to a
10 per cent service charge.
In the evening, guests can enjoy a post-dinner cocktail and maybe some dancing at Armani Privé, The bar and club can accommodate up to 350 people at any one time. The Aqua Group can supply DJs and entertainment upon request.
CONTACT Nataile Yeung
TEL +852 3428 8854
EMAIL natalie.yeung@aqua.com.hk
WEBSITE aqua.com.hk