ORGANISERS of two of Asia's top yacht shows hope to steer a steady course towards mooring a third event in Hong Kong with the aim of growing the industry across the Greater Bay.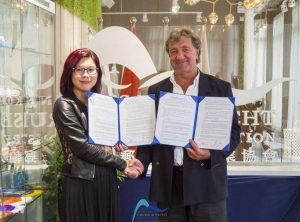 Verventia, which organises yacht shows in Singapore and Thailand, has teamed up with the Hong Kong Cruise and Yacht Industry Association to launch a jointly-organised event at the International Cruise and Yachting Festival 2020.
The new event is scheduled to take place at Kwun Tong Typhoon Shelter, next to Kai Tak Cruise Terminal Park, November 19-22 and is earmarked to be held annually.
Organisers are counting on calmer economic and social waters along with the Covid-19 threat diminishing over the coming months.
The 10th anniversary edition of the Singapore Yacht Show in February was postponed to October due to the coronavirus outbreak.
More: 10 vessels and marinas for meetings & incentives
Andy Treadwell, Verventia chief executive, has expressed confidence that the new Hong Kong show will go ahead in the autumn and provide a boost to the industry across the region.
"Despite the awfulness of the growing global Covid-19 crisis, we can take heart from the fact that China seems to be finally turning the corner," said Treadwell.
"The Hong Kong and Singapore governments have led the way in showing that it is possible to keep these things, devastating as they are, under control.
Waterfront hotels makes Volvo Ocean Race plain sailing
"Business must go on eventually. So with a full seven months before the opening of the new Hong Kong Yacht Show in November, we are confident that this new international event will be able to open its doors and give the industry in these parts the boost that it will badly need by then."
Kara Yeung, chief executive of the Hong Kong Cruise and Yacht Industry Association, said the show would have a positive economic impact on local businesses across the China-market supply chain.  She said it would also create "positive international PR, inward investment, maritime education and protection of the oceans to support the Hong Kong yacht industry, together with the creation of employment".
The Hong Kong yacht show and cruise festival is due to be officially launched at Hong Kong Convention and Exhibition Centre on April 23.